UMBC's Exceptional by Example Campaign transformed the campus. But you can't calculate its true impact without assessing how it helped members of the UMBC community change and grow.
By Jenny O'Grady and Meredith Purvis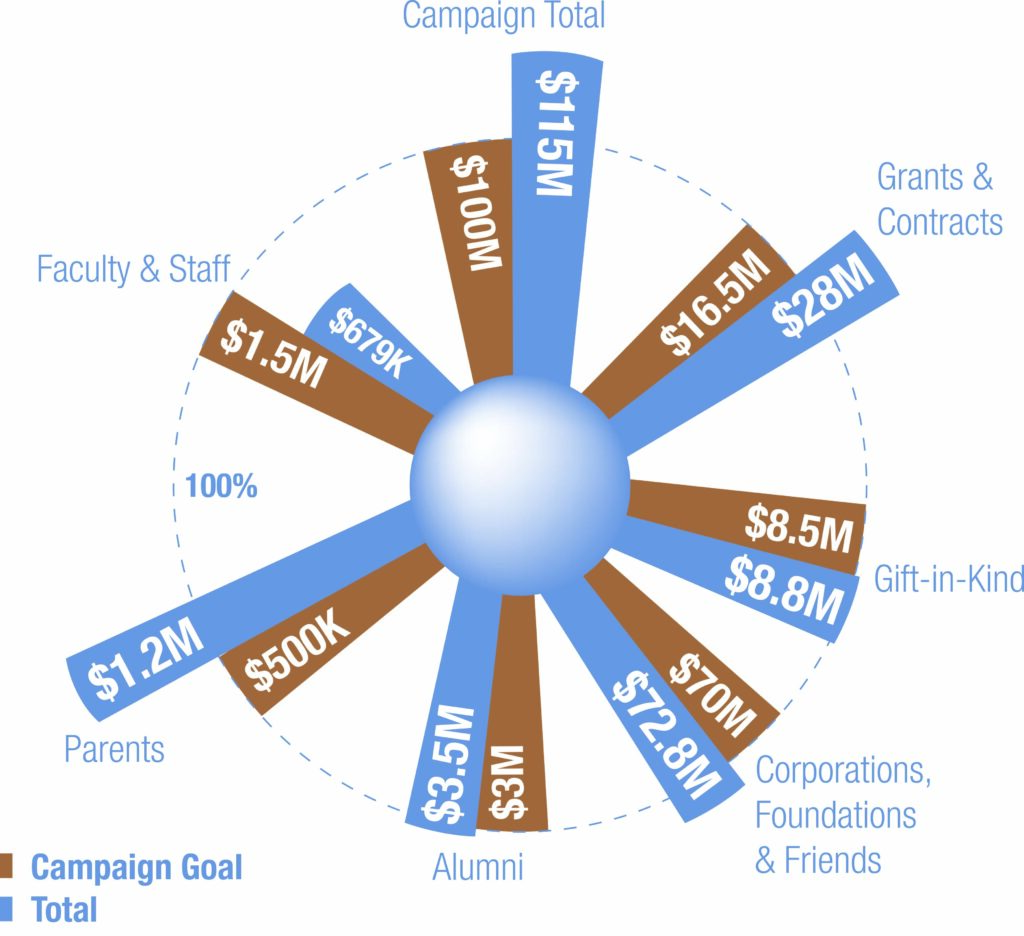 The tale of a successful capital campaign is often told by the numbers. And by that yardstick, UMBC's Exceptional by Example Campaign was a success.
Over the course of nine years, UMBC's Exceptional by Example Campaign raised money to invest in a community without boundaries, made up of teachers, students and researchers who come from every imaginable background and share a commitment to academic excellence and innovative thinking.
More than $115 million was raised to provide resources that advance the mission and vision of UMBC. More than $65 million has been earmarked for programs that support student scholarship and success, and more than $46 million has been allocated to support research and creativity at UMBC.
"Exceptional examples" of the tangible results of this campaign can be seen everywhere on campus, giving us reason to truly celebrate a fundraising effort — along with the more than 22,000 individual donors who contributed — that will continue to strengthen UMBC for years to come.
But look past the spreadsheets and statistics and you'll find stories of individual people – those who gave to the campaign and those whose lives and education were advanced in the effort.
One can only measure the Exceptional by Example Campaign's real impact by assessing its effect on people in the UMBC community. Greg Simmons '04, M.P.P., vice president of institutional advancement, says that gifts to the campaign from a wide web of donors (more than 22,000) have allowed UMBC "to continue to be seen as a university that's really leading the nation in terms of innovation, whether that's innovation in the classroom, innovation in the lab or innovation in economic development."
As the campaign officially closes, we at UMBC Magazine want to share some stories of the exceptional things that the campaign has helped achieve at the university – and allow you to hear from alumni about why they feel so strongly about the shared enterprise we've just concluded.
24-Hour Study
When we say UMBC students can change the world around them, we mean it. Case in point: the Retriever Learning Center, a 24-hour learning space opening in the Albin O. Kuhn Library & Gallery in September. Student government leaders came up with the idea, rallied their own troops to partially fund the renovations, and then worked with other groups – including parents – to raise funds to see the project to completion.
Pioneering Programs
Students in the now 23-year-old Meyerhoff Scholars Program know this saying well: To whom much is given, much is expected. So much so that, inspired by namesake Robert Meyerhoff and his late wife, Jane, alumni of the program (and their parents) supported the campaign to ensure their landmark program – which has become a much-celebrated national model – continues for decades to come.
Strong Figures
Christine Sweigart '10, mathematics, knew she wanted to be a math teacher when she was six years old. And in the Sherman Teacher Scholars Program, founded by George and Betsy Sherman, Sweigart has put her passion to use, helping children from low-income families to gain essential math skills. She is now pursuing her master's degree in teaching at UMBC in order to work in high-needs schools in Baltimore.
Big Ideas Realized
Retriever pitcher Mike Pesci '12 is helping mentally and physically handicapped kids participate in sports thanks in part to the Joseph and Frieda Faiman Eisenberg/VPC Endowed Scholarship, as entrepreneurship-based award generously funded by alumnus Eli Eisenberg '86 designed to help students see their big ideas to fruition.
Planting Hope
Alumni often understand the importance of access to a UMBC education better than anyone. That's why the Chapter of Black & Latino Alumni has supported two scholarships – the Second Generation Scholarship and the Esperanza Endowment Fund – to provide financial assistance to outstanding UMBC students committed to the advancement of minorities.
Enriching Arts
Artists don't take a summer vacation. Linehan Artist Scholars recently wrote thank you notes to their donors, Earl and Darielle Linehan, that breathlessly shared their summer plans: six weeks of studying theatre in London; sharing flute technique in Maccagno, Italy; dancing at the Trinity Laban Conservatoire of Music and Dance in England; and experiencing the rich visual arts culture of Milan, to name just a few.
Secure Environment
When it comes to finding better ways to scramble passwords or keep your data secure as it floats in "the cloud," UMBC is helping keep your computing secrets safe. Through a university partnership with Northrop Grumman, the Cync Program helps emerging cybersecurity companies like Five Directions gain a toehold in a rapidly growing industry.
More Than Passing the Test
Teams of students with names like the "Nobel Gases" and "Team Nitrogen" are solving problems as groups – and upping the overall pass-rate for Chemistry 101 by double digit percentages – in "the isolation tank" also known as the Chemistry Discovery Center. Building off these successes, and thanks to support of alumni donors, as well as foundations and companies, especially SAIC, UMBC's College of Natural and Mathematical Sciences launched a second process-oriented, guided-inquiry learning initiative, CASTLE – or CNMS Active Science Teaching and Learning Environment – in fall 2010.
Living and Learning
Everyone knows students like to study in their pajamas. With their friends. Preferably, with midnight pizza. Perhaps that's why the nine Living Learning Communities – dorms that group future teachers, engineers, do-gooders, etc. – have been so successful, improving retention and grades by giving more than 1,000 students living there the chance to crack equations together and talk shop whenever the mood strikes. The LLCs were a priority of alumni giving during the campaign.
Steered to Service
At one point in her life, Sheila Williams '11 was homeless and separated from her children. But scholarships for mature female students at UMBC – funded by the Charlotte W. Newcombe Foundation – helped Williams obtain a sociology degree and begin a career dedicated to service. "Honestly, without my experiences here, I wouldn't know how to serve them," she says. "I know I would not have made it through without that support system."
Engineering A Future
As a mechanical engineering student, Mariano Mumpower '11 received the Anthony Alvarez Engineering Scholarship, allowing him to intern at NASA and even enter – and win! – a campus-wide idea competition with his plan for a sustainable mobile food stand. Now that he has graduated, Mumpower is happily employed as an applications engineer at Conveyor Handling Corporation – the company founded by the Alvarez scholarship's namesake.
Thinking Hard
UMBC's Humanities Forum, sponsored by the James T. and Virginia M. Dresher Center for the Humanities, attracts some of the best thinkers of our time right to our students' doorstep – and gets the university community thinking hard about broader intellectual issues, including the often-fractious relationship between the humanities and the sciences.
Picture This
UMBC's nationally-renowned Imaging Research Center (IRC) has created amazing work ranging from a virtual tour of Washington DC's Capitol Hill in 1800 to helping animate the ebullient work of local cartooning treasure Kevin "Kal" Kallaugher. But the pictures wouldn't get made without support for the IRC by the Robert W. Deutsch Foundation and other donors.
Hands-On History
They say a picture is worth a thousand words. In the case of archaeological artifacts, there's nothing quite like the real thing. Students at UMBC can work with mosaics, pottery and other pieces dating back as far as 15,000 years thanks to the gift of former College Park professor Marie Spiro's personal collection, totaling more than 1,000 Greek, Roman and Byzantine pieces (dust not included).
Honoring Teachers
Established in 2006 by faculty, family and friends in memory of Dr. Carl Weber, Assistant Professor Emeritus in the UMBC Department of Biological Sciences, as a tribute to his passion for classroom teaching, the Carl S. Weber Excellence in Science and Mathematics Teaching Award honors exceptionally dedicated teachers, including current awardee UMBC alumnus James W. Sandoz '76.
Contribution of Notes
Church has always been an important part of Charles Nicholas' life. One of the few memories he has of his grandmother, Grace, is sitting on her lap as she played "Jesus Loves Me" on the organ at the Market Street Baptist Church in Zanesville, Ohio. So when the computer science and electrical engineering professor thought about ways to give back to UMBC, he made an utterly personal choice: purchase an electric organ (dedicated to his parents, Charles and Barbara) for UMBC's department of music. Budding organists can now train on campus, when they previously had to visit local churches to practice.
Bright Ideas
Professor of chemical and biochemical engineering Govind Rao researches fluorescent spectroscopy: a process by which bands of light react with compounds to create other measurable levels of light. Rao's work, in part supported by Sartorius Stedim North America, Inc., may aid doctors monitoring the progress of premature babies, creating a safer environment for them to gain their strength, and also help scientists track carbon dioxide levels in water, making it easier to predict climate changes.
Room of Their Own
UMBC's staff also make gifts that change the university for the better. Vice president of student affairs Nancy Young comes from a family that loved recreational sports and community, and she recently decided to honor her father's legacy through a gift that renamed the UMBC's soccer team's locker room in his honor. "Sport is a great way to build community," says Young. "It supports and celebrates the connections we're trying to make between students from so many different backgrounds."
Female Capital
Associate professor of history Amy Froide, recipient of the Bearman Foundation Chair in Entrepreneurship, spent a year studying the ways women contributed to Britain's financial revolution during the late 17th century. Since 2006, a grant from the Kauffman Foundation has allowed UMBC to infuse more than 60 of its courses with entrepreneurial content.
Paying it Forward
Though his parents wanted Jim Hong '73 to go to college, they weren't sure they could afford it. Hong still remembers the look on his father's face when he announced he'd gotten a scholarship. "It was a huge burden off him," Hong says. Hong went on to study biology and pursue a career in microbiology. And, when he was able, Hong took the chance to lift someone else's burden by giving back to UMBC. Now, he's been a loyal supporter for more than 20 years. "I'm grateful for the experience I had there [at UMBC] and I want to give back," he explains. "I look at people with brains, who want to do it, and I want to help them."
Aiding Aging
With one American turning 60 every eight seconds, thinkers at UMBC see an opportunity for the university to lead a revolution in aging education. Students in the Erickson School, founded with a gift by retirement businessman John Erickson, understand that by studying how to enhance the lives of a rapidly growing population of older adults, we will also advance our society as a whole.
Jetsetting Scholars
Over the past year, political science and French double major Laurentina Cizza '12 has lived in Italy, Jordan and France – absorbing languages, cultures, and life experiences she hopes will translate into a policy analysis job with the U.S. State Department. A Jacob Blaustein Public Affairs Scholar in the Sondheim Scholars Program at UMBC who is fluent in Italian and French (and working hard to tackle Arabic), Cizza appreciates the freedom the scholarship has given her to explore the world.
Sense of Place
Over four decades of teaching, American studies professor Ed Orser inspired so many students to explore the history of their own community, a group of Orser devotees has banded together to name a piece of the community after him. Initiated during the Campaign, funds are still being raised to endow the Orser Center for the Study of Place, Community, and Culture.
Graduate Success
Thanks to donors like W.R. Grace & Company, graduate students like Andrea Gray – a Meyerhoff Graduate Fellow pursuing her doctorate in chemistry, who also interned at W.R. Grace – have the support they need to truly devote themselves to their course of study.
* * * * *
Q&A with Alumni Leaders: At the end of the campaign, UMBC Magazine sat down with four prominent alumni, including past (Anita Maddox Jackson '80) and present (Bennett Moe '88) presidents of the UMBC Alumni Board, a long-term donor (Emmerson Small '74), and UMBC's vice president of Institutional Advancement (Greg Simmons '04), to talk about its success and the future. Read the full interview
By the Numbers: Learn more about who gave, how the money has been used and why community is so very important to the campaign effort. Read about Campaign stats