When the pandemic first hit, many of us found ourselves looking closely at what surrounded us and what confined us. For Brea Souders '01, visual arts, however, the circumstances drove her to look outward through the screen of her upstate New York window, and to wonder deeply about the lives happening beyond her driveway. End of the Road, the latest in the Albin O. Kuhn Library Gallery's spring online exhibits, pairs Souders' images with the poetry of UMBC writer-in-residence Lia Purpura, to create tender appreciations of the details that connect us all, even when we're apart.
We sat down with Souders and Purpura to learn more about the making of End of the Road, on display now through the end of April.
* * * * *
UMBC Magazine:  So, Brea, how did the idea for this series come about for you?
Brea Souders: In late March 2020, I moved from New York City to rural upstate New York. This was the beginning of the pandemic when contact with the outside world was abruptly cut off for many people and would be for the foreseeable future. The house is situated just before the gravel cul-de-sac of a country road and I began to observe people through my window as they wandered back and forth to the end of the road.
So it started in a space of stillness and solitude, which led to focused daily observation. I began to wonder about the people I saw; what brought them to the end of the road and what their stories were. As a photographer it's second nature to pick up a camera and photograph something that has captured and sustained my attention, especially if it mystifies me in some way, if there is something hidden or unknowleable in what I see. Even if it's an illusion, the camera draws a line connecting you and your subject and shortens the distance between you.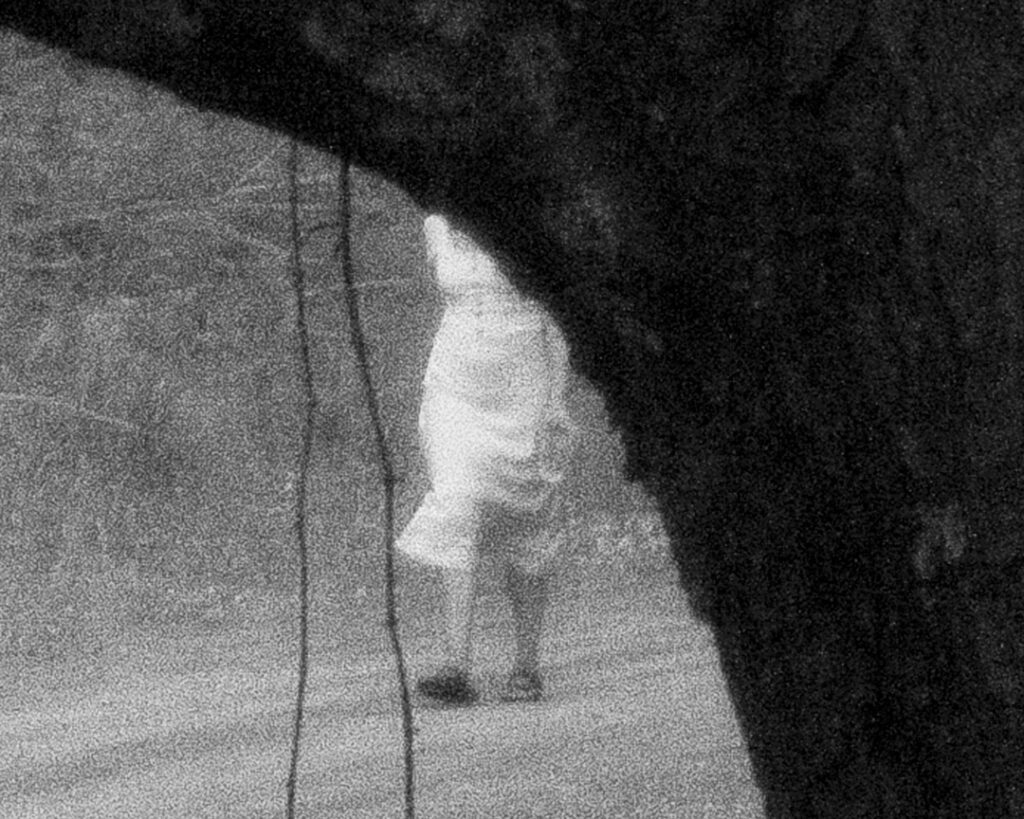 UMBC Magazine:  What was your mindset at that time, making them, versus where you are now?
Souders:  There is solid evidence now that the world will begin to open back up and there are already some signs of that happening, but we're still very much in this emotional and physical space of isolation and stillness. I've been making these pictures for a year now, and the trees are beginning to bud again just the way they did when this all started. It's reassuring to witness some things just carrying on as they do. 
UMBC Magazine:  And Lia, you were brought into this exhibit by curator Beth Saunders. What did you feel when you saw Brea's images for the first time? What was your first impression?
Lia Purpura: When I saw Brea's photos, immediately they seemed like micro-dramas, these brief moments that enacted a form of inward reflection that's also a part of the way many people are experiencing COVID times. Artists are able to find the under-seen, under-noticed ways of being and Brea's work does that.
I love is the way Brea sees, and the different postures of these photos. And by "postures" I mean the place from which the eye is seeing. Postures of discovery. The intimacy, the solitude of the space, the stillness the viewer inhabits. That quiet felt inhabited by a presence, a curious eye.
UMBC Magazine: What was it like to collaborate in this way, pairing Brea's new images with Lia's poems from her 2015 book, It Shouldn't Have Been Beautiful?
Souders: I love the way Lia thinks. She categorized the initial list of poems for our collaboration according to the photographer's point of view, the subject's point of view, the seasons, the feeling of walking, and sense of place. That approach deepened the connection between the poems and pictures and informed the selection and sequencing of both.
It was Beth's idea to organize the images loosely by seasons. As you scroll through, you have a general sense of the seasons, although the window screen and distance impart a greyness to the images and you have the feeling of where am I? What day is it? Which of course is the way many people would describe this past year. The human condition and the seasons are so finely articulated in Lia's poems. I love her exquisite attention to detail and the quiet observation felt in her work. In some of her poems, it feels as if she is looking through a small window just the way that I am.
Hope 

To feel the slightest 
breeze come on
but not expect it
to last, though
it is a lifting,
relief
that's been scarce —
you can't help
noting 
the drop in degrees,
but it might not 
be a real change
in weather,
you might overheat it,
or scare it
by speaking its name, so
hold back, learn to say
not just yet, 
I won't rush it
and no, I'm not dying
for a very small sip of
whatever that was
in the trees.

— Lia Purpura
UMBC Magazine: There's a lot of trust involved in the process, I'm sure.
Purpura: Yes, absolutely!  We didn't know each other at all. I mean, I think Brea had read some of my work, but at the outset is the decision to trust in many things. A person's aesthetic, their sense of good will, their collaborative ego—with this relationship in place, you can launch all kinds of thoughts and know the other will receive it in open ways.
Souders:  Definitely. I felt it immediately, too. Kindred art souls.
UMBC Magazine: Brea, I understand you have a book coming out in June from Saint Lucy Books, and there are even more UMBC connections there (designer Guenet Abraham and publisher/editor Mark Alice Durant, both visual arts professors). What does it mean to see your work embraced so strongly within the UMBC community?
Souders:  I'm floored by all the support. It's a wonderful thing to be able to collaborate with a network of kind people doing exciting, interesting work in their fields. I'm truly honored to be a part of that.
* * * * *
The Albin O. Kuhn Library Gallery will host a Virtual Artist's Talk: Brea Souders and Lia Purpura in Conversation on April 22 at noon. Visit the Albin O. Kuhn Library Gallery's website to register for the free talk, and to see End of the Road in its entirety.
Learn more about Brea Souders: eleven years at Saint Lucy Books.

Header image: Brea Souders, End of the Road 5, 2020. Courtesy of the artist.