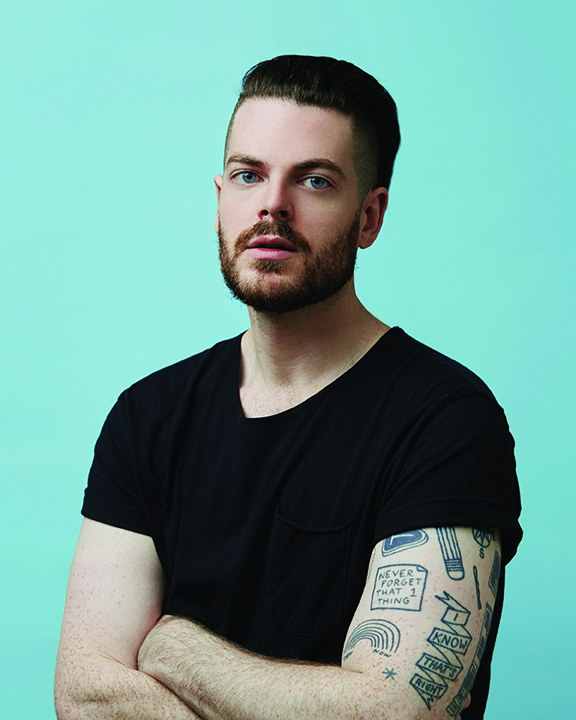 Adam J. Kurtz '09, visual arts, is an artist and author whose work for brands such as Urban Outfitters, Fishs Eddy, Tumblr, Penguin Random House, and Strand Bookstore (among others) offers emotion, humor, and at times darkness. His books, the most recent entitled Things Are What You Make of Them, contain insightful thoughts about communicating one's personality and emotions into meaningful work. Here, Kurtz talks about his talents and artistry, and about how UMBC impacted his career after graduation.
– Allison Cruz '18
Q: You have done so much creative work as an artist and as an author. What inspired you to explore these talents and how did you turn them into a career?
A: It's tricky to ever explain how personal creative work becomes a sustainable career, and it's something for which I'm constantly appreciative. I started with small, personal projects for fun –  self-published work and products – and over time, people took notice. Success is about so much more than actual talent once you define what "success" even means to you in your given profession. I feel very lucky.
Q: Talk a little bit about what currently inspires your projects and how you relay this inspiration through your work.
A: A lot of the work I make is just about exploring everyday emotion as a person in the world and a person in their own head. Most recently, I hand-wrote an entire book of essays called Things Are What You Make of Them: Life Advice for Creatives for Penguin Random House. It's all about the challenges that people who make creative work (professionally or personally) experience, challenges such as self-doubt, fear, tricky collaborations, or even just how to be happy when you feel compelled to put all of yourself into everything you do constantly.
Q: When it comes to the work you have with clients such as Urban Outfitters and Fishs Eddy (along with others), do you create your product and then they take notice or is the product more of a collaboration between you and your client?
A: Every project is different but it usually starts with the end first. It's important to think not just about the work you are going to make, but also the context and the end result. So a conversation with Urban Outfitters might go like, "We want to work together! Here are the types of products we're able to produce given our timeline." And then I work to conceptualize and execute my art and illustration in a way that makes sense for that. It's always a true collaboration, and if something feels weird or isn't working, we don't do it.
Q: Does your work as an author relate to your illustrative work and graphic design work in some ways? Do you have projects that combine all these talents together?
A: My books are all illustrative, using simple line-art and text to guide the reader through interactive journaling and introspective activities. 1 Page at a Time and Pick Me Up are all about looking inwards to figure out who we are and what we have to offer. This sounds cheesy as hell, but when you see the final book in my style and start using it, the response is usually like "Wow, I thought this was going to be b.s. but it wasn't!"
Q: You got your degree in visual arts here at UMBC. Do you recall why you chose UMBC? And what reflections do you have on how your time at UMBC impacted your career?
A: I chose UMBC because it was in-state and had a graphic design department. A counselor at a local community college mentioned it and I transferred in for my sophomore year. I applied to no other schools. I hate to act like it was a random choice, but it was.
What I learned at UMBC is that education happens as often outside the classroom as it does inside the classroom. I worked at commonvision, the campus print and design center, for several years as well as with the Student Events Board (SEB). I curated Art Week one year, organized an exhibition at The Commons Art Gallery, and had a radio show on WMBC. I was one of those annoying people on campus who was always handing out handbills for something. Ultimately, I got as much out of my three years at UMBC as I possibly could have and I took all of it with me when I graduated.
Q: What kind of advice do you have for current UMBC students and other alumni who are pursuing creative opportunities in visual arts and design?
A: In creative fields, your degree is only as important as your work itself. Make sure that you're doing coursework that makes you proud as well as taking on extracurricular responsibilities. UMBC is a relatively small community and there's a real opportunity to make an impact on campus life, or at least your own. Take courses that cover a wide range like coding, printmaking, and film so you leave with as many skills as you can.