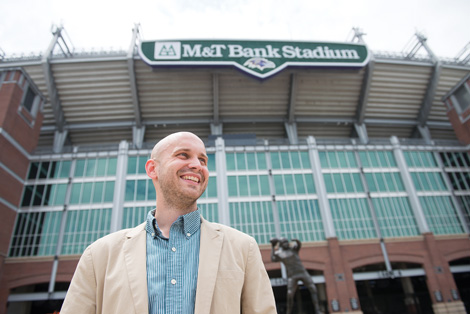 Alex Pyles '09, English and media and communication studies, had loyal friends during his UMBC days.
One night, when he returned to his UMBC dorm room after covering a Baltimore Orioles player's rehab assignment with the Frederick Keys (the Orioles' single A minor league team), he found his roommates with their laptops open. They were clicking repeatedly on an article that he had just posted on the website of The Baltimore Sun. Thirty minutes later, Pyles' story was atop the Sun's "most read articles" list. And it was only his first byline.
Eight years later, Pyles manages the Sun's coverage of the Baltimore Ravens and the entire National Football League. He can be found on Sundays during the fall at M&T Bank Stadium overseeing the staff of Sun reporters who give the team's fans an inside look at each home game. He also manages the team's coverage from Baltimore when the Ravens are on the road.
Pyles says his focus on vivid description in reporting stories was one of the many lessons he took away from his close association at UMBC with Christopher Corbett, a professor of the practice in the university's Department of English and the faculty advisor to The Retriever Weekly.
"Professor Corbett always talked about detail and how important it was," Pyles says. "What somebody was wearing, what they did with their hands during the interview, and what they were looking at. You look at something and you try to describe it, but he made me pay attention to the minutiae."
Pyles' interest in journalism was sparked when he received a copy of The Retriever Weekly in his welcome packet from UMBC during the summer before his freshman year. He decided to stop by a staff meeting when he arrived on campus. Three weeks later, he was hired to cover the UMBC men's soccer team.
"I was riding high. I was thinking this was what I want to do," recalls Pyles.
Pyles quickly impressed his colleagues with his polished writing skills. Eventually he worked his way up to become the editor in chief of the newspaper.
"Alex Pyles was the best all-around editor the newspaper has had in my time at UMBC," observes Corbett. "There have been some excellent editors who have been successful in the real world. But Alex was the editor who combined all of the skills necessary to be good at what he did."
Prior to being named the Sun's professional football editor in April 2015, Pyles sharpened his journalism skills through a series of successful internships, freelance gigs, and jobs at a variety of outlets, including the Wilmington News Journal, Patch.com, and The Daily Record.
Although he has been an avid sports fan from a young age, he has found it takes more than a passion for sports to become a sports journalist. "I'm fortunate in that I realized this very early," he says. "When you are covering sports, you aren't really a fan anymore. You stop rooting for colors and jerseys, and you start rooting for good stories."
That constant search for good stories has lead Pyles to create a coverage strategy to increase the ways that the Sun connects its readers to news about the Ravens. It's more than just game recaps. He's using more video and photos to engage his audience on a broader stage online and through social media. In today's much-diluted media landscape, Pyles recognizes that the daily newspaper isn't dominant by default anymore in covering professional sports. His team has to tell truthful stories in consistently interesting and innovative ways to stand out.
"Everyone can see the game," he explains. "My job is to tell them what they can't see."
— Max Cole
Tags: Fall 2015