Retrieving the Greatest Moments of UMBC Athletics History
By Richard Byrne '86 and Steve Levy '85
Athletics has been an essential part of the UMBC experience since the founding of the university. So narrowing down almost five decades of history – and shining a spotlight on a few of the iconic athletes of UMBC history – is not an easy task.
Our guiding principles in what we did include aimed at inclusiveness. We tried to find the moment that spoke to each varsity sport played at UMBC, with equal weight to men's and women's teams.
You can read more about the athletes we've chosen at our website. And we know didn't capture every great moment. Not by a long shot. So we want you to share your own with us online as well. Let's keep the celebration of Retriever athletics going!
1966
UMBC plays its very first intercollegiate game on November 4 – a spirited 4-1 loss by the men's soccer squad to the University of Maryland, College Park
1974
Men's baseball standout Mel Hammel '76, history, pitches the first UMBC no-hitter in a 20-0 win over Coppin State.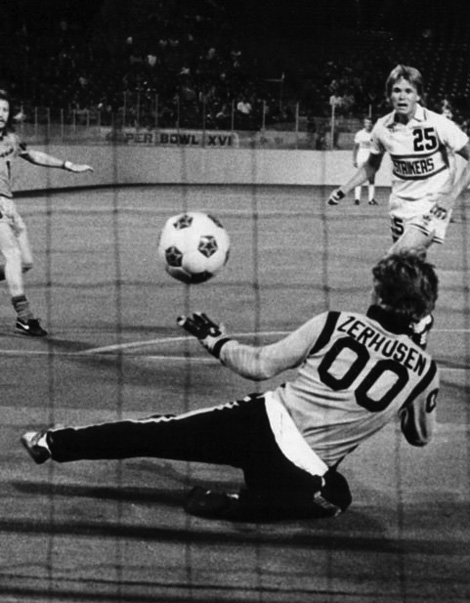 STEVE ZERHUSEN '78
A standout at goalkeeper for UMBC men's soccer teams of the mid-to-late 1970s, Zerhusen later played professionally for the Fort Lauderdale Strikers of the pioneering North American Soccer League. As a Retriever, he recorded 372 saves and 22 shutouts.
Favorite moment? My favorite moment was the first game in my sophomore season (1976) against the University of Baltimore – who were defending national champions. It was a scoreless 90 minutes of regulation where I would say we had the better of the action. Late in the game, (current UMBC men's soccer coach) Pete Caringi – who was an All-American senior for University of Baltimore and a dangerous finisher – came in one-on-one on a through ball. I came out of the goal and met him at the top of the box. He tried to go to my right, but I dove and grabbed the ball. Then with two minutes left in overtime, a UMBC freshman, Ricky Roberts, scored the game winner. It was a tremendous confidence booster for a young team. Image: Ft. Lauderdale Strikers at Detroit Express (NASL)
1975
UMBC men's cross country team goes 10-0 and wins the Mason-Dixon conference title.
1977
The men's soccer team becomes the first UMBC team to compete in a postseason NCAA tournament.
KATHY ZERRLAUT
Few people have the broader and deeper perspective on UMBC's athletics program and its history than Kathy Zerrlaut – who came to UMBC to coach volleyball and lacrosse in 1973. Zerrlaut spent the next 41 years at the university, with 850 total games as a coach in both sports. She also played a key role in the development of the program for more than two decades in the post of senior associate athletic director and compliance officer at UMBC.
Favorite moment? As a coach, I would have to say my lacrosse team winning the ECAC tournament as a Division II program in 1984. The NCAA had not yet offered a championship in women's lacrosse, so this was big.
Greatest achievement? I'd say my most significant achievement was compliance-oriented. We were the first division one program to be certified by the NCAA. We always prided ourselves on having no major violations.
What's special about being part of UMBC athletics? The makeup of the athletic department team. I worked with (longtime UMBC athletic director) Charles Brown, who was committed to the success of the entire program. Women's athletics started to progress in the 24 years of Dr. Brown's tenure, due to his efforts and also to the support of Dr. Susan Kitchen. Our administrative group clicked, we had cohesion and the same goal – the welfare of the student-athletes.
1979
The Retriever men's basketball squad – ranked number six in the nation – advances to the NCAA Division II tournament quarterfinals, losing at home to Naismith Memorial Basketball Hall of Fame coach John Chaney's Cheyney State team.
1980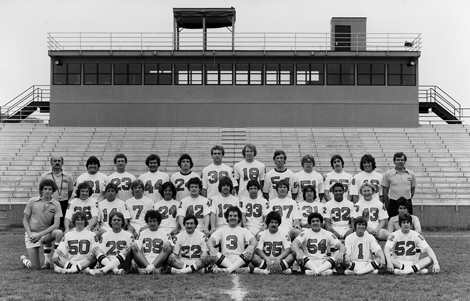 UMBC men's lacrosse team wins the university's only national championship, beating Adelphi for the NCAA Division II crown.
GEORGE MCGEENEY ' 82
As a defender for the men's lacrosse team, McGeeney was a First Team All-American at UMBC in 1982. He later played for Team USA in the World Games of 1986 and 1990 and also played professional indoor lacrosse for the Baltimore Thunder of the National Lacrosse League.
Favorite Moment? I had the good fortune of graduating from UMBC and winning the William C. Schmeisser award as the top defenseman in Division 1 lacrosse on the same weekend, as well as being named captain of the South team in the North-South All Star Game. I was fortunate to have great teammates and a great coach in Dick Watts that pushed me hard to be the best player I could be.
What was special about being a UMBC student -athlete? There were no shortcuts and the ability to balance playing division one lacrosse and working toward my economics degree was challenging but very rewarding. What was most special was the faculty and staff , in particular my advisor Michael Bradley – a great teacher, person, and supporter of UMBC lacrosse and athletics.
TAMMY MCCARTHY '87
As an All-American guard at UMBC in the mid-to-late 1980s, McCarthy was one of the university's basketball greats, and she continues to hold university records for most points scored and scoring average, and remains second in total rebounds.
Favorite moment? Every time the ball tipped off.. so every season… every game!
Greatest achievement? Being named to the District II All American Team and continuing to hold the UMBC women's all -time leading scorer record.
What's special about being a UMBC student-athlete? I formed lasting friendships that I treasure today.
1993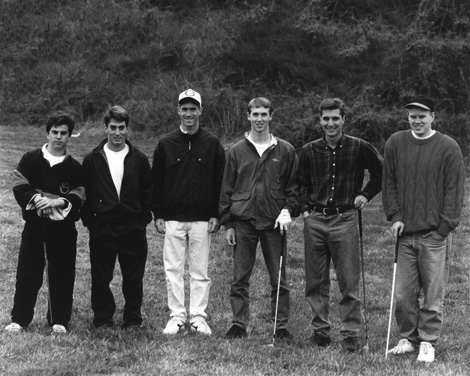 Mike Meyer '95, interdisciplinary studies, wins Eastern College Athletic Conference golf championship.
1995
UMBC women's volleyball team wins the Big South conference title.
DAVID BOBB '97
As a track and field standout at UMBC, Dave Bobb garnered more individual honors than any other Retriever athlete. He was the top American-born sprinter in the United States in 1997, Bobb is currently the university's men's track and field coach.
Favorite moment? When UMBC's outdoor track was built in 1997.
Greatest achievement? When the UMBC men's track and field program was ranked 18th in country. As far as individual achievements, I placed third in the 55 meter dash and third in the 200 meters at the 1996 NCAA Division I indoor championships.
What's special about being a UMBC student-athlete? The friends I made when I was a student-athlete and the memories with my team are very special to me.
1998
UMBC women's tennis wins the second of two consecutive conference championships, and qualify for their first-ever NCAA Tournament.
1999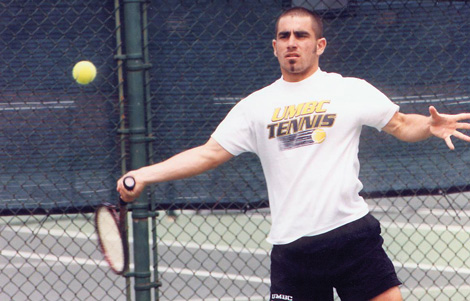 Men's tennis standout Oscar Lopez '00, and M.S. '02, mechanical engineering, becomes the first UMBC Division I athlete to garner First Team Academic All American honors.
2002
UMBC women's lacrosse team makes its first NCAA tournament appearance.
2002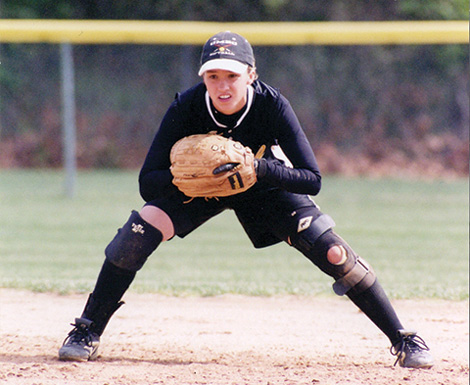 Women's softball squad beats Liberty, 7-1, in the 2002 NCAA Tournament.
2004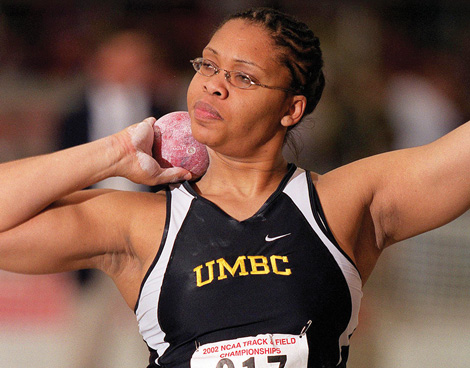 Women's track and field phenom Cleopatra Borel' 02, interdisciplinary studies, competes in the 2004 Olympic Games in Athens, placing 10th in the world in the shot put.
KELLY FIORANI MARRIOTT '06
As a standout player in women's lacrosse who also excelled in the classroom, Marriott is third on the all-time scoring list at UMBC. She also lettered for two seasons in women's soccer, making her a double threat for Retriever athletics.
What was special about being a UMBC student athlete? What wasn't special? UMBC is often overlooked as a mainstream competitor. The potential to make a name for yourself is unmatched. The student-athletes are smart and driven, and our community of athletes was tight-knit and small enough that we all knew each other and could support one another – whether it was in our sport or in the classroom. UMBC's athletics department dedicates time to each individual and each team, and no one sport was favored over another. Athletes can get lost or fall off the map at some of the larger schools. Women's sports are often considered less important in our nation's leading division one programs, but that was never the case at UMBC. When I walked in to the RAC whether it be for treatment, to catch a basketball game, or to meet my coach, I always felt I was more than just a number. I was a successful, student-athlete, and people respected me for that. I am proud to have been a student at UMBC. I am proud to have been an athlete there. It's a special place.
2004
UMBC men's swimming team wins its first America East championship title.
2007

UMBC women's basketball team earns its first NCAA tournament bid.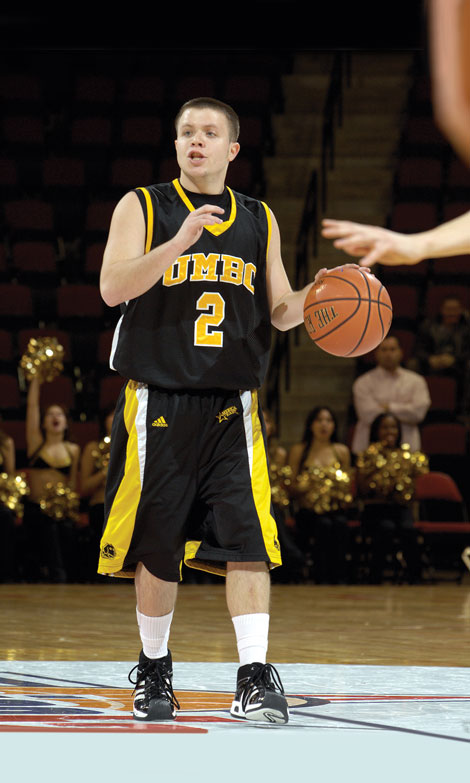 JASON GREENE '09
The sparkplug for the UMBC men's basketball team's memorable run to the NCAA tournament in 2008, Greene holds school records for most games played, most minutes, and most assists. He is currently an assistant coach for the team.
Favorite moment? Being able to celebrate the 2008 Championship in the RAC with my teammates, family, and friends! A dream made into a reality. Ever since I was a kid, I envisioned myself jumping on top of a scorer's table celebrating on our way to the NCAA Tournament. No one can ever take that moment away from us.
Greatest achievement? Walking across the stage on graduation day with my family in the stands. It was a very proud moment! As an athlete, it was being a part of history as a member of the first UMBC men's basketball team ever to reach the NCAA Tournament. Being on a Sports Illustrated cover and in USA Today front centerfold wasn't too bad either!
2012
Retrievers men's soccer team advances to the second round of the NCAA tournament for the second time in two years.
2013
UMBC women's soccer team caps a stunning reversal from last place in the conference to first place in a single season with a bid to the NCAA tournament
2014
Women's swimming standout Emily Escobedo '17 wins a spot in the NCAA Championships.