Establishing a legacy that spans generations is important for a school that is only 43-years-old – and one father and son team has created such a legacy as student-athletes at UMBC. John Goedeke '79, economics, was one of the school's better-known basketball players in the late '70s, when he was a two-time academic All-America selection and a seventh-round selection by the NBA's Atlanta Hawks. He is now a senior vice president in the treasury management division of Sandy Spring Bank. Kevin Goedeke '10 has been a key member of the men's lacrosse team in the last two years, helping the Retrievers earn two trips to the NCAA tournament. (He is on course to graduate next spring with a degree in aging services.) They talked with UMBC Magazine about their family's involvement in UMBC and its athletics program.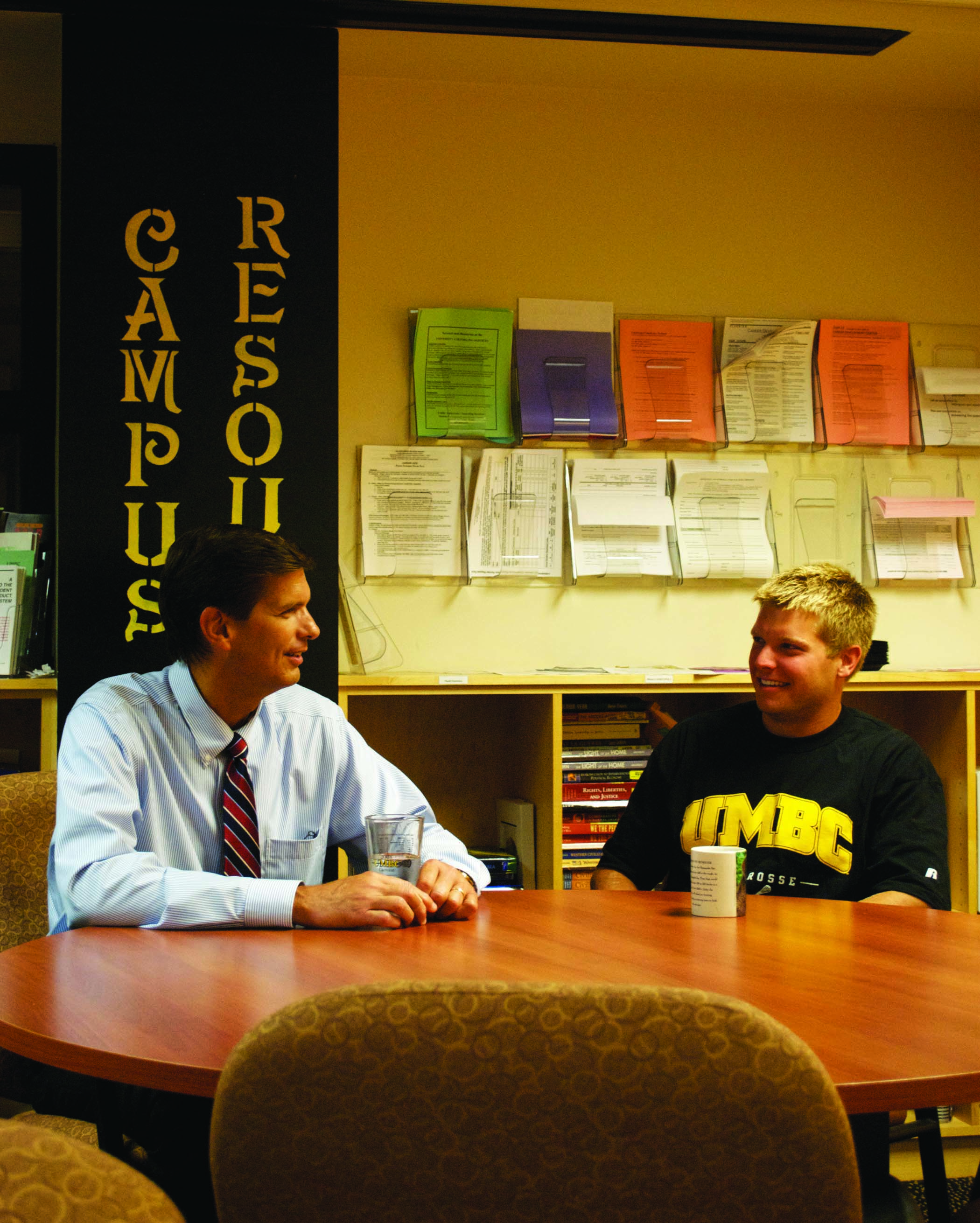 What has it been like having another Goedeke as a prominent athlete at UMBC?
John: For me, it's been a lot of fun. It enabled me to reconnect with a lot of people, although I've been active there over the years…. I have a lot of great memories, and to see him have success there is a lot of fun.
How has the legacy of your dad affected your time at UMBC?
Kevin: It was really cool to see all the pictures in the gym of him and all the old teams. It was nice when some of the faculty and professors knew my last name. A lot of people knew who he was, especially those who'd been there a long time. It opened up a lot of doors for me, and I definitely liked it.
How much did you talk about Kevin going to UMBC during the recruiting process?
John: We really didn't. If he went to school at UMBC, I wanted it to be his decision…. I remember the day he went for the campus visit, my wife went with him. He really made the decision on his own. When you play sports in college, it really is a commitment. You've got to be happy and you've got to be in a place you want to be at.
Kevin: I always knew it was an option. He let me make my own decisions. He would answer any questions I had, but he'd never favor UMBC over any other choices. I know how my dad is, and I know he didn't want to put any pressure on me to go where he went. He just wanted me to go where I'd be happy.
John: Once Kevin did make the decision, then there was a lot to talk about. He has played against some of the top teams in the country, and that was a thrill for him. I have never seen a team of players as close-knit as this team this year. It was unbelievable the way they worked together on and off the field.
Kevin: It's more of a family than it is a team. That made it for me. We had a great group of people and that made the experience better.
Aside from its athletics, what makes the UMBC experience special?
John: Academics, obviously, is very important. I think UMBC has a great academic reputation, and that reputation is growing. I joke with everyone that I'm glad I went there when I did because I don't know that I could get through now.
Kevin: I knew it was considered a good academic school, and it was nice to get to go and play lacrosse also. It was nice knowing that I'd be getting a good education. It's hard to find a school that has really good athletics, but still has small classes and is still known as an honors university and still known as a good school.
John: It's all about the people, and UMBC has great people. They did when I went to school there, and they still do today, and I think that's a testimony to the university that a lot of the same people that were there when I went there are still there.