Discovering Japan
When UMBC men's lacrosse team returned from an 11-day trip to Japan to play in the 2009 International Friendship Games, they came back with more than an undefeated record in the competition. They also returned with a sense of what makes Japan unique and a camaraderie that spanned cultural divides.
Members of the team opened up a window on their journeys in Japan with postings during their trip at The UMBC Dawg Blog.
"A trip to Nagoya Castle," wrote Alex Hopmann '09, business technology administration, "was capped with a trip to the gift shop to purchase rubber nunchucks and wooden swords."
Tim Eagan '10, added that Hopmann "managed to break his chucks before we even left the castle."
Encounters with Japanese cuisine – including the surprise of rice, pasta and veggies served for breakfast and a chance to taste cow tongue – were a big feature of the diaries.
Eagan also blogged about his impressions of the tour. In one post, he described a meal in which team members ordered blindly from a menu without pictures. He noted the surprised reaction of teammate Michael Camardo '10 when he "was served a bowl of cold noodles and seaweed, topped off with an obnoxious amount of coconut shavings."
The trip also celebrated the 20th anniversary of the Games and a nearly two-decade-long relationship between UMBC and the Japan Lacrosse Association (JLA). The team competed against numerous collegiate and national squads, including a one-goal win over Japan's national lacrosse team.
For more information about the UMBC Dawg Blog, visit umbcdawgblog.wordpress.com/.
Field of Dream Teams
It isn't often that soccer players valued at hundreds of millions of dollars parade on the Bermuda grass pitch at UMBC's Soccer Stadium, but that's just what happened on July 23, when two of the best professional teams in the world held practices there.
English giants Chelsea and Italian titans AC Milan were in Baltimore for a sold-out match at M&T Stadium on July 24, and both teams found a congenial pregame practice site on UMBC's campus. (Chelsea won the exhibition match 2-1.)
It was a chance for some lucky members of the UMBC athletics community to watch players such as Chelsea's captain, John Terry (who was the object of a nearly $50 million offer from rival English team Manchester City over the summer), and AC Milan's Brazilian superstar Ronaldhino kick the ball around in Catonsville.
AC Milan players also headed over to the RAC after their practice ended, where the team shot some baskets, played a game of dodgeball and mingled with slightly-starstruck members of the UMBC community.
Chelsea and AC Milan are powerhouse professional teams in their respective countries and on the larger European stage. Both teams won automatic qualification to the Champions League for the 2009-2010 campaign, which begins on September 15.
Many of the 71,000 fans who attended the exhibition would have loved to get the close-up view of the teams that a few lucky UMBC fans got on a sunny late-July day in Catonsville.
Pete Caringi, men's soccer coach at UMBC, says that "it was a once-in-a-lifetime opportunity to have two of the best teams in the world train at our facility. We got a chance to interact with the coaches, their staffs and legendary players."
The Mascot Game
These days, Steve Butz '97, biological sciences, spends much of his spring and summer flapping and frolicking with fans in Camden Yards as the mascot for the Baltimore Orioles.
Yet Butz got his start in the mascot game as UMBC's True Grit – the ultimate Retriever Believer at athletics events and in other public venues – at the suggestion of a roommate who played men's basketball. He says he took to the mascot game quickly, developing new hijinks all the time.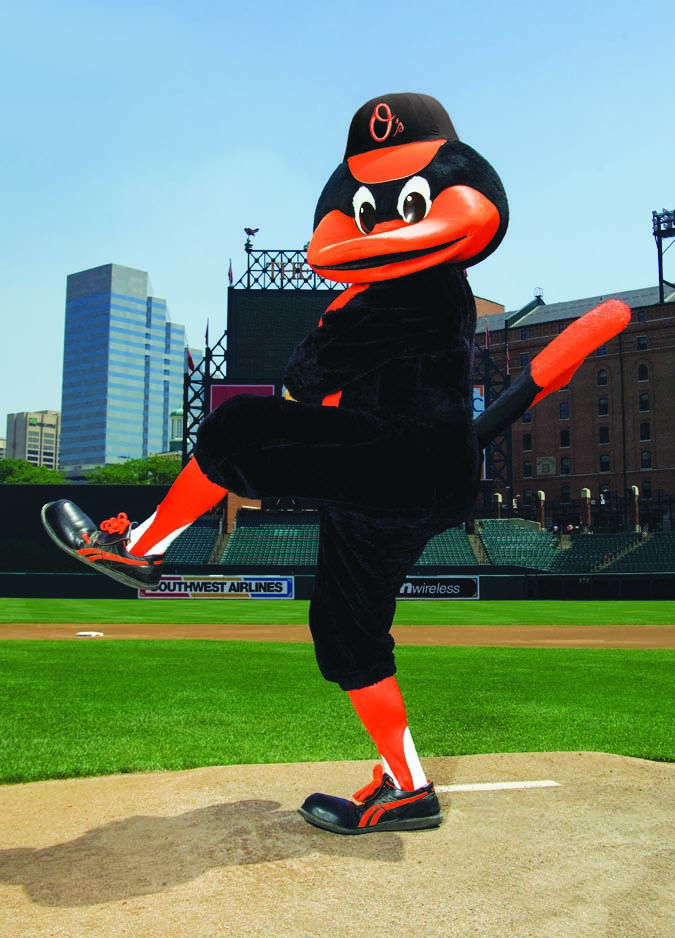 "Sometimes when an opposing team visited, I would take an opposing team's cheerleader, direct her to UMBC's side of the court, swap out the pom-poms she was holding for UMBC's, and direct her in a UMBC cheer," he recalls.
The True Grit gig also had more duties, including off-campus trips to Camp David to visit military families. And when he started the serious work of pursuing a doctoral degree in psychology at Loyola College in Maryland in 2002, he replied to an ad for the Oriole Bird slot and won the coveted position.
"In my work as a Retriever I learned what worked and what didn't in terms of how everything has to be exaggerated as a mascot," he says.
Butz now works full-time as a clinical psychologist, but he still roams the ballpark as the Oriole Bird. Psychology has proven invaluable during his mascot career, he says: "You have to think quickly and react on your feet. You want to push the limits to be a good mascot. The situation can change just like that, and you have to be able to react to that in a hurry."
Machines in Motion
From his boyhood, former UMBC provost Homer W. Schamp, Jr. was always interested in mechanical things.
"I got a windup train when I was three years old and that was a defining toy for me," Schamp says. "At five, I asked my mother, 'How do they make the machines that make the machines that make the machines?' I still don't have an answer for that one."
Now retired after a career at UMBC that began with the university's founding, Schamp makes toys that draw on his interest in how mechanisms work. At a shop in East Baltimore called Funny Things Ltd., he creates kaleidoscopes and oscillators as a hobby. Schamp's toys were even exhibited last year at the Creative Alliance in Baltimore.
An object called "Funny Things Oscillator" was Schamp's first creation. Two long strips of metal are attached perpendicularly from a block of wood. Magnets placed on each of the metal strips move them back and forth at different frequencies. His kaleidoscopes have three mirrors facing each other in a triangle. Some of them have motors that move colored panels and create patterns. One kaleidoscope's motions are even set to music.
Schamp makes his toys with children – and sparking interest in science – in mind. "I want to make people outside of science to think elementary science is important for the way it shapes [children's] interests," he says.
Schamp hopes to place his pieces in a children's science museum by the end of the summer. "In the meantime," he says, "I don't mind. I just enjoy making them."