Lockdown, quarantine, shelter in place—a new vocabulary defines this period of our lives that requires us to maintain space to protect one another. Alone, we spend our time consuming or creating art and media, but many are also having to reinvent how we share that pleasure with others.
We see comedians attempting to navigate satire from living rooms; movie releases being delayed in hopeful anticipation of a less restrictive future; and book tours being curtailed for long awaited novels. For other artists, this public pause has engendered a more private creativity—a book of poems examining anti-Asian racism, lush and gentle photographs of essential medical personnel in their personal protective equipment, a step back from the stage to perform a play over Zoom.
In facing a pandemic that's disrupted the normal rhythms of open mics and art exhibits, these Retrievers have continued their craft, carving out unique ways to then share their creations.
Can we shape and share art in community even during a global pandemic? The answer is continually a resounding yes.  
An exhibit in unusual circumstances
As Hannah Bashar '20, art history and biology, worked to curate pieces for campus-adjacent coffee shop OCA Mocha's Art During the Time of COVID-19 exhibit, she found herself inspired by the unique ways the contributing artists had drawn from the isolation and monotony of recent months to create impactful art.
"Some artists find inspiration in their new and changed landscapes and environments," says Bashar, OCA Mocha's former arts intern. She cites pieces by photographer Julie Miller, which depict the strikingly empty urban areas that the artist passed in her walks through Silver Spring.
Other works featured in the exhibit were influenced by changes in routine; during the pandemic, Miller picked up the practice of joomchi, a centuries-old Korean art medium that involves layering paper in order to create unique shapes and textures. Miller's artist statement describes the process of joomchi as meditative and "perfect for a day of isolation."
Bashar wasn't necessarily seeking art that made deep philosophical arguments about the pandemic. Instead, she wanted to display works that she thought viewers could relate to. "OCA Mocha stands for the community and it's a strong force within the Arbutus community, so I want people to walk in and feel as though they can relate to what is on the walls," she explains.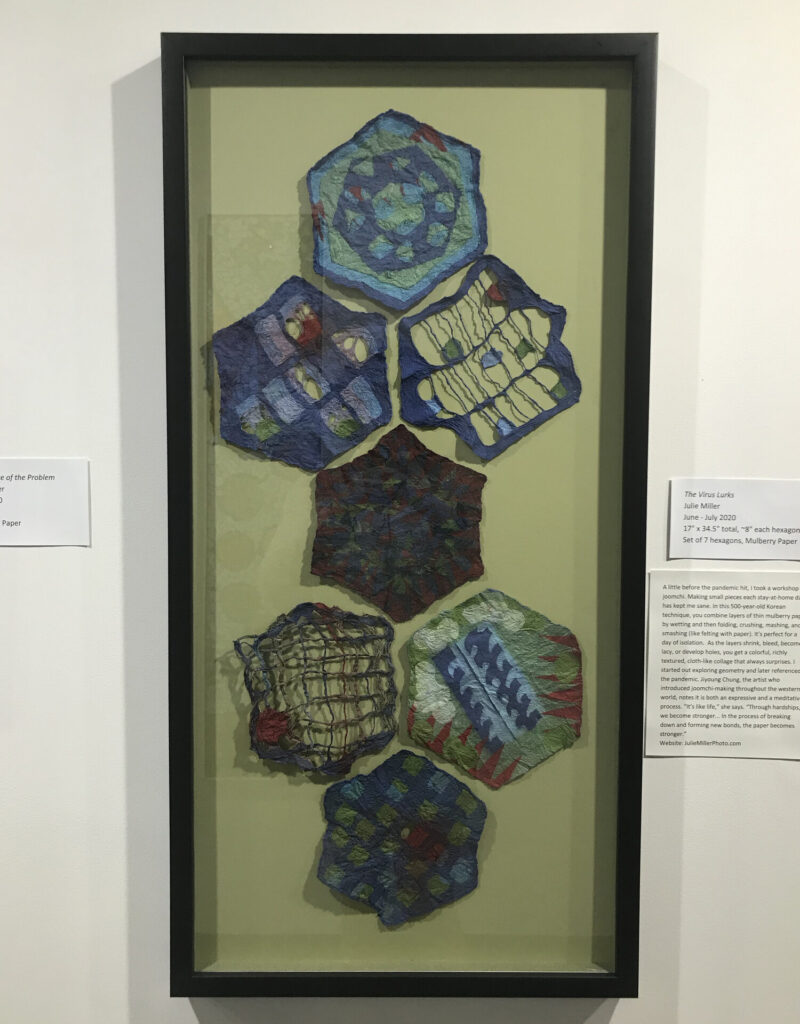 This means the exhibit ranges from powerful celebrations of Black women's resiliency in textured acrylic paintings by Kathleen McPartland to playful textiles, like a diploma box filled with a yarn rug made to look like a pizza by April Berardi '16, modern languages and linguistics.   
Bashar, who plans to pursue a career not in curation but emergency medicine, says that the unusual circumstances of this show made it an especially meaningful one to end her two-semester-long internship. "My own experience curating this show paralleled the theme of the exhibition, which is about how COVID has caused us to adapt and change with the times," she says. "I felt like my experience curating the show was, in fact, part of the show itself."
— Johanna Alonso '20
Comic relief 
Umar Khan knew he had a chance with the crowd when he kicked off his stand-up comedy career a decade ago as a student—most of the faces in the audience were his friends and fellow Retrievers, gathered around the Sports Center stage on the second floor of The Commons. "I think there were like eight people there, and I remember walking away thinking it went well, although I'm sure if I watched it now…" Khan trails off. 
"All comics will tell you this, but we have to be some of the most delusional people in the world," laughs Khan '10, psychology. "What person in their right mind thinks they can captivate an audience of strangers for a set amount of time and on top of that make them audibly laugh?"
Armed with a notebook full of jokes he cringes at now, Khan performed at UMBC a few more times during his senior year. He kept going after that, making inroads into the DC comedy scene, maturing his content and honing his stage presence, filming his own special, performing shows almost every night while pursuing his day job as an elementary/middle school psychologist in Baltimore City. Fast forward 10 years, and COVID-19 hit comedy like so many other arts and industries. 
"Now with COVID, everyone is having to take steps back," says Khan. "If you used to sell out theaters, well, when is anyone going to pack a theater again? So now you're going into comedy clubs. And the people headlining comedy clubs are getting pushed down to the next level. And it just keeps going."
"I'm so thankful I have a career—my immigrant parents were right," Khan laughs, "dreams are stupid. You gotta get a government job with benefits and a pension." 
In August, Khan was able to return to the stage, in a backyard show following pandemic protocols. "People are so hungry for entertainment and there's so much going on in the world right now, says Khan. "We were pushing the line and people were loving it. It was so fun."
"You can tell people just want to feel some sense of community and a comedy show offers you that community because you're all laughing at the same thing. And you can leave and talk about the show—sharing the experience. It will be one of those shows we'll look back on and be like, 'oh remember when we had to do that during COVID?'"
— Randianne Leyshon '09
Chocopies for world peace 
In an era where simply eating inside a restaurant is considered risky behavior, there was no way an art installation that invites thousands of guests to share in consuming a huge pile of South Korean snack cakes could go on as planned.
Thus, Mina Cheon's Eat Chocopie Together project, which was shown physically at the Busan Biennale 2018 in South Korea and had been slated to open at the Lincoln Center in June 2020, had to be postponed. But Cheon, M.F.A. '02, imaging and digital arts, and her collaborators knew that, as the pandemic raged on around the world, the installation's themes of love, peace, and unity were more relevant than ever.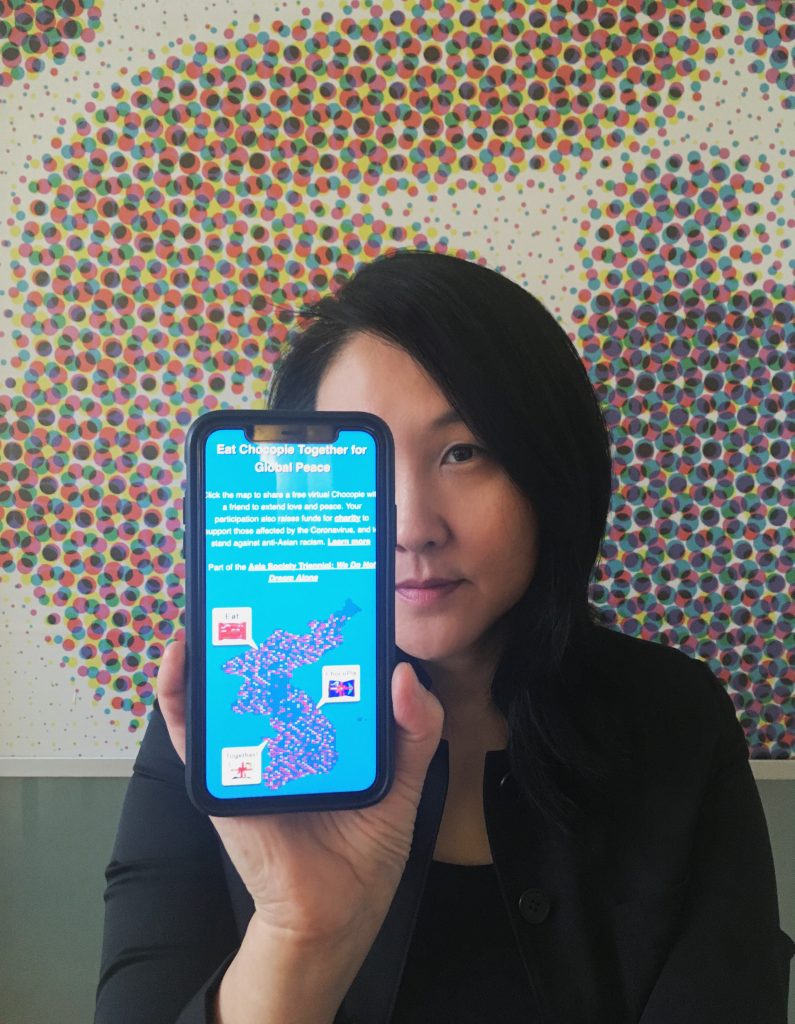 To safely bring the project into the age of COVID-19, Cheon created a website, EatChocopieTogether.com, that allows friends to email one another digital versions of the marshmallow-filled treat. The chocopies are represented by graphics modeled after real chocopie wrappers but newly designed by the artist and emblazoned with one of five words: love, peace, share, eat, or unite. The recipient can "eat" the snack by clicking the graphic, and each chocopie sent and received contributes $2 to the Korean American Community Foundation COVID-19 Action Fund. 
"It's an extended version of the original. It's taking all the inspiration, the sentiment, the spirit of Eat Chocopie Together, but going virtual allowed us to explore the different packaging with the multiple themes" and to fundraise, Cheon says. As of September, the project reached its $5,000 goal.
The original meaning of the installation lies in the history of the chocopie; the confection is incredibly popular in both South Korea and North Korea, despite being banned in the latter country. Sharing chocopies is "meant to bring awareness of the two Koreas working towards peace and unification," according to a press release published by Asia Society Triennal.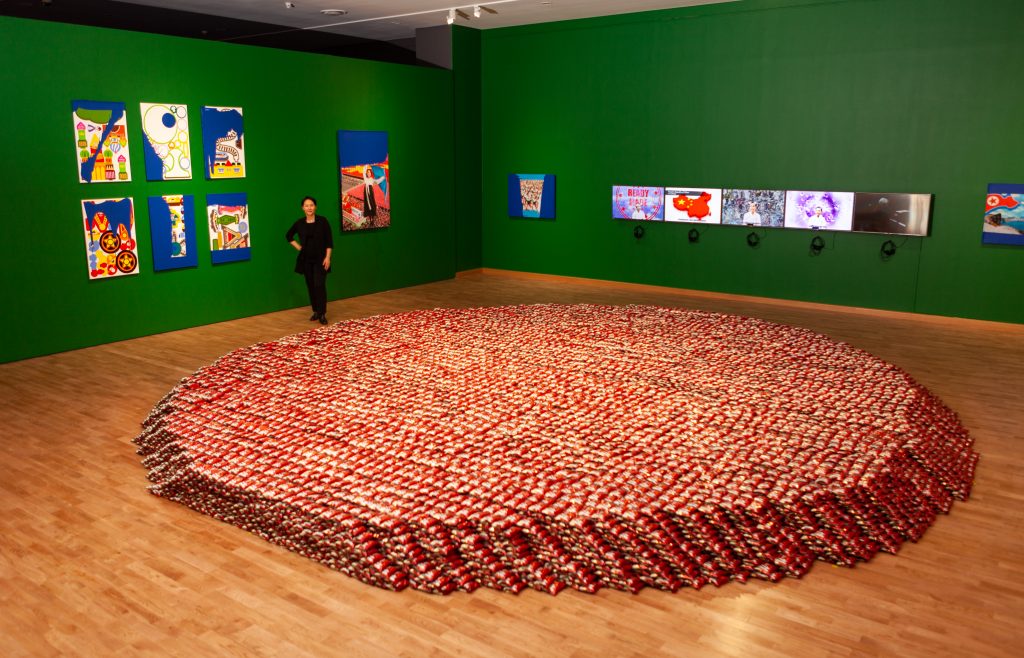 The virtual version of the project emphasizes an even more global message, according to Cheon. "We are socially distanced and separated, but we can still connect," she says. "That was such a big, empowering idea, that we could still heal through our virtual connection."
— Johanna Alonso '20
Art by appointment
Bonnie Crawford describes looking at art like a religious experience. So when COVID-19 interrupted her life, she realized that what she missed most was experiencing art with her friends. Over the course of a month, Crawford, M.F.A. '08, imaging and digital arts, invited people by appointment to view her work of dental floss weavings in the shed in her backyard. 
"There's a unique mindset when someone is looking at art," says Crawford, who didn't want people to lose out on that opportunity during the various stages of lockdown.
Crawford was worried at the beginning of the pandemic that she would possibly never make art again; she was finding it meaningless. Her weavings had usually been a way for her to channel creative energy, so she reinvisioned how to share her work with others which gave her renewed purpose.
Crawford's dental floss weavings grew from the work she does on her Instagram feed, @brushhouse, where she shares pictures of her family brushing their teeth, sometimes including a guest appearance from a friend. The weavings extended from her desire to do more formal work. They range from small enough to fit in a wallet to a tall floss weaving that hangs like a tapestry. 
"I would go to my studio until I had to use the bathroom," Crawford laughs. This meant driving across the city to go at home, wanting to err on the side of caution in the face of a novel virus. In this way, Crawford slowly made progress on her largest dental floss weaving. When she was finished, she asked her sons and boyfriend to clear out their things from the shed and then got to installing.
The exhibition was up for about a month, available for viewing on Thursdays, Fridays, and Saturdays. Using an app to schedule appointment slots, in total 90 people came to see her work. "I hoped that it fulfilled that spiritual need for others like it did for me," she says. 
— Imani Spence '16
All the world's a digital stage
Like most things that cannot be held in person due to the coronavirus pandemic, theater has found its virtual home on Zoom.
These digital performances can be quite similar to the existing practice of staged readings, in which actors deliver their lines with little to no sets or costumes, often while sitting. But to tell some uniquely 2020 stories, some actors, playwrights, and directors have taken this medium to a new level.
Among them is Jurdan "JC" Payne '21, theatre, who has spent the past few months performing in virtual plays featuring casts located throughout the country. Most recently, in a ten-minute play called High, Low, Uh-Oh, Payne is one of two characters on a video chat. He calls to wish a friend happy birthday, unable to celebrate in person due to COVID-19.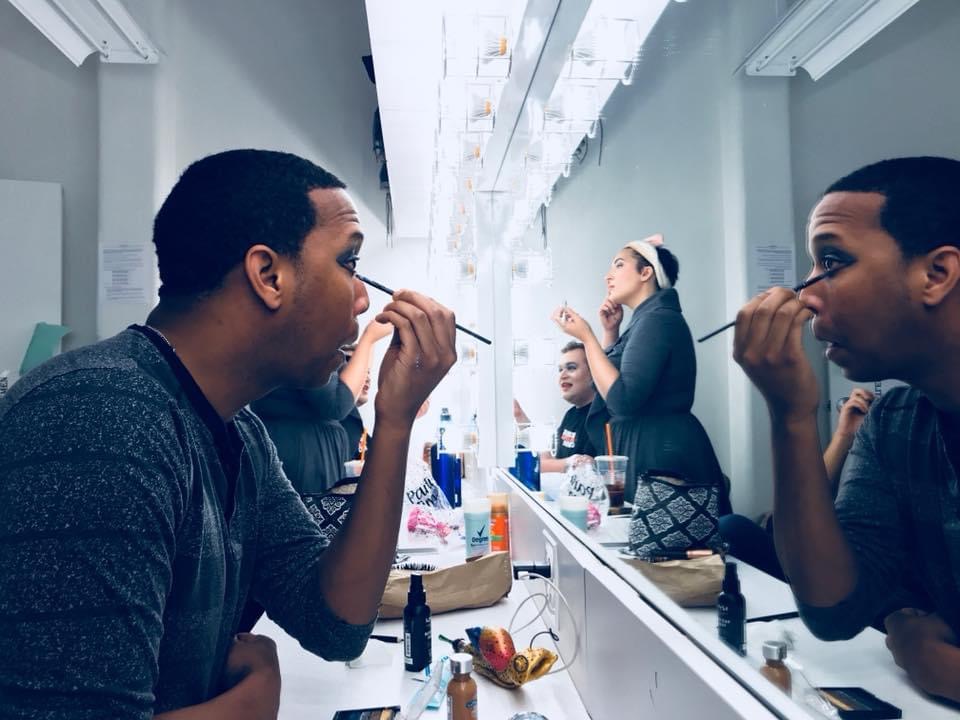 It was the first time Payne had ever used his own house as a set and his own possessions—ketchup mixed with water to simulate blood and a sock puppet through which he sang "Happy birthday," for example—as props. Most of the props weren't listed in the script; instead, Payne used whatever he had laying around the house to supplement the existing material.
(And yes, that does mean he already owned a sock puppet with googly eyes).
"It was kind of new territory for me," he says. "It's different from being on stage, but also really different from filming a short film or a commercial."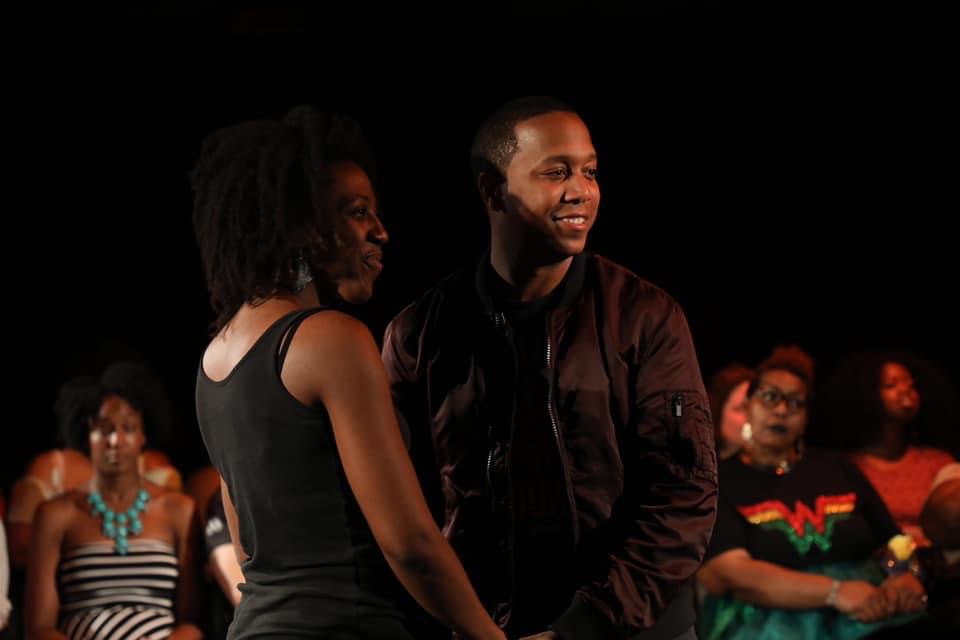 Another element of working in theater that has changed in recent months are auditions, says Payne. Whereas actors were once expected to dedicate 8- to 10-hour-long days to auditioning, the pandemic has solidified the fact that virtual auditions can be just as effective and informative as in-person ones, signaling a welcome shift from the traditional long audition days. 
"I hope that eventually theaters will adopt that practice moving forward," Payne says. Still, he notes that a self-tape, as they're called in the industry, can be challenging because it requires the auditioner to act as lightning designer, cinematographer, and director, all while trying to perform.
"It's like learning a new language," he says.
— Johanna Alonso '20
Community of poets
Calista Ogburn '21, health administration and policy, began writing poetry as a way to orient herself in a new environment. As a high school sophomore in Seoul, South Korea—after moving from Vietnam—Ogburn was looking for community so she joined a public speaking club that introduced her to speech tournaments and poetry readings. 
At UMBC, Ogburn has continued to use poetry as a means of making a home for herself. She credits Lia Purpura, writer in residence at UMBC, with helping her reimagine her poetry and her process as a writer. Ogburn, who is the communications director for the Student Government Association, also connected with other students in the Retriever Poets, a student group that encourages poetry through open mics and workshops. Ogburn's first book of poetry, a splash of yellow, edited by fellow Retriever Morgan Mullings, media and communications studies, was published just for Ogburn and her friends; a project to prove to herself what she could accomplish. 
Ogburn's second book of poetry was for a broader audience. Written in the beginning stages of COVID-19, this is it addresses racism towards Asian Americans, on personal and institutional levels as misunderstandings about the virus have influenced people. As a senior health administration and policy major watching a public health and political crisis, she felt called to action.
"My hope," Ogburn shares, "is that these poems can touch those who are feeling loss, loneliness, or the combined grief and rage of experiencing racism."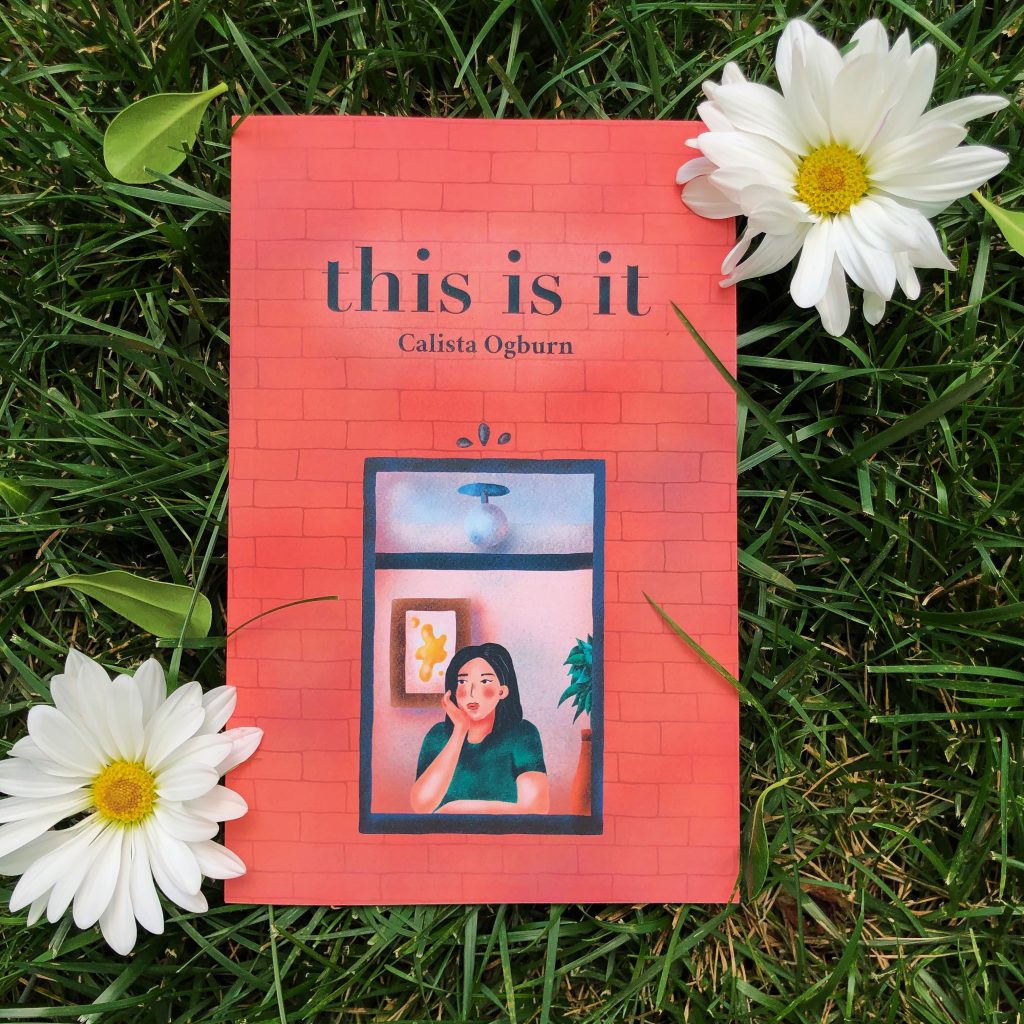 this is it was a group effort, says Ogburn, praising Mullings, who also edited this volume. Support from other Retriever Poets helped push Ogburn to truly confront the emotions that she was feeling, and gave confidence to her voice. Since her time in South Korea, Ogburn realizes that she's "always had a community of poets."
— Imani Spence '16
Meant to be connected
To counter her anxiety in the time of COVID, Jill Fannon, M.F.A. '11, imaging and digital arts, decided to photograph people who are responding to the pandemic directly—healthcare workers. Her collection, Care in the Garden, features these essential workers in quiet intimate moments outside of the hospital. 
"We're meant to be connected and we affect each other, deeply," says Fannon, who doesn't see this project about the art of photography as much as about capturing a moment. She has found herself asking "What will we want to know about COVID-19 50 years from now?"
When Fannon began her project in April 2020, many people didn't expect that the country would still be facing a pandemic half a year later. Her work, Fannon says, has kept her from experiencing what many people are calling "quarantine fatigue." 
It's been a special experience, Fannon shares, for her to meet these medical professionals in these intimate moments. While most people are working from home, healthcare workers are forced to do everything possible to keep their work from coming home with them, mentally and physically. For these healthcare workers, concerned about transmission to their families, this has transformed their spaces drastically. One of the subjects of the photo series described to Fannon how she would take all her clothes off outside her home, throw them in the laundry, and shower before touching her family.
Photography has always been a way Fannon expresses herself and finds joy, but in this moment, she wanted to use them for the greater good—showing the humanity of essential personnel even hidden behind their PPE. The contrast between their face shields, scrubs, and the lush scenery tells a powerful story about how people are finding stillness and peace during a health crisis. 
— Imani Spence '16
*****
Header image by Jill Fannon, M.F.A. '11.