Meet Ken Baron, Assistant Vice Provost for Academic Advising and Student Success in the Office of Academic and Pre-Professional Advising at UMBC. As a first-generation student himself, Ken truly appreciates the importance of student support at every level, and finds joy in bringing that philosophy to his work every day through advising at UMBC. Take it away, Ken!
Q: What is your favorite part of your job?
A: Meeting with students and parents. Even though much of my work includes administrative duties, I am still very much involved with direct daily contact with undergraduate students, their families, and supporters. I manage a caseload of exploratory students every semester and field student referrals from faculty, fellow administrators, and staff throughout the university. Continuing to work directly with students enables me to remain current and knowledgeable about how students experience their academic opportunities here at UMBC and navigate their academic planning through our technologies and policies. As a first-generation transfer student, I can relate very closely to the kinds of concerns, questions, and expectations our students have concerning academic advising. The opportunity to connect with a student through active listening and loads of genuine empathy helps foster meaningful, uplifting, inspiring relationships from orientation all the way through to post-graduate opportunities!
Q: What are the best pieces of advising advice you most often give to students just starting out at UMBC?
A: Number one, it's really important to take a moment to review ALL the majors, minors, and certificates we offer here at UMBC. Even if you think you know what you want to do, you might be surprised by many of the unique programs we offer, like Management of Aging Services (so strategic for anyone interested in any health professions career) or our minors in Entrepreneurship, Computing, or Management that can help boost the marketability of any major.
Next, I suggest that every new student (first-year or transfer) meet with professional staff in our Career Center, Shriver Center, Education Abroad Office, and Office for Undergraduate Research and Prestigious Scholarships. These campus centers and offices offer students resources, opportunities, and guidance on exploring their career ideas, engaging in community service, securing internships and part-time jobs, conducting research, and pursuing educational opportunities abroad.
And finally, the sooner students connect with the passionate staff who work in these offices and centers, the more excited they will become about their upcoming experience here at UMBC. And they will become more confident in their academic planning process – knowing that whatever their major, they can find creative ways to apply what they learned in real-world capacities. Ultimately, employers hire, and graduate schools and professional schools accept dynamic candidates who have built "overall" educational and experiential learning portfolios that illustrate how they can add diversity and value to their organizations and institutions. New students should be aware of this notion early in their academic journey so that they pursue majors they love and become marketable and competitive over time.
For me, UMBC has provided more than just a job; it has offered a rewarding and intellectually stimulating way of life.
Q: Tell us about your primary "why," and how it led you to UMBC.
A: I came to UMBC because it allowed me to use all the skills and knowledge I have accrued throughout my career. During the interview, I was "sizing up" all the advising needs and constituencies I could serve if I took an advising leadership position here. I am delighted to share that I have found ample opportunities to work with students interested in pursuing the health professions and law (an area of expertise fostered in my years at Emory University and the University of Tennessee, Knoxville), and I love that I get to work with student-athletes, international students, students interested in study abroad, and students pursuing prestigious scholarships. I also use my professional counseling certifications in counseling and career counseling daily with students, staff, and other colleagues on campus. I genuinely feel a sense of "career actualization" after 17 years here that I am not sure I would have found elsewhere.
Q: Tell us about someone in our community who inspired or supported you, and how they did it.
A: During my two-day interview here at UMBC in 2006, I met Paula Ashby '76 and was immediately struck by her authenticity, kindness, and fiery passion for health professions advising. As a former director of health professions advising at Emory University, I instantly connected with Paula over the common travails and triumphs of advising pre-med students. During my interview, she asked informed and probing questions about my experience with health professions advising, which impressed me greatly as a candidate. Knowing that Paula would be on my staff significantly influenced my decision to accept a great offer from UMBC to become the director of academic advising at that time.
For the next decade, it was an honor and a delight to work alongside Paula in a variety of meaningful and memorable capacities, including summer and winter orientation leadership, helping exploratory students find their academic paths, and of course, a tremendous focus and dedication toward students in the health professions – especially those interested in allied health. Paula's retirement celebration in 2016 filled every inch of the Skylight Room with adoring fans – including [former UMBC president Freeman] Hrabowski, with whom she worked during her time as a graduate and professional school coordinator for the Meyerhoff Scholars Program earlier in her career. Students and colleagues alike were drawn to Paula based on her genuine, caring nature. She loved helping people – every hour, every day, every week, every month, every year. Sadly, Paula passed in 2017, yet for 36 years, she brandished that love of helping people – which became her legacy and hallmark as an academic advising pioneer at UMBC. Paula still inspires me, and our office is honored to help steward and administer the Paula O. Ashby Scholarship, along with her family and the Office for Institutional Advancement.
Q: Are you involved in any organizations that you particularly enjoy?
A: I have recently loved my UMBC/University Innovation Alliance (UIA) team member role. UMBC's partnership with UIA has been inspiring and invigorating. Working closely with my UMBC team members and forward-thinking colleagues from outstanding institutions across the country provides a dynamic forum for sharing best practices and common challenges that many institutions face in terms of improving graduation rates, retention, time to degree, and increasing the number and diversity of college graduates, particularly low-income students, first-generation students, and students of color in the United States.
I am also grateful for the opportunity I have been offered for the last decade to serve as a Meyerhoff Coach during their Summer Bridge Program. I meet with cohort representatives early in their initial onboarding to work on their collective "vision statement." This highly interactive exercise is always enlightening and rewarding regarding the rich discussions, creative ideas, and exploration of values our work together reveals. I always leave these sessions with a renewed sense of possibilities for the future which these incredible students are already starting to act upon so early in their academic journeys here at UMBC. I love challenging them to think about the skills and aptitudes they will need to foster as future leaders (perhaps in STEM fields and research areas that haven't yet been discovered).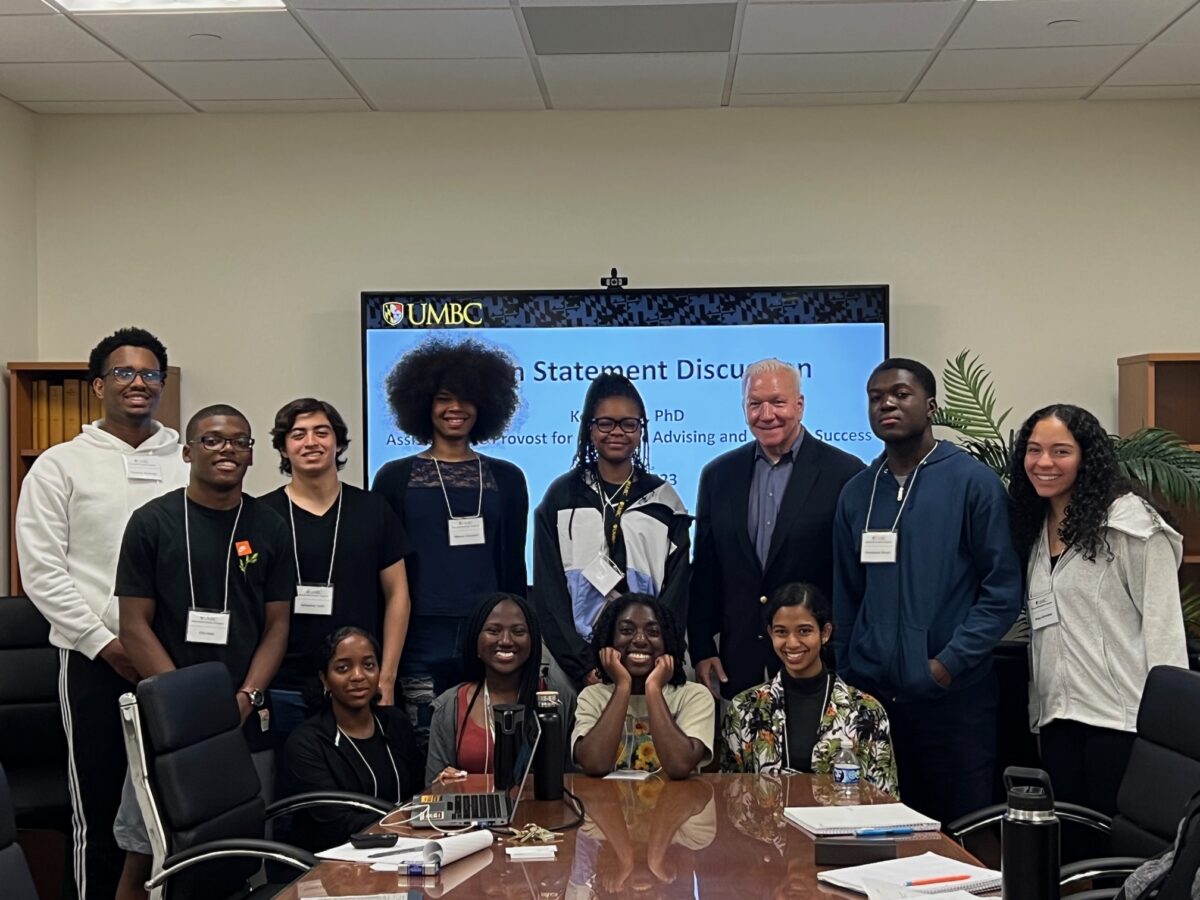 Q: What would you tell someone who is considering a career at UMBC?
A: Please come and be ready to enjoy a career and a community of caring, diverse students and colleagues that will captivate your imagination and heart. Prepare to work hard, listen, engage, participate, and enjoy all we offer. For me, UMBC has provided more than just a job; it has offered a rewarding and intellectually stimulating way of life. I love attending our athletic events (about to purchase season tickets for Women's Volleyball), theatre, music concerts, lectures, and other varied campus events. I am proud to have my family and friends join me for those, and I am so pleased that my partner, Ann Kellogg, Ph.D. '20, public policy, decided to further her education here. She now teaches graduate students in the Public Policy program and involves herself in the campus community in ways we could not have imagined when we moved here from Chicago in 2006.
* * * * *
UMBC's greatest strength is its people. When people meet Retrievers and hear about the passion they bring, the relationships they create, the ways they support each other, and the commitment they have to inclusive excellence, they truly get a sense of our community. That's what "Meet a Retriever" is all about.
Learn more about how UMBC can help you achieve your goals.
Tags: Meet a Retriever, Student Success