With Zaynub Siddiqui '21, psychology
Last November, Zaynub Siddiqui '21, psychology, set out to paint the town red—and yellow, green, pink, and black. Jumping at the chance to contribute creatively to OCA Mocha—the community-centered UMBC-affiliated coffee shop in neighboring Arbutus—the UMBC senior took a drab wall and transformed it over the course of her 20th birthday weekend. So, how exactly does one tackle a 150-square-foot blank space? For Siddiqui, it took vision, daring, and multiple iced matchas. But in the end she left local coffee lovers a floral feast for the eyes.
Tools of the Trade: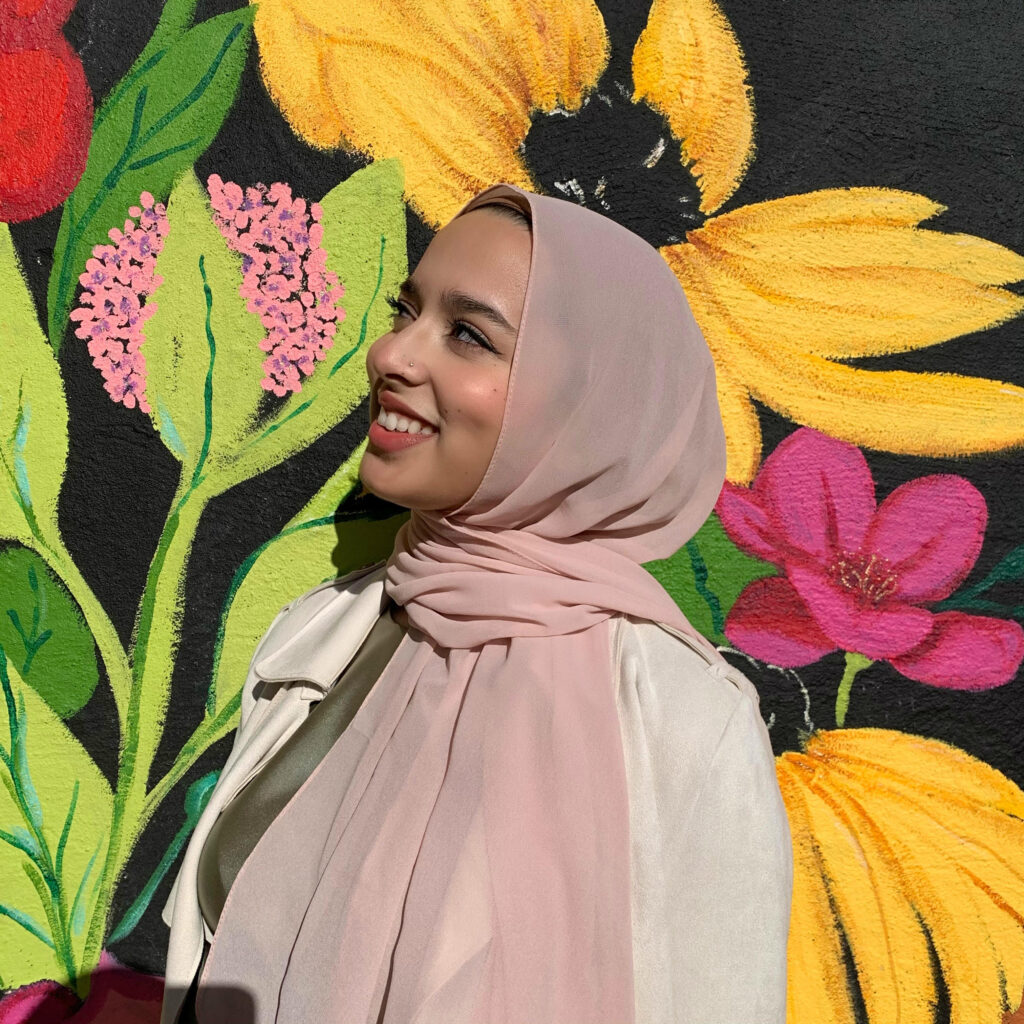 A projector, a scaffold, and no fear of heights—To translate a design from the page to the side of a building, it helps to use an Epson 4K projector.

Shoe coverings—"Paint gets everywhere," says Siddiqui. 

A passion for the subject matter—"I love plants, I have a whole bunch. I love gardening," she says. 

A favorite coffee shop drink—"I really love an iced matcha," says Siddiqui.

Advil—because that's a LOT of standing.
Step 1: Find a Wall
In Siddiqui's case, the wall found her. The people behind OCA Mocha put out a call for artists to decorate the wall adjacent to their outdoor patio and parking lot. Even though she is a psychology major (with a sociology minor), the notice caught her eye. "I've always wanted to be a part of UMBC's art scene," she says. "I would see their art building and their exhibit areas and think, I want to do that."
As such, armed with a love of arts and crafts and her experience helping out with collective murals at the college she attended briefly before transferring to UMBC, Siddiqui submitted her ideas for consideration, and was excited to be chosen.
Step 2: Create a Design and a Plan
Siddiqui's vision started with the idea of a steaming cup of coffee and adding her own spin with lots of florals. "Nature really inspires my artwork," she says. She also wanted to create a space where people could easily snap fun photos of themselves. After a series of meetings and emails with OCA Mocha staff, they settled on a design.
Siddiqui was excited that the timing of the mural aligned with her senior year. "Since this is my last year at UMBC, I'd sort of leave off with a bang," she says. Siddiqui also appreciated being able to paint it on her birthday, showing growth artistically and personally. "Entering my 20s by doing this was something really exciting for me," she says.
Step 3: Scale Up Your Art Supplies
Got paint brushes? Get bigger ones. Siddiqui also ditched regular art trays for mixing in favor of big foil trays usually used for food. For paint, you'll need something a lot more durable than the stuff in your everyday art kit. Buy exterior primer for the base and exterior flat finish for the design.
And, don't forget about clean-up. With a mural, paint splashes up, down, and all around, so Siddiqui suggests being prepared to cover up and wash up. "You think you're not going to touch something…and then you'll find it," she says. "I had paint on myself a week and a half after. I'd say, 'I thought I scrubbed my arms!'"
Step 4:  Be Prepared to Grow Your Art
When the time came to start painting, the huge wall size came as something of a surprise to Siddiqui once it was right in front of her. Undeterred, she painted flowers and more flowers, and then added more until the space was full. The end result? A burst of color (and coffee) that explodes into an otherwise humdrum parking lot.

Florals often find their way into Siddiqui's work. As such, she packed it with some of her favorites, including a peony and roses. She also made sure to include flora and fauna that are special to the area. There is a monarch butterfly, native to the region, as well as plenty of Maryland's state flower, the Black-Eyed Susan. Siddiqui even included a White Oak leaf in an homage to the famous Arbutus White Oak that fell in 2019.
Step 5:  Go and Dream Bigger Dreams
The mural may be done, but Siddiqui's work is far from over. She plans to pursue a master's degree in psychology and possibly mix her love of art with her love of how the mind works.
"They both provide different insights to people and how they think and their emotions," she says. Eventually she'd like to possibly get into art therapy—but the scaffold sitting in her house now proves murals are still in her life. "I would love to have a mural in New York City or Los Angeles or Amsterdam…something that people would be able to take pictures of and remind them of nature." Ultimately, she thinks that "just to put a smile on someone's face would be really fun."
— Karen Stysley
*****
All photos by Marlayna Demond '11, unless otherwise noted.
Tags: how to, Oca Mocha, Psychology, Spring 2021