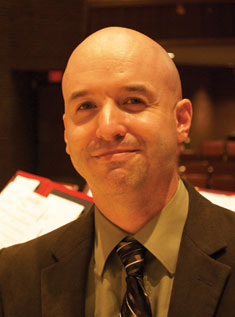 With Matt Belzer, Director of Jazz Studies
UMBC's music department is known for pushing boundaries in new music – including its jazz studies program, headed up by director Matt Belzer – who's excelled as a teacher, composer and performer.
UMBC's jazz studies program is four years old now, and it boasts three official ensembles (including a "large" ensemble) and many unofficial student groups.
Jazz is woven into America's cultural fabric, but many people are still unfamiliar with or intimidated by jazz music.
"Folks sometimes feel on the outside looking in…. But that's also part of the appeal of jazz," Belzer says. "It's got a set of traditions and a community."
So how can you tune in to those traditions? Here are some of Belzer's tips:
Step 1: DON'T WIG OUT
Jazz culture has a lingo all its own that may seem impenetrable at first. The music also has a rich tradition in which its artists build on – and challenge – previous musicians and movements.
Belzer says that shouldn't stop you. In fact, start with jazz you hear right now in 2012. "Jazz history probably should be taught in reverse," he says. "You start with someone who's creatively active today, and then work backwards."
Trusting your own ears is another must. "If you can hear it, then you're entitled to an opinion," Belzer says. And as you keep listening – and discover more about the music and how it's been shaped – "you're entitled to change your opinion."
Step 2: OPEN UP TO IMPROV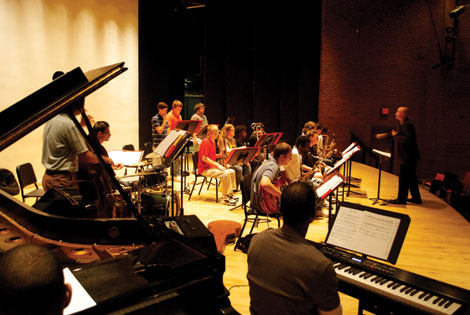 Improvisation is integral to jazz – flights of instrumental fancy that bend and reshape a song into individual expression. Understanding it, says Belzer, is key to appreciating the music.
"It's really about being as in the moment as you can," he says.
Soloing also turns out to be anything but solitude. Improvisation requires a performer to be acutely aware of what's happening around him. "Some of the best jazz recordings are evidence of mental telepathy," Belzer says. "You are expanding your awareness. Putting your antennae up. Even into the audience. Your goal is to make everyone else sound good. It's a giving thing."
Step 3: DON'T TAKE COVER
Jazz has always had connections with popular music, especially through cover versions of tunes such as saxophonist John Coltrane's classic take on The Sound of Music showpiece "My Favorite Things."
While Belzer says that exploring the standard "jazz repertoire" is one way for a new listener to go, he argues that exploring the world of jazz composition – music written specifically for jazz ensembles by great composers like Charles Mingus, Thelonious Monk or Duke Ellington – can reveal even more about the music.
"You're really getting that artist's view," says Belzer, who cites Herbie Hancock as an example of a dynamic jazz composer also known for his cover versions and explorations of other forms of music.
"If I were introducing someone to Herbie Hancock," he observes, "I would play them 'Dolphin Dance' [a composition from Hancock's first record, 1965's Maiden Voyage]."
Step 4: HEAR JAZZ LIVE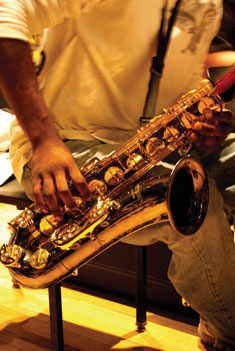 Get in a room and hear people play, Belzer says. "The best way to introduce someone to jazz is to see it live. And even if a person is not the type to go to bars and clubs, there are plenty of institutions that have jazz concert series."
Belzer adds that there are multiple senses touched by live music. "You get an impact on different levels – intellectually, emotionally, and viscerally," he observes. "Literally, it's vibrations hitting your skin."
Belzer says hearing jazz at UMBC is a great place to start. The university's ensembles have regular concerts each semester – and there are also many student recitals. Growing into a greater appreciation of America's greatest indigenous art form can be as simple as strolling over to the Fine Arts Building.
(Check out the calendar of all jazz and other UMBC music department events at www.umbc.edu/music/news/index.php)
— Richard Byrne '86
* * * * *
Matt Belzer Picks Three Jazz Records to Jump Start Your Collection
"For the impossible task of choosing three jazz albums, I've settled on the following selections. The beauty of jazz is that you can begin anywhere. These recordings have meant a lot to me personally. In no particular order…"
1) Kind of Blue, Miles Davis
This is a very popular choice and for good reason. Everything about this recording is transcendent. It's also a great introduction to Davis's long and varied career as well as to his sidemen.
2) Speak No Evil, Wayne Shorter
I'm sure I'm not alone in feeling a spiritual connection to Wayne Shorter's music. His compositions and performances have been hugely influential, filled with magic and feeling.
3) Mingus Ah Um, Charles Mingus
If anyone represents the ability of jazz music to be appreciated intellectually, emotionally, spiritually, and viscerally, it's Charles Mingus.