Throughout our 50th anniversary year, the UMBC community celebrated like it's never celebrated before. We shared memories and images of our earliest years, and of our pioneering professors and students. We embraced the research and the relationships that make this place great. And, we tied it all up in a black and gold bow – with music and fireworks that lit up the campus night.
So, what's next for UMBC? Well, as President Freeman Hrabowski likes to say, "Success is never final."
That's why in late spring, UMBC launched Grit & Greatness: The Campaign for UMBC, and made public a challenge to raise $150 million to make UMBC's next 50 years just as amazing as its founding ones. Driven by our most distinctive traits – inclusive excellence and innovation – UMBC has already raised nearly $98 million* towards its campaign goals.
The stories that follow exemplify the values this campaign champions: making big breakthroughs, forging new partnerships, and transforming lives. We look forward to telling many more, as our community comes together to support UMBC – and Retrievers of the future.
"America needs its universities now more than ever. We live in a time of huge challenges and breathtaking discoveries. We live in a nation that is divided. We live in a time when too many young people are shut out of life-changing opportunities," says Hrabowski.
"The UMBC community does not shy away from hard work. We show up. We show our grit. I've never been more excited about this University and what we can do."
* Total as of 11/30/17
---
MAKING BIG BREAKTHROUGHS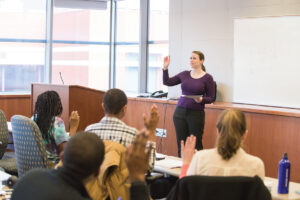 We all know that teaching is the cornerstone of what makes UMBC such a great place to grow and learn. In fact, UMBC most recently made the 2017 U.S. News list of top 20 national universities with a particularly strong commitment to undergraduate teaching, alongside Princeton, Yale, Dartmouth, and UC Berkeley.
The proof of this commitment lies not only in the breakthroughs made by students when they are touched by good teaching, but also in the fact that so many alumni, families, corporations – and faculty themselves – make teaching innovation possible through gifts supporting and honoring those who have inspired them.
As a Ph.D. student in statistics in the '80s and early '90s, Kevin Drummey Ph.D. '93, statistics, and his cohort met with founding professor Bimal Sinha every Sunday afternoon to discuss their progress. As tough as it was to go to school while holding down a full-time government job, Drummey was encouraged by Sinha it was worth the sacrifice to finish.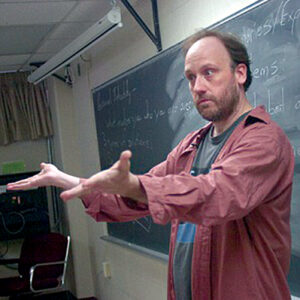 "The emphasis on teaching…may be a lost art at some schools – but not here," said Drummey, operations researcher/technical director at the NSA, who also taught as an adjunct in statistics at UMBC for more than a dozen years, and who in recent years has supported, along with Sinha's family, the launch of an endowed professorship in his honor.
"He was a very good at telling the story of the data," said Drummey. "He would put things into context…and make it very interesting. He was very good at that, and I think I do emulate that in my own teaching."
For years, John Jeffries, professor emeritus, history, and former dean of the College of Arts, Humanities, and Social Sciences, espoused the importance of bringing a global perspective to his lessons. When he retired in 2013, professors in the college created The John Jeffries International Fellowship, with the goal of supporting faculty in "internationalizing curriculum."
"He was an exemplary dean of our college with the strongest possible commitment to students, to excellence, to inclusion, and so we wanted to create something and invite our colleagues to contribute to it that would honor him and his values," said Carole McCann, professor and chair of gender and women's studies, who launched the project along with Marjoleine Kars and Jason Loviglio, who chair history and media and communications studies, respectively.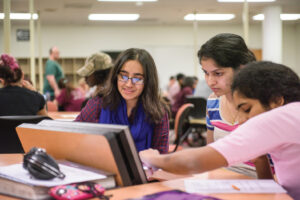 "We wanted to give faculty the resources to think about how they could bring a global perspective into whatever it is they're teaching because we honestly believe that the goal of a liberal arts education is to build good citizens, and good citizens need to have an understanding of the nation and the world and their connections to it."
Collaborations with corporations also demonstrate the faith outside groups have in UMBC teaching. A partnership with IBM enabled the creation of the Accelerated Cognitive Cybersecurity Lab (ACCL), which gives teachers and students a place to advance scientific frontiers in cybersecurity and machine learning.
"A big part of teaching students cutting edge topics is giving them the opportunity to push boundaries and work with advanced-level tools, and the IBM grant is making that possible, both for graduate students and undergraduates," said Anupam Joshi, director of UMBC's Center for Cybersecurity and chair of computer science and electrical engineering, who leads the ACCL.
— Jenny O'Grady
Wow Moments
Who inspired YOU most as a student at UMBC? We asked, and you answered. Read about "Wow Moments" from alumni recalling their favorite professors at UMBC.
---
FORGING TRUE PARTNERSHIPS
You can see the spires of Downtown Baltimore from many of the windows of UMBC's Performing Arts and Humanities Building. So when the city announced Light City, the new innovation and art festival in 2016, UMBC knew it wanted, and needed, to be involved.
The project started off like many UMBC-community partnerships, small and quiet, with an eye towards collaboration. Faculty and student artists dreamed up concepts with their signature blend of visual appeal and technological innovation applied to the present. When the announcements were made, the campus community was thrilled to see familiar names in the call – among them alumna donor Mina Cheon, M.F.A. '02, IMDA. Designed with her partner and husband Gabriel Kroiz, Diamonds lit up Harbor East and Little Italy. A technological marvel both interactive and thought provoking, who could resist the temptation to climb in and out of them? They reflected a hope for prosperity for the city but each night turned blue at 10 p.m. to honor the death of Freddie Gray and the light it shone on the ongoing struggles endured by much of the city's population.
"UMBC has always cheered me on. I felt so supported during Light City," said Cheon, who appreciated seeing former professors and alumni stop by during the installation. Cheon even designed a special gold diamond – affectionately known as "Kathy" after a beloved professor – that was installed on campus during UMBC's 50th anniversary celebrations.
When Light City returned to Baltimore in 2017, UMBC wanted to do something bigger and better – but the "something" wasn't so clear at first. UMBC booked a space to host alumni gatherings, and even more artists started preparing their works, hoping to be chosen to display. One day, Will Backstrom '88, political science, who works in community relations at long-time partner PNC Bank, called. Working with the Downtown Partnership, he envisioned using empty storefronts to house art and performances and expand the footprint of the festival, helping tourists and city natives alike access and patronize the businesses just north of the Harbor. From there, UMBC Spark was born.
"Combining the awesome creative energy that UMBC brings with the empty space and other businesses around it was surely the makings of a great Light City experience," said Backstrom.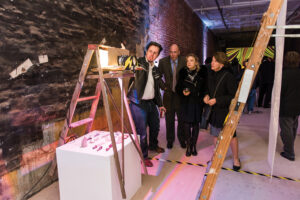 Spark ultimately became a gallery space highlighting art by UMBC students and faculty, as well as community partners like the Refugee Youth Project (headed by alumna Brooke Savage '16), drawing almost 1,000 visitors each night. Visitors had the chance to rub elbows with artists, participate in animation workshops led by students, and watch musical and dance performances. Each piece was unique but tied into the larger Light City theme.
"Spark created a vital connection between our internationally acclaimed faculty, talented graduate and undergraduate students and the innovative, entrepreneurial arts groups in Baltimore city," said Preminda Jacob, department chair of visual arts. "We introduced the Baltimore public to the exciting experimentation and creativity that is ongoing at UMBC."
The team and PNC are already abuzz about next year. How do we go bigger? What more can we do? Who else can we involve? While the exact details are unknown, this they know for sure about Spark: Many Retrievers will be working together to light up Baltimore one block at a time.
— Marie Lilly
Pipeline Partners
UMBC works with many organizations on initiatives to strengthen the workforce and communities across the state.
T. Rowe Price Foundation: UMBC Career Month
Northrop Grumman: Cyber Scholars Program
Andrew W. Mellon Foundation: Science of conservation at the Walters Art Museum
The Cangialosi Business Innovation Competition: Preparing students to be entrepreneurs
Read about more UMBC partnerships at corporaterelations.umbc.edu.
---
TRANSFORMING LIVES
For any student, college is an adjustment. There's figuring out what you'll study, where your niche is on campus, and how you'll pay for it. This is especially true for mature students, who arrive with more life experience…and the obligations that come along with it.
But thanks to the Charlotte W. Newcombe Foundation, UMBC has become a place where returning women students thrive. Since 1981, the foundation has donated upwards of $500,000 to UMBC, both in annual scholarships for students and matching gifts to create three endowed scholarships: the Jodi Mister/Charlotte W. Newcombe Endowment; the Charlotte W. Newcombe Scholarship for Mature Students in STEM; and the Susan Bernstein/Charlotte W. Newcombe Memorial Endowment Scholarship.
Newcombe Scholars access supplemental programming and resources through the Women's Center, and it is here that they find a campus home. As a transfer student with a young son, Maureen Evans Arthurs '14, gender and women's studies, heard about the program while interning at the American Association of University Women. She "immediately [felt] at home" at the Women's Center, and was encouraged to apply for a Newcombe scholarship by Jess Myers, the center's director.
"I really loved that there was a component of meeting other women, who really ended up being a support system," she says. "We may not have ever met because we all had different majors, but we all had the common denominator of being returning women students." Through the scholars program and the Women's Center, Arthurs felt empowered to pursue leadership positions on campus, and she's carried that mentality to her current role as a legislative director for a Maryland state delegate.
"Being a part of that network and that community helped me really thrive at UMBC," she says.
Carrie Cleveland '16, social work, a fellow Newcombe scholarship recipient, was equally drawn to that sense of community. She explains that while social work draws students from a variety of backgrounds, her gen-ed classes had a decidedly different feel: "When you're sitting in a biology class, everybody's 18 or 19 years old, and you really feel like you don't belong, or you stick out."
Like Arthurs, Cleveland found her niche, and worked in the Women's Center to help with mature student programming. She recently finished her master's in social work, and as she begins a full-time position at Kennedy Krieger, she hopes to continue helping women like her pursue their educational goals.
"So many women are in positions like I [was], where they don't know how they're going to get back to school, and they don't know how they're going to pay for it, and it just really seems impossible," she says. "The support that I got through the Newcombe Foundation, and through the Women's Center, was what really got me through my time at UMBC."
Richard Bernstein partnered with the Newcombe Foundation two years ago to establish the Susan Bernstein/Charlotte W. Newcombe Memorial Endowment Scholarship to honor his late wife, Susan Bernstein '03, social work, who returned to college in her forties to pursue a career as a therapist. UMBC's Newcombe students are a part of her "living legacy," he says, adding that he's proud of what they've accomplished.
"Now that we've [gotten] to meet with the different students…and see what remarkable people they are, and what they have to contribute to society, we want to…basically expand what the scholarship can give, so that we can help more people," he says.
His son, Jeff Bernstein, agrees: "We're just continuing to hope that [we can] provide opportunities to good people that really want to be involved, and do some really special things with their degrees."
— Julia Celtnieks '13
Crowdsourcing Champs
With the help of their famously close-knit alumni community, the UMBC swimming and diving team raised nearly $40,000 on their giving day earlier this year.
The UMBC Mock Trial team raised more than double their semester goal through crowdfunding, for a season that saw them through to the national championship in Los Angeles.
See more examples of UMBC student crowdfunding at gritstarter.umbc.edu.