Most days, Steven O'Farrell '92, economics, uses the left side of his brain. As a real estate appraiser, O'Farrell's livelihood depends on his ability to construct well-written, compelling reports. Remembering his time at UMBC quite fondly, he believes that his success is a direct result of his time spent as a Retriever. "My experience at UMBC was outstanding. I really credit a lot of the things that have happened to me afterward as part of these, you know, sort of formative years, when you're young," says O'Farrell. "I still use the calculator that I used at UMBC."
A new calling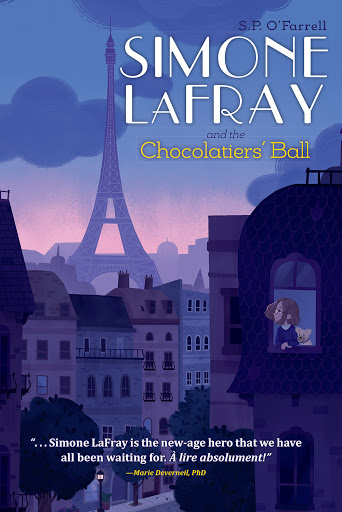 But it was O'Farrell's creative right brain that took over two and a half years ago while on vacation with his family in Bethany Beach, Delaware, when O'Farrell's niece pleaded with him to give her a spy name like the other children of the family. Without hesitation, the name Simone LaFray flew from his lips. For the rest of the vacation, he would fixate on the name. Little did O'Farrell know that this one comment would lead to a short story, which would eventually become the published book Simone LaFray and the Chocolatiers' Ball.
It wasn't until family and friends encouraged him to expand his short story into a book that O'Farrell took on this new endeavor. "Writing a book of fiction was one of those things that I always wanted to try to do even when I was a little kid," O'Farrell says. "But, you know, sometimes you prioritize your career over these things. When I wrote the book I was 45. It was time for my next move because time slips away quickly."
For the next two years, O'Farrell's life became a jumble of long nights, re-writes, and collaboration with Brandylane Publishers, a group of individuals who he says "want to talk about how things feel"—a refreshing change of pace for the appraiser.
Discovering Simone
Developing the voice of 12-year-old LaFray proved challenging for O'Farrell, a father of two boys, who relied on the help of his wife, Emily O'Farrell '92, psychology, for a female perspective. Once O'Farrell understood who Simone was at her core, the story quickly evolved from there, bringing the young spy to life: a dutiful daughter of a world-famous patisserie chef doubling as a covert agent for the Ministry of Foreign Affairs. LaFray lives the best of both worlds until a vengeful thief returns to Paris in search of LaFray's mother, leaving LaFray to question whether her two worlds are as separate as she once believed.
Released on May 13, 2019, The Chocolatiers' Ball tracked on the Barnes & Noble Top 10 in preorders and was reviewed by two of UMBC's faculty members: Writing Center Director Elaine MacDougall, and Maria De Verneil, the coordinator for French language teaching.
Although just recently released, there are plans to turn the book into a series. "I know exactly how I want it to all go, it's just about connecting all the points to the final," says O'Farrell.
Exercise your muscles
Though O'Farrell spends most of his days putting together what he calls "dry" appraisals, he fully acknowledges that this sort of writing has prepared him for the author life. Every workday provides him new opportunities to master his technical skills, leaving him with freedom in his downtime to let his creativity flow. And according to O'Farrell, any writing is good writing as long as you're doing it.
To the students of UMBC or anyone in general thinking about writing their first book, O'Farrell offers the following: "Have persistence and believe in yourself. What you're writing will find its audience. Just try to align yourself with good people to get you there."
*****
Learn more about Simone LaFray and the Chocolatiers' Ball at brandylanepublishers.com.
Photos provided by Steven O'Farrell.