The challenges of building a human-powered amphibious sculpture include working with nary a blueprint in sight, avoiding flying sparks from your professor's power tools, returning to the theatre department's dumpster again and again seeking out items to upcycle into an ever-changing design, and—oh yeah—not sinking in Baltimore's Inner Harbor when all is said and done.
By Randianne Leyshon '09
Race day photos by Poulomi Banerjee '16, all other images by Marlayna Demond '11, unless otherwise noted.
A dismembered hammerhead shark takes up most of the office space.
Professor Steven McAlpine proudly holds up the dorsal fin and other grey body parts to demonstrate the ingenuity of his student team, which plans to work with the specimen in piecemeal. "It's like a pile of sushi in here," laughs McAlpine.
Previously on display in the National Aquarium and then donated for this project, the "shark" in question has skin made of plastic bags from Lowes, melted together to form the exterior of this beast of recycled materials. McAlpine and his students are giving the shark a second life by building it a three-tricycle chassis, complete with pontoons and three pilots to careen 14 miles through the streets of Baltimore—including a stint in the harbor—to compete in Baltimore's 21st annual Kinetic Sculpture race.
This—in all its fishy, gear-filled glory—is what interdisciplinary learning looks like at UMBC.
Creating jaws from scratch
Working outside under the Fine Arts portico this spring, with a portable speaker blasting "Can't Touch This," in homage to the class's name for their project—MC Hammerhead, the students are engaged in a variety of hands-on tasks: creating a skeleton of two-by-fours to hold up the shark's wire mesh head and sawing jagged teeth from fiberboard from the theatre's trash to fill its mouth with double rows.
Two of the three teal trikes sit nearby, connected by a homemade metal apparatus, and with pontoons made of old recycling containers welded on. In December, the team tested out the pontoons' effectiveness in UMBC's Pig Pen Pond. As the test pilot (in swimming trunks) prepared to sink or float, Cody Thomas '19, mechanical engineering, described watching his classmate go down into the water with "hopeful pessimism."
"I was like, 'okay, we've done the math and we definitely have the right volume in these pontoons' and then he hit the water. The wheels broke through the ice and then the pontoons sat there and I thought, 'wow, this is working really, really well.'"
Not all, but many of the students' ad hoc solutions would turn out to work really well. To demonstrate the biomimicry of the structure, Lucas McCullum '19, mechanical engineering, and Lorraine Dell'Acqua '19, psychology, two students in McAlpine's class, jump on the swivel-combined tricycles and pedal around campus, the second rider's direction depending on the steering of the first. The effect is successfully serpentine.
McAlpine says the students identified the design challenge and decided to tackle it head on. "They really get fundamentally why it's important to take time to design. Design means really coming up with a product that's appropriate for the context…so if it's a shark, you want it to have that kind of dynamic fish movement, to move differently from anything we've built before. So I credit the capstone team for having the courage to see that like a very generally defined engineering problem: 'We want it to move like a fish.'"
There's no textbook for this
This spring marks UMBC's fifth entry into this wacky, very Baltimore race, and UMBC's second structure (the first was the squid-shaped Kracken Upcycle, which won Grand Mediocre East Coast Championship in 2015). With detailed rules down to the required homemade sock creature that must be displayed on board, the funky race is the perfect platform for art and engineering to meld together, or in this case, literally weld together.
It's a project, McAlpine says, that fits perfectly into the UMBC ethos.
"I've never before encountered this kind of cross-disciplinary problem-solving," explains McAlpine, "when actually your strengths in another area can help you tackle the problem in a new way." The interdisciplinary studies seminar guided by McAlpine also includes a consulting team of mechanical engineering students completing their capstone project under the guidance of Neil Rothman in the College of Engineering and Information Technology. The interplay between the two groups has refined the shark into a well-engineered piece of art.
When a steering or hitch issue stumps the engineers, it's the psychology and political science students in the class who start doodling on the whiteboard, using their non-traditional sets of knowledge to work out the kinks. "UMBC students allow students of other majors to solve problems for them," adds McAlpine.
There's no pre-existing manual for how to create such a beast, so McAlpine and his team of students are learning from the successes and failures of their original Kraken sculpture, which survived in various iterations to run four kinetic sculpture races previously and is currently living out its retirement in front of Fine Arts. They've also sought guidance from Arbutus Middle School's long-standing kinetic sculpture team, as well as from the UMBC Baja design lab, a racing club on campus.
"I was really excited that we were working with an interdisciplinary team," says Alliana Warner '19, one of the mechanical engineering capstone consultants. "We provided a lot of mentorship, which I don't think we expected to do at first."
"Like our mechanical side, we can do that," says David Thompson '19, another of the capstone students. "But we have to connect their art to our mechanical side. So we had to have a lot of communication." And when their vocabularies didn't overlap, they turned to art to convey their ideas.
"It was just like a no-barriers way of communicating when everybody picked up the markers and started drawing on the board, and it was cool to see the whole class have their own ideas that they were sketching from stick figures to really elaborate art majors just making these beautiful drawings," Thompson explains.
The end result of their collaboration is a 20-foot, seven-wheeled, 1,000 pound (with three human pilots on board) upcycled kinetic sculpture that would hopefully mimic the undulating sashay of a shark as they pedaled it through the city.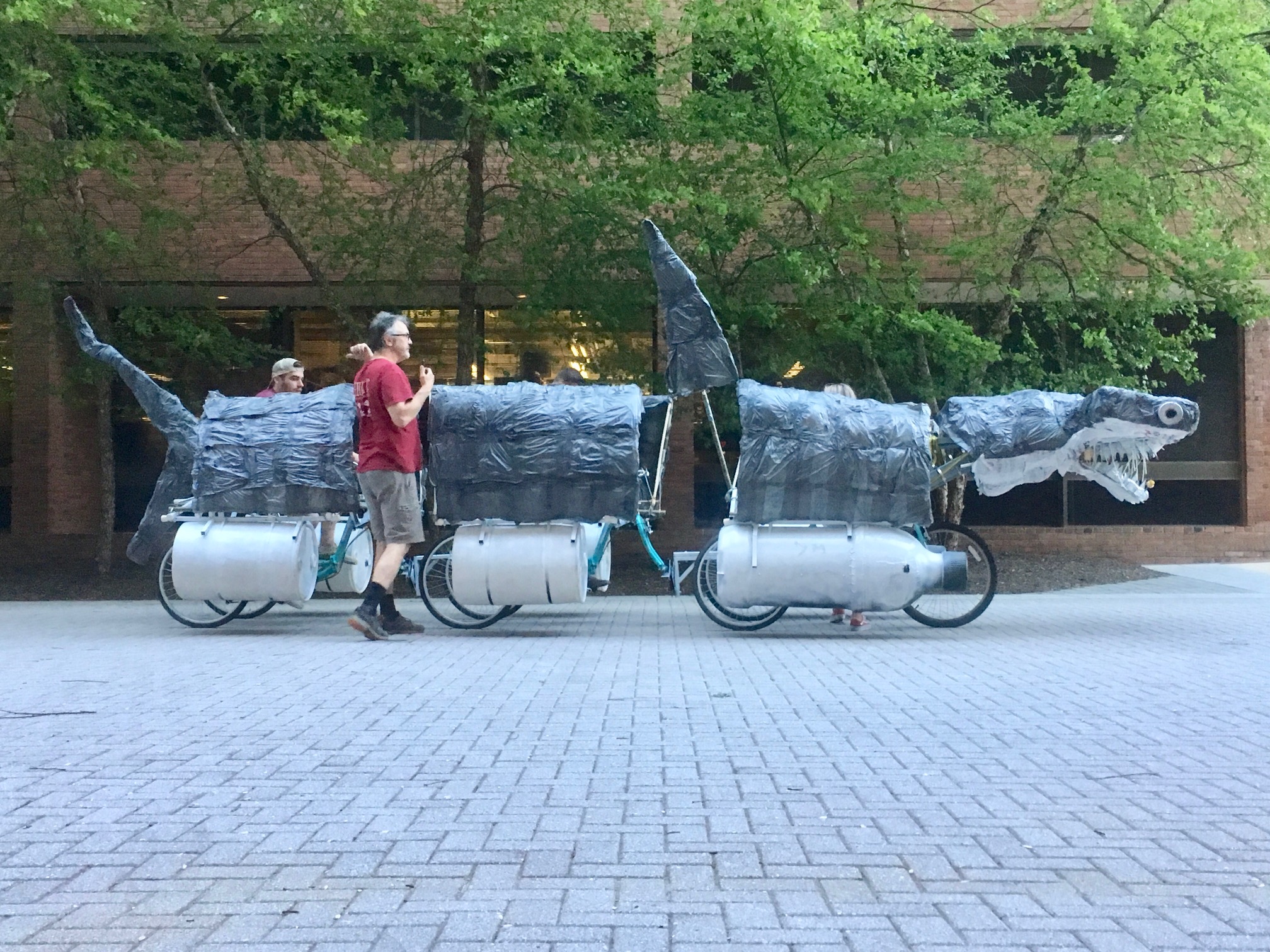 Quality design on a budget
The challenges of building a human-powered amphibious sculpture that is safe to drive but also stands out in a field that includes local favorites like Tick Tock the Croc, Cowsmic Moobeams, and Platypus Lost is textbook Individualized Study course material. (In fact, the textbook they used was Cradle to Cradle. Remaking the Way We Make Things, an interdisciplinary collaboration between a chemist and an architect.)
McAlpine added to the already complicated rules for entry an additional goal of using 80% upcycled materials, raiding the theater department's trash after productions and going to facilities management to scrounge for pontoon-like barrels.
Using upcycled materials created additional challenges for the capstone consultants. "We would come up with what we thought was the most sound design," says Thomas. The class would then push back on their prototypes, asking them to find a cheaper or more sustainable solution. "And we'd be thinking to ourselves, oh, like now I have to use not the best materials but still create something that's just as quality in design."
One hurdle was the ball-and-socket hitch that the mechanical engineering students proposed to connect the trikes. After looking at the price and weight of the hitches they'd need, the individualized study students balked. As they sat on their swivel chairs thinking, the motions inspired a new idea.
After some prototyping, the capstone students were able to take the swivel from barstool-like chairs and play with the orientation on the sculpture to make it work as a replacement for their original idea. "I think it made us more proud of it at the end," adds Brianna Scarpulla '19, the fourth member of the mechanical engineering group, "by doing something different than what we were going to do."
Race day dawns
On May 4, MC Hammerhead and 23 other creations lined up to compete in the American Visionary Arts Museum's Kinetic Sculpture Race. The UMBC pilots and their pit crew gathered all their necessary provisions, including water bottles, life vests, and granola bars. And even though the engineers triple-checked their calculations and crowd sourced their prototypes, they still cross their fingers.
Their gear is tested from the very start. After the gun and a Le Mans-style running start, the human-powered sculptures make their way up Battery Avenue in Federal Hill Park. This daunting climb sets the tone of the race as many other obstacles lay in MC Hammerhead's way—including cobblestones, water entry and exit, a sand pile, and a mud pit—before the team's anticipated conclusion six hours later.
Early into the race on Key Highway, MC Hammerhead's tail fell off, but this was nothing a roll of duct tape couldn't fix as the team waited for their turn to enter the water. Going into the Chesapeake Bay at full speed blasting "Can't Touch This" really hyped up the onlookers, but McAlpine held his breath. "I was expecting pontoons to break off," says McAlpine. "But it was so well engineered. It made a big splash and kind of accordioned, but it was designed to be flexible, so it was fine."
When the shark emerged from the water, the "kinetic kops" tried to slap the team with several time penalties, but the threats were quickly resolved by some lemon-flavored shark cookies made by McAlpine's 12-year-old daughter, Lily. Graft is not only encouraged at the race, but there's even a prize for best bribe.
Through "mysterious mathematical means," as the race rules nebulously explain, MC Hammerhead came away in 14th place, and while the production is not about the medals, McAlpine didn't see a single sculpture make it through the mud and sand as well as UMBC's.
"The shark was light and fast, which attests to Neil Rothman's engineering capstone class—they really engineered a strong and light pontoon system," says McAlpine. "Because that's really something that keeps me up at night: Are they going to capsize? And they didn't do that even at full speed."
Looking back on the experience, even the hectic last two weeks before the big day, McAlpine only sees the success of his students. "Probably the biggest interdisciplinary challenge is that you have to take a sculpture that's meant to be static—not moving and bouncing around—and make that sculpture strong enough to have enough integrity to survive constant vibration for 14 miles of potholes and cobblestones. Given that, I thought the sculpture did remarkably well…the combination of engineering and art was a real crowd pleaser."
*****
Header image by Poulomi Banerjee '16.
Tags: Baltimore, INDS, Kinetic Sculpture Race, McAlpine, Spring 2019