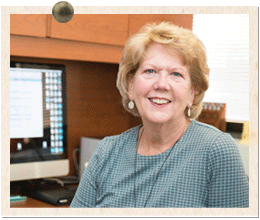 Over the past 42 years, Susan Schneider has worked at UMBC, left, and returned several times. She has witnessed the arc of the university's growth.
In fact, Schneider knew the hillside selected as a home for UMBC before the campus was designed and built. Growing up in the Catonsville area, she remembers when the area was mostly fields. When she first started driving, Poplar Avenue was a "dark" and "spooky" route that ran directly to Walker Avenue.
Schneider took her first job at UMBC in 1974, working as a secretary for then-vice chancellor Sallie Giffen and comptroller Edward Minion. Though her work rarely took her out of UMBC's Administration Building, the campus was small enough that everyone knew people who worked in different departments, even if they never actually saw one another.
Working at UMBC in those early years had another benefit, Schneider observes. In those days, members of the campus community did not even have to pay to park. They just pulled into a parking lot where today's Administration Garage is located.
"Parking was awesome back then," she says.
Schneider left UMBC in the summer of 1975, and returned to work in the biological sciences office in 1977. After that, she took an extended maternity leave and ended up staying home with her first child, until she was asked back to work part time with the department's graduate program. In 1983, Schneider departed once again to help out with her family's business, but returned to the biological sciences again ten years later – eventually working with the graduate program.
Between 1999 and 2002, Schneider saw a different side of UMBC when she became a program management specialist for the graduate program in computer science and electrical engineering department. During that stint, she worked at the Technology Research Center (TRC) – a building she remembered from her childhood in its previous incarnation as a juvenile detention center with tall fences. She recalls that first walking through its halls was strange with those memories in mind.
In 2002, Schneider returned to biological sciences, taking the job she still holds today as a business services specialist. She has worked under four different chairs, and watched the number of faculty double. Yet she has always made time for service, including being a member of the Non-Exempt Staff Senate and active roles in the Maryland Charity Campaign.
Schneider says it's no surprise that she has always found a way to return to the department, even after being away for years at a time. "I was really happy to come back," Schneider says. "[It was] meant to be. This is like my second family."
Family is also the way that Schneider sees the larger UMBC community. (Even her son, Timothy Schneider '06, information systems management, is a UMBC alumnus.) She says that, like any family, the UMBC community has its occasional problems and disagreements. Yet Schneider says her vision of UMBC is as a campus full of "genuinely good people, good-hearted people just doing their best."
— Nichole Zang Do '15
Tags: Winter 2016