STAYING POWER
On May 17, 1968, the eyes of the nation turned to an unassuming two-story building on  Frederick Road in Catonsville.
The building was the local Knights of Columbus Hall, and during the Vietnam War, its second floor housed Selective Service Local Board No. 33.  On that sunny spring day, nine Roman Catholic anti-war activists, including priests Philip and Daniel Berrigan, broke into the draft board, took records outside, and burned them with homemade napalm. The Catonsville Nine, as they would become known, then held hands, prayed, and waited to be arrested.
Hit & Stay, a new documentary co-produced and co-written by Joe Tropea, '06, history and '08 M.A., historical studies, opens with local television footage taken of the protest – and recounts just how the Catonsville Nine formed in the aftermath of an earlier anti-war protest at Baltimore's Customs House involving Philip Berrigan (also known as the "Baltimore Four" action). Yet Hit & Stay does more than simply recount the Catonsville protest, showing how the raid on the draft board was the beginning of a nationwide movement to destroy Selective Service records.
Taking a class on the Vietnam War as an undergraduate at UMBC opened Tropea's eyes to the antiwar movement that existed right around the corner from campus. Even then, Tropea recalls thinking: "This would make a cool documentary; this topic is so interesting and complex."
A paper on the Catonsville Nine that Tropea wrote for that class was eventually published in the Baltimore City Paper. (He also wrote his master's thesis at UMBC on the subject.) Tropea discovered that the Baltimore and Catonsville actions were a jumping off point for a broader nonviolent anti-war movement that used direct action and arrests to spread their message in courtrooms and in the media.
"There was way more story than I ever could have imagined," says Tropea. "People who weren't ready to participate [in the Catonsville Nine] saw the impact that Catonsville had, and were soon ready to do their own action. And then I realized that there were 40 or 50 actions connected to this particular group." The protests spread across the country to cities including New York, Milwaukee and Camden.
Tropea also started filming his interviews with former protesters, rather than just recording them. The film also features reflections on the actions by leading progressive thinkers, including Amy Goodman, Bill Ayers, and Noam Chomsky.
Eventually, Tropea and Skizz Cyzyk, (who was co-producer, co-writer, editor and director of photography for the film), had compiled historical video footage, photographs, and even some reenactments for Hit & Stay – a 98-minute documentary now being screened at film festivals across the country.
Tropea works as a digital projects coordinator at the Maryland Historical Society, and he is already investigating topics for his next project. "I'd possibly like to do a short documentary next," he says, acknowledging that Hit & Stay took considerable time to complete. Among the topics he's examining are the nation's prison system and the changing perception of drugs in the United States.
"I'm waiting to fall in love with the next idea," he says.
– Kristina Gaddy '09
POWERED UP
UMBC's Center for Women in Technology (CWIT) has become one of the university's signature tech programs. But it started back in 1990 with a humanities professor and her new email account.
Joan Korenman, a professor emerita of English who was director of UMBC's women's studies program at the time, was bowled over by the immediacy of the new technology and open to its possibilities. "It seemed to me that [email] would be a great women's studies tool," she recalls.
Yet as Korenman dove into the wired world, she observed that societal gender gaps were being replicated – and deepened – in the burgeoning landscape of technology.  "Even as late as 1995, I remember a survey that said only 5 percent of Internet users were women," she notes.
Korenman worried the positive changes for women that she had seen in her lifetime might be wiped out if women weren't actively involved in the field.  So she founded CWIT to "focus on women as users and developers of information technology."
Twenty-three years later, Penny Rheingans, a professor of computer science and electrical engineering at UMBC, serves as the program's director. She observes that the program remains dedicated to "increasing the representation of women among those who create technology."
The CWIT Scholars program is at the heart of the center's activities. The 44 undergraduates in engineering or technology selected for the program are surrounded by a community of peers and receive mentoring from faculty, fellow students, and industry professionals. These scholars also have the opportunity to live together on campus in the CWIT Living Learning Community in Erickson Hall.
Former CWIT Scholar Dana Douglas '07,  information systems management, and  '10, M.S.,  information systems, found a job performing research and usability studies in interface design for UserWorks, a company located in Silver Spring.  "The constant support of the staff [at CWIT], as well as my fellow scholars," she says, "really gave me the confidence to realize that I could [work in information systems] – and that even if I struggled, that was okay."
CWIT's combination of academic rigor and community has led to some remarkable student outcomes. The program has a 90 percent six-year graduation rate, compared to a 50 to 60 percent rate for non-CWIT scholars.
Indeed, the center's successes have been apparent to federal research agencies and private industry, both of which have provided funding to expand the center's work in engineering greater diversity in the tech sector.
The National Science Foundation is supporting the Transfer Scholars in Information Technology and Engineering (T-SITE) with a grant for 12 transfer students to find the same community. And the  Northrop Grumman Foundation has provided funding to create a Cyber Scholars program for nine students with a particular focus on cybersecurity.
Rheingans says that the new programs "serve the core mission of increasing the gender diversity of technology fields, but also highlight different paths into the field – either through community college  or through discovery while at UMBC. Both programs also bring additional complementary aspects of diversity, such as the increased economic diversity that UMBC receives from transfer students."
– Nicole Ruediger
BETWEEN TWO WORLDS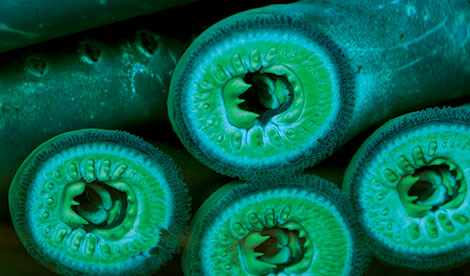 Kathleen Hoffman, a professor of mathematics and statistics at UMBC, works in math biology, but she often felt that her biology colleagues didn't really understand what she was doing.
"The work I did was very foundational in mathematics and it didn't really help them design an experiment or impact their way of thinking," Hoffman says. So after she got tenure, Hoffman did something most mathematicians wouldn't think of doing: she took a sabbatical, got funding from the National Science Foundation and joined a biology lab.
"I called it an immersion program," says Hoffman, "because what I wanted to do was like learning a new language, where you just go to the country and live there, and that's what I did."
Hoffman had done her homework. She knew she wanted to work with Avis Cohen, a professor of biology at the University of Maryland, College Park who researches lampreys – a kind of a jawless fish that sucks the blood out of other fish – and how they swim. Scientists study lamprey locomotion because these fish possess neurons similar to those that power human locomotion, but thousands and thousands of orders of magnitude fewer in number – and thus much easier to study.
Joining Cohen's lab brought about a fundamental change in Hoffman's research, introducing her to an interdisciplinary group of mathematicians, biologists, and engineers all working on lampreys.  "We had the best meetings," says Hoffman, "because we were such an interdisciplinary group and it was predominantly women, which is very unusual in mathematics."
Hoffman's task was to mathematically model neurons. "The model pushes you in the right direction experimentally," she explains. In developing the equations for the model, however, Hoffman had to grapple with lamprey biology.
"You don't know what you're trying to model if you don't understand the biology," she says.  "But I wouldn't say I sit down and understand the biology and then start writing math. It's a process. I understand a little bit of the biology, and then I do a little bit of the math, and then I go back."
One colleague says that Hoffman's work modeling work is critical for the biologists and other researchers on the team to understand locomotion and design their experiments. "The problem of locomotion is difficult to understand without mathematics," says Tim Kiemel, a research assistant professor in the department kinesiology at the University of Maryland, College Park.
Hoffman eventually needs the power of computing to actually "do" the modeling. But before she dives into programming, she starts out using a pencil and paper to define the problem and pose the right questions.
"Sometimes you just have to sit there and stare at it," Hoffman says. "Sometimes you have to do a lot of calculation, or sometimes you just have to let it stew."
 – Nicole Ruediger
Lamprey Photo: Tony Grover, Northwest Power and Conservation Council
STREAM CONSCIOUSNESS
In 1991, after his first year in graduate school, Jason Loviglio spent a summer working in a Minneapolis warehouse where his supervisor preferred to set the radio dial to Rush Limbaugh.
Loviglio – a professor of American studies and chair of UMBC's media and communication studies department – didn't care for the right-wing talk titan's politics, but he couldn't help but admire Limbaugh's command of the format.
"I was impressed with how well he used popular culture, particularly rock music, as part of the entire delivery system of his politics," Loviglio says. "So I became very interested in what happened to popular radio."
Loviglio's early research focused on 19th Century Transcendentalists, but he shifted focus after his arrival at UMBC in 1999 and coedited one of the first collections of academic writing on radio studies: 2001's The Radio Reader (Routledge). Since that book was published, the discipline has expanded to keep pace with the transformation of radio itself – think of podcasts, algorithm-based audio streams like Pandora and Spotify, or NPR's aggressive multimedia efforts.
Those profound changes in the medium prompted a follow-up collection, this year's Radio's New Wave: Global Sound in the Digital Era (Routledge) – in which Loviglio and Michele Hilmes (a professor of media dn cultural studies at the University of Wisconsin, Madison, who coedited both books) cover the diverse ways radio is experienced around the world and online.
What took so long for radio to get respect in academia? The medium is older than television and roughly the same age as motion pictures. More than 90 percent of Americans own a radio, and online, satellite, and podcast listening is on the rise. Yet in the cultural studies community, radio has usually been dwarfed by other media.
"The end of the 20th century was the end of the regime of the visual," Loviglio says. "And a great deal of the intellectual interest was in various kinds of performance of identity and sexuality and race and class, and some of the most important works written about those things really took the visual as the starting point."
Online access has made the radio experience global. "When I go to Germany, people want to talk about Ira Glass," Loviglio says. Digitization also has helped disseminate archival broadcasts more widely. (Pieces in Radio's New Wave make use of such archives in Australia, France, and the Caribbean.)
Hilmes recalls having to mail blank audiocassettes across the country in the 90s to access copies of old programs, and says such ease of access to research material is redefining radio studies. "To me, radio is not narrowly that thing we think of when we tune into a radio station in our car, broadcast on the airwaves," says Hilmes. "I'd like to see radio, as a term, encompass all these new forms."
Though Loviglio serves as an advisor to UMBC's digital-only radio station, WMBC, he hasn't yet taught an entire course on the medium. Even so, he's helped students understand radio's power by assigning them to interview an older relative about their memories of radio for the university media literacy course.
"[The students] are very good at finding connections between the media we take for granted and some really important themes in everyday life, and the relationships between people and historical changes," he says. "Whenever I've taught it, it's one of the most rewarding things that I do."
– Mark Athitakis
Tags: Fall 2013