PAST AND FUTURE
The torch has been passed at the College of Arts, Humanities and Social Sciences (CAHSS) – and it has been passed from one historian to another.
Scott E. Casper arrived on campus as the new dean of the CAHSS and professor of history in July, following John Jeffries, who retired and is now a professor emeritus of history and dean emeritus of the college.
Casper was the interim dean of the College of Liberal Arts at the University of Nevada, Reno and a professor of history at that university, serving as chair of the department and director of graduate studies.  He was also chair of the university's faculty senate.
UMBC's new dean of CAHSS brings with him a distinguished record in teaching and research. Casper is the author of Sarah Johnson's Mount Vernon: The Forgotten History of an American Shrine (Hill and Wang) and Constructing American Lives: Biography and Culture in Nineteenth-Century America (The University of North Carolina Press). He was named the University of Nevada, Reno Foundation Professor in 2010 and the Carnegie Endowment for the Advancement of Teaching/Council for Advancement and Support of Education Nevada Professor of the Year in 2008.
Casper received his A.B. in history from Princeton University in 1986; his M.A. and M. Phil. in American studies from Yale University in 1990; and his Ph.D. in American studies from Yale University in 1992.
– Richard Byrne '86
ASTONISHING ALUMS
Each year, the UMBC Alumni Association presents Outstanding Alumni of the Year Awards to honor alumni for their professional and personal achievements and service to the university.
The annual awards presentation ceremony – which will be held this year on Thursday, October 10 at the Albin O. Kuhn Library – is one of the highlights of UMBC Homecoming 2013.
This year's awardees are:
Jeehye Yun '97, computer science as Outstanding Alumnus of the Year in Engineering and Information Technology. Yun is CEO of Secured Sciences Group LLC – a successful information technology company headquartered in the bwtech@UMBC research park.
Ricardo Zwaig '77, Spanish as Outstanding Alumnus of the Year in the Humanities. Zwaig was appointed as a district court judge in Howard County in 2010 by Governor Martin O'Malley. He was the first male Hispanic district court judge in Maryland.
Dr. Mary Loeken, M.S. '80, biological sciences as Outstanding Alumna in the Natural and Mathematical Sciences. Loeken is a research investigator at Joslin Diabetes Center and an associate professor at Harvard Medical School whose research on diabetic pregnancy was featured in the Summer 2012 issue of UMBC Magazine.
Sherece West-Scantlebury, P.h.D. '07, public policy as Outstanding Alumna in the Social and Behavioral Sciences. West-Scantlebury is president and CEO of the Winthrop Rockefeller Foundation – a dynamic Midwestern philanthropic organization.
Brigitte Pribnow Moore '05, acting as Outstanding Alumna in the Visual and Performing Arts. Moore is executive director of the Young Playwrights' Theater in Washington, DC.
For more information about the awards and UMBC Homecoming 2013, visit our website: http://homecoming.umbc.edu/
– Jenny O'Grady and Richard Byrne '86
PLUGGED IN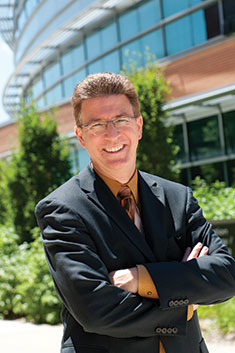 Over the past two decades, UMBC has grown by leaps and bounds as a research institution – in size, in capacity for interdisciplinary collaboration, and in its continuing efforts to integrate undergraduates into the process of discovery. The task of the university's new vice president for research, Karl V. Steiner, will be to continue and intensify that growth.
Steiner was hired to take the reins from Geoffrey Summers, a professor of physics at UMBC, who has retired after serving as vice president since 2008. Summers was also the founding dean of UMBC's College of Natural and Mathematical Sciences in 2005.
In his previous position as senior associate provost for research development at the University of Delaware, Steiner fostered notable interdisciplinary collaborations among engineers, life scientists, social scientists, health scientists and other researchers. He was a professor in the electrical and computer engineering department and the biomedical engineering program, and served in a variety of other positions, including founding associate director of the Delaware Biotechnology Institute, executive director of the Center for Composite Materials, founding executive director of the Fraunhofer Research Center – Delaware, and president and founder of Lightweight Solutions, Inc.
Steiner received his Engineering Diploma in electrical engineering from the University of Applied Sciences in Braunschweig Wolfenbüttel, Germany, in 1983; his master's degree in electrical engineering from the University of Delaware in 1989; and his Doktor Ingenieur in mechanical engineering from the Institute for Composite Materials (IVW) at the University of Kaiserslautern, Germany, in 1995. He is a co-holder of two patents, and has authored over 80 publications in prominent science, technology and engineering journals.
– Richard Byrne '86
THE GOOD WORDS

For the fourth year running, The Chronicle of Higher Education has named UMBC one of the best colleges in the nation for which to work. It was also the second year in a row that UMBC made the Chronicle's "Honor Roll" for ranking highly across all categories in which faculty and staff across the country were asked to rate their workplaces.
The Chronicle results are based on responses from nearly 45,000 people at 300 institutions nationwide. UMBC received high ratings in seven categories, including collaborative governance, teaching environment and diversity.
But how do UMBC faculty and staff view UMBC in their own words? A recent survey conducted to prepare for the creation of the university's new strategic plan (Our UMBC: A Strategic Plan for Advancing Excellence) is one place to look.
The survey of faculty, staff and students was conducted earlier this year as part of a year-long preparation to commence work on the new plan. A word cloud derived from responses of faculty and staff was presented at the university's annual retreat in August (in the shape of a retriever, of course), revealing that among the words that came up most often were "engaged," "diverse," "collaborative," "innovative," "supportive," "inclusive," community" and "entrepreneurial."
UMBC Provost Philip Rous also formally unveiled the strategic planning process at this year's university retreat. The creation of the plan will unfold over the next two years and its implementation will coincide with UMBC's 50th anniversary in 2016.  You can find out more about Our UMBC: A Strategic Plan for Advancing Excellence by visiting www.umbc.edu/planning.
– Richard Byrne '86
Tags: Fall 2013