Every so often, we'll chat with an alum about what they do and how they got there. Today we're talking with Jim Lord '99,Visual and Performing Arts, about his work as the Director of Creative Services here at UMBC.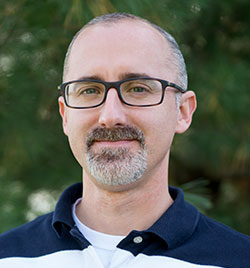 Q: What drew you to UMBC for your studies?
A: I was really impressed with campus and the faculty in the visual arts department when I attended a campus visit. As a transfer student, I was glad to be able to move right into the graphic design program my first semester. UMBC had a great articulation agreement with my community college, so the majority of my credits transferred over with no issue.
Q: You now work at the university. Could you tell us how you got the position and talk a bit about what you do there?
A: I work in the Creative Services department. During my final semester, I ran into a classmate that was stepping down from a part-time position with the group. She advised me to speak with the creative director at the time who was also a past professor of mine. Jeanne Ivy hired me as a part-time web assistant. Four months later they informed me a full-time position was opening up, and allowed me to interview. I got the job and have been with the group in various roles ever since. I am currently the director of Creative Services. I oversee the day-to-day operations of the studio and continue to design materials for the campus community.
Q: You recently received your MFA from UB and were the first student to complete the 60-Credit Integrated Design Program. What was that experience like?
A: The experience was interesting to say the least. Juggling a full-time job, family obligations, and school work was a challenge, but I kept my head down and got through the program without too much heartache. I have my family and friends to thank for their support. I could not have done it without them.
Q: What aspect of creative design do you enjoy most?
A: Seeing my work become a reality. I love walking across campus and seeing my work in the hands of a student, on the side of a bus, or hanging on the side of a building.
Q: What advice would you give to students considering UMBC?
A: Don't judge this place based on its reputation among your peers. Come to campus and see for yourself what UMBC has to offer. Your experience here is what you make it.