Rooted in the far corner, a leafy green plant has grown nearly across the office, curling around a large ticking clock, and hugging framed photographs a proud father has mounted on the wall. It keeps going, its stem and leaves circling the desktop monitor, dangling just beneath the ceiling.
Below it sits its owner, "Bookstore Bob" Somers, mustachioed manager of the UMBC Bookstore. He brought a much smaller, nearly-dead version of the plant with him when the shop moved to The Commons from the University Center 16 years ago.
"I thought I'd kill it right away," he says, with his signature gravel laugh.
Somers will sell his last book this week. But even as he greets retirement after 28 years on the job, the guy who says he wakes as if "shot from a cannon," the guy around which an energetic marketing caricature has been built, the guy who powered through one of the biggest sales months in store history following last year's March Madness, shows absolutely no signs of slowing down.
And this plant is a gentle reminder not only of the time he's spent here, but the deep roots he has built with his bookstore family.
Bookish Beginnings
Anyone who happened to pick up the February 27, 1990 edition of the Retriever Weekly knew that Somers was coming soon. It made the front page, in fact (although below the fold). In the story, then-acting manager Gina Thurston '83, sociology – who has since returned to the same position to manage the store post-Somers – noted the new hire as an experienced seller, with years at several university bookstores.
At UMBC, Somers quickly built a team of student and alumni workers, many of whom work in the store to this day. Even as other schools' bookstores have been swept up by the Barnes & Nobles of the world, he's kept UMBC's store independent—a fact he's very proud of. This has worked both because of the support of his leadership, he says, but also because of the true dedication of his staff.
"One thing about Bob," said Ralph Anderson. "No matter how busy things were in the store you could always go to Bob about any personal issues and he would give you his time and genuine concern and would always follow-up to make sure you were doing OK."
Famously frugal and quick on his feet, he has kept his door open to all.
"I think most employees here wake up and are excited about what is going to happen at work," says Somers. "The people I work with are extraordinary human beings. I'm so lucky. Somehow I end up with these great employees. I don't know quite what I did to deserve that."
Family Atmosphere
Many on the bookstore staff consider their co-workers their family. And that atmosphere extended to Somers, who during his tenure at the store also raised three kids who graduated from college as Retrievers.
"One time, (my brother) Jordan ('15, theatre) and I got to spend the night on campus while Dad worked throughout the night to keep systems running. We pulled chairs together and made forts, had scavenger hunts of the inventory, and read a bunch of kids books," said Marlie Somers '13, media and communication studies. "He talks now about how guilty he feels, for dragging us to work with him, but I appreciate so much that he was able to balance his responsibilities at his job with his responsibilities as a single parent."
Daughter Kayleigh Somers '08,  environmental science and English, said her dad's passion for education and UMBC convinced her to attend as a student.

"He often told me that UMBC was the school to go to if I wanted to get a well-rounded and thorough education," she said. "He was completely right. Having him on campus was an extra perk, especially being able to have regular lunches in his office where I could talk through whatever crisis I was in the middle of, or tell him about the most interesting thing I'd learned."
If there's one thing Somers tried to instill in them during that time, it was to follow his lead and find work that really energized them.
"I was able to get through to them, don't choose a job for the money. Yeah, it's nice to have money, but if you are miserable, you will never succeed. Find something you like to do," he says. "So, my kids have really taken that on. And all three of them are doing what they want to do. As a parent, what more can you ask for?"
March Madness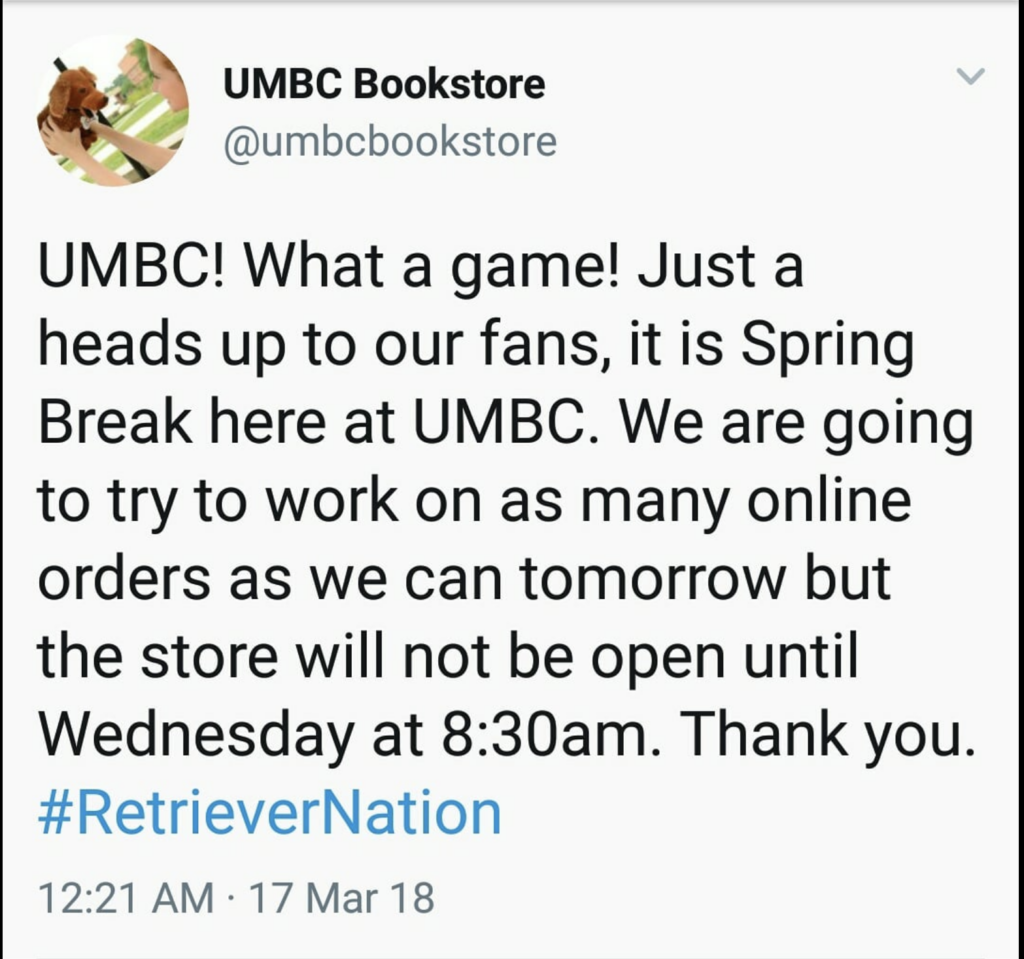 Every business has its ebbs and flows, and Somers and his crew have weathered many, including moves, expansions, and cuts to staff. But the biggest by far was the exciting-yet-still-extremely-crazy retail aftermath following the men's basketball team's historic trip to the NCAA tournament last spring. Talk about hustle.
You can look at this time in terms of numbers, or in terms of people. Numbers-wise, the Retrievers' win over top-seeded UVa meant almost an immediate and drastic jump in online orders.
"In a normal year, we were about 90 percent textbooks, and we did about 1,500 (orders) and in that week after the game, we had over 5,000," says Somers, who ordered round upon round of new t-shirt stock to keep up with demand, which stayed strong through May.
And let's not forget the fact that during that particular point in March Madness, UMBC was on spring break. Which means, much of the staff came back into to the office from vacation, literally from sunrise to sunset, to keep up with it all. Students from the Residential Student Association even kicked in extra hours to help out.
"Were we tired? Oh my God. I think I went through four pairs of shoes in that week," recalls Somers. "You know, you keep going even when there's no end in sight. You're behind the eight ball. But it was great. We learned a lot about ourselves."
The Legend of Bookstore Bob
Getting through the tougher times takes good leadership, but having a great sense of humor doesn't hurt, either. So when a couple of Somers' staff proposed a marketing campaign centered around their boss, he shrugged and went along with it.
"A few years ago our then marketing manager, Austin Kidwell '13, interdisciplinary studies, decided that Bob, without realizing, had created the perfect marketing character, 'Bookstore Bob,'"said Erin McGonigle '08, English. Bookstore Bob made his debut as a superhero in the bookstore's first-ever new student summer comic book, "Super Bookstore Bob & True Bit: Back to School V.1."
"From there, we ran with it, creating a cartoon version of Bob to use for all of our marketing campaigns," she says. "It worked; people would see Bookstore Bob and know something was happening at the Bookstore. From Bookstore Bob Bucks, Bookstore money given away during promotional events that can be spent as real money in the Bookstore and Yum Shoppe, to a poster at the bus stops to an annual Comic Book, his cartoon self was everywhere!"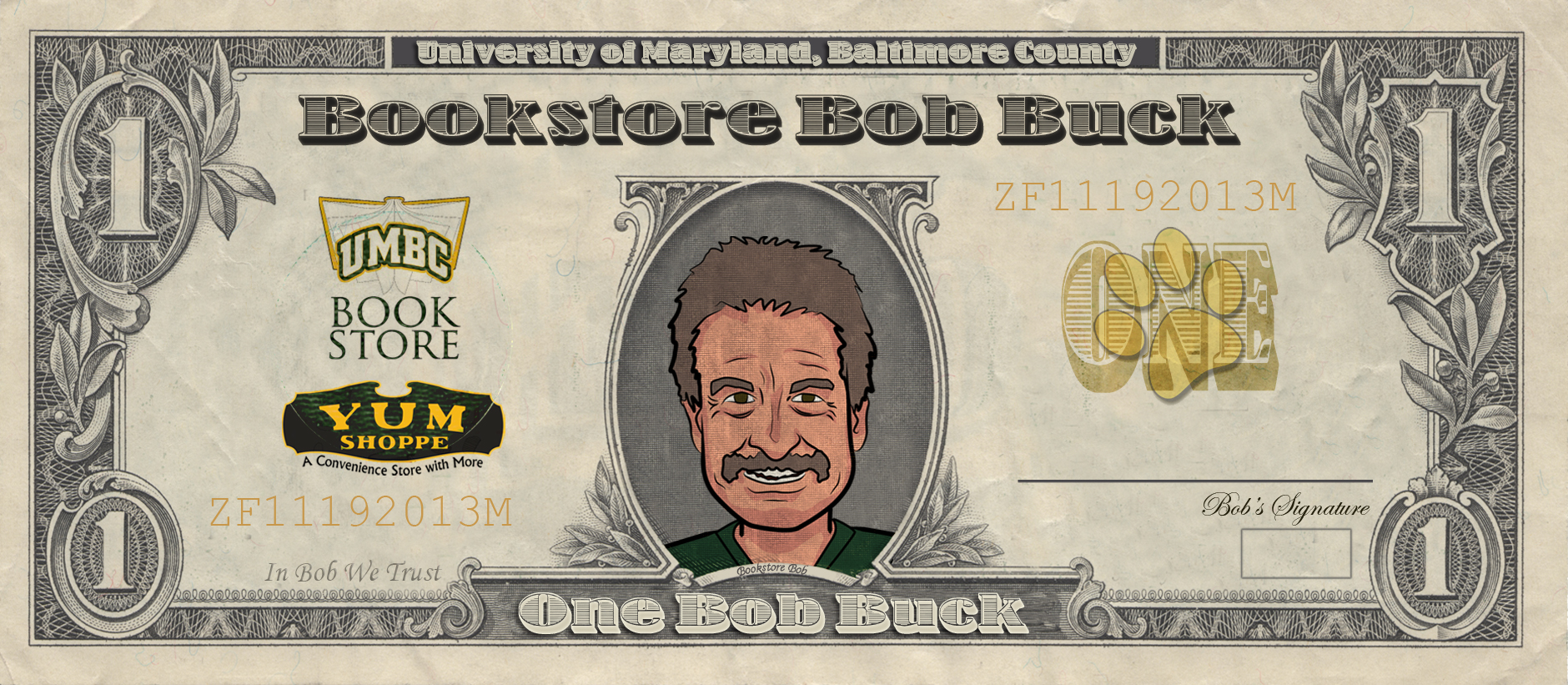 Every so often, Somers is asked what he thinks of it all. He replies honestly: "I want to go run and hide every time I see it." And yet, he plays along, posing for images, and even singing a rap about affordable course materials. (It's on YouTube, by the way.)
"It's about as embarrassing as it gets. But if it's good for the bookstore, I'm going to do it."
Onward and Upward
So, what does life after UMBC look like for Bookstore Bob?
"I can't be bored, or I will lose my mind," he says, totally serious.
He has a million ideas: Picking up where he left off writing his 27-installment cat-centric fantasy novel series. Finding some alone time in the woods, or maybe even working at a park. Growing his hair long enough for a ponytail (work began on this project earlier in the summer). Visiting his kids whenever he feels like it. The sky's the limit, really.
"Life for Bob has come full circle," said longtime colleague Kay Smith. "When I started at the Bookstore, he wore cowboy boots and had a long ponytail and he is leaving with enough hair for a new ponytail. All he needs is the boots!"
All jokes aside, his kids are hoping this ball of energy will take a moment to reflect on what he's built.
"I remember something Dr. Hrabowski said at a graduation I attended: take a moment to pause in your journey be proud of the accomplishments you've made, even as you look ahead," says daughter Kayleigh. "I hope my dad takes some time to do just that!"
* * * * *
Epilogue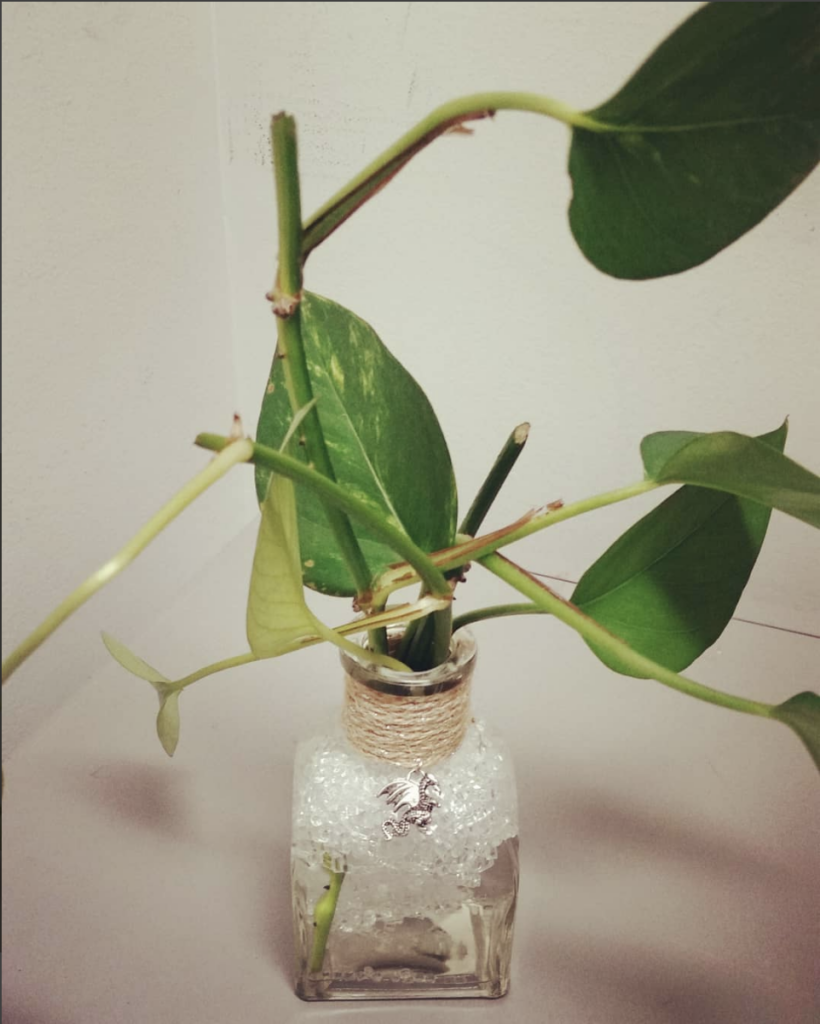 In the weeks leading up to his retirement, Somers cleared out a drawer behind his desk and filled it with the makings of one final project.
With the help of Smith (who devised the plan), the day after Somers left, his staff each found a cutting of his now-famous office plant on their desks. A goodbye, yes, but really more of a thank you.
"These are great people," says Somers. "That's why my job was so good and so much fun. The long days didn't matter, or the long commute. It was a privilege to work with these people."