GOALS ORIENTED
Both the women's and men's soccer squads can look back on 2013 as an amazing journey  – breaking new ground for UMBC's athletics program while proving that winners on the field can also excel in academics.
Both UMBC soccer teams won the America East regular season and conference championships – and claimed bids to the NCAA tournament with decisive victories in front of home fans at Retriever Soccer Park.
Expectations were high for the men's squad going into the season, and they were fulfilled when the team won its NCAA bid – and the right to host the university's first-ever home game in the tournament – with resounding 4-0 victory against the University of Hartford.
The Retriever men compiled a 16-1-3 record in 2013 and rose to fifth in national soccer polls. Their season ended after a 2-2 see-saw second-round NCAA tournament game against the University of Connecticut that ended with the Retrievers bowing out on penalty kicks.
The story of the Retriever women's soccer team was even more astonishing. Its appearance in the NCAA Tournament capped off a reversal of fortune that saw the squad go from last place in the America East conference to first place in 2013, earning a 13-6-2 record, a regular season title and a conference tournament championship along the way.
The women's team bested Stony Brook University 2-1 in the America East title game to earn its bid to the NCAA tournament, but their season ended with a hard-fought 2-0 loss in the first round to the fourth-ranked team in the nation – Virginia Tech – in Blacksburg, VA.
UMBC's soccer success netted players and coaches numerous honors from the America East conference. Men's head coach Pete Caringi, Jr. and his staff were voted by the league's coaches as the Coaching Staff of the Year. Three of the team's players also received the league's highest honors, including senior forward Pete Caringi, III (Striker of the Year); senior midfielder Kadeem Dacres (Midfielder of the Year) and junior fullback Oumar Ballo (Defender of the Year).
Women's head coach Leslie Wray and her staff received the Coaching Staff of the Year award from the America East conference, while junior midfielder Jessy Brown shared Midfielder of the Year honors with Hartford University's Stephanie Santos. (Brown was also named as the MVP of the America East tournament.)
Both teams also matched their success between the lines with excellence in the classroom. In the most recent College Team Academic Awards given by the National College Coaches Association for the 2011-2012 seasons, UMBC was among only 150 schools where both the men's and women's teams received this honor for having cumulative team grade point averages at 3.0 or higher.
And as the America East conference gave out its individual honors, both women's team standout Jessy Brown (who has a 3.70 GPA in biological sciences) and junior midfielder Michael DiCesare (who scored the only goal in the November 6 win that clinched the men's regular season title for UMBC) were also named to the America East's All-Academic team.
– Richard Byrne ' 86
DEGREE OF INSPIRATION
With its many indie performances and off-beat exhibits, Baltimore is quickly becoming a city known for its art scene. Katie Kopajtic '11, acting, is catching that process in real time in b.f.a. – an original web series featuring other recent UMBC graduates (many of whom were involved in the UMBC Theatre Department's award-winning 2011 production of Las Meninas).
"We were inspired by local artists doing big things," Kopajtic explains. "We wanted to show what's going on in Baltimore's art scene in a way that parallels real life."
The series follows a group of friends as they try to navigate the acting world after graduation. The cast and crew filmed a pilot episode, but Kopajtic – who serves as writer, director and producer, and also acts in the series – knew the homegrown project would need significant funding to continue to its conclusion.
"We had to think about what it would take to film an entire season," she says. "Things like rentals and even post-production costs like editing—those add up fast."
So the b.f.a. team launched a crowdfunding campaign on Indiegogo, eventually raising $7,000 toward a full series production budget of $10,000. Kiirstn Pagan '11, theatre, who served as the project's marketing director, observes that the cast and crew were brought into the creative side of the project as the fundraising was ongoing.
"All of the cast members ended up being very involved in the writing process," Pagan says. "We had multiple meetings over the summer to go over Katie's scripts, where everyone was able to help mold the story, making it more interesting, funny, and compelling."
After a June premiere of the pilot episode at Creative Alliance in Highlandtown, Kopajtic and her cast and crew were able to schedule the final round of filming on a reduced budget beginning in August.
"It was disappointing, but we came to terms with it," says Kopajtic. "We learned to cut costs without cutting corners."
The b.f.a. team found low-and-no-cost shooting locations (including Joe Squared and Ottobar) to stretch that budget, and they collaborated with Station North Arts and Entertainment and the Annex Theatre to use the set and lights at a new city arts space called The Chicken Box.
Sean McComas '11, acting BFA, says the opportunity to stretch his skill set from theatre into film was an unexpected perk of his involvement in b.f.a.
 "In theater, you are always following a character's journey from start to finish," McComas explains. "You may rehearse out of sequence, but in performance you actually go on a journey. In film, that is not the case."
Filming wrapped in November, and the new episodes debuted online every two weeks through late fall. Kopajtic hopes to expand the series into a feature-length film, but she believes that b.f.a. is already achieving its goal: showcase Baltimore and the people who live and work there.
"b.f.a is a glimpse into the real lives of artists," she says. "It shows people working hard, struggling to put themselves out there. That's Baltimore. That's what we do."
– Laura Lefavor '13
To watch b.f.a., go to bfatheseries.com.
BANG THE DRUM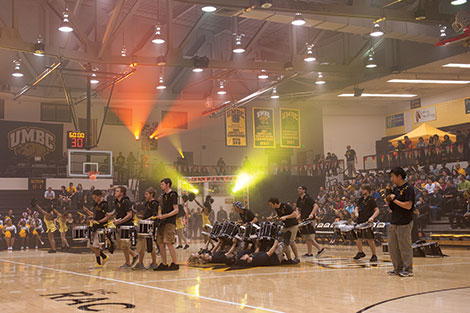 Every band needs a beat. And the heartbeat of the Down and Dirty Dawg Band – UMBC's provider of musical pep at athletics events and other campus commemorations – is the UMBC drumline.
A fixture at Midnight Madness, athletic events and in local parades, the drumline began a little more than three years ago, when Eddy Mosenkis '13, biological science, rounded up two other students – Will Gass '13, business, and Cody Kenlak '14 – to add to the musical ensemble.
For a year, they shared playing time and equipment with the Down and Dirty Dawg Band. But it didn't take long for band director Matt Basch to recognize they'd make a great addition to his ensemble.
Merging their efforts with those of the Down and Dirty Dawg Band in 2011 boosted the drumline's funding and proved to be a boon to its recruitment efforts, allowing the percussionists to get bigger and better.
Basch has lived and breathed drumline since he first heard one as a freshman in high school. He was hooked immediately and joined as a high school sophomore. The hard work, discipline and athleticism of drumline are something he wants others to experience at UMBC as well.
Mosenkis says the drumline and the Down and Dirty Dawg band expanded his horizons as a musician.
"It was truly an experience that has broadened my personality as the years progressed," he observes. And it's still an important fixture in Mosenkis' life. "I come back to visit them as often as I can. I like remaining up-to-date on how they're doing."
– Katharine Scrivener