ESTONIAN EXCELLENCE
There isn't an NCAA in Estonia. No college recruiters or flashy promoters. So back in 2011, rising UMBC senior Lauri Kaei had to get onto the radar of UMBC men's and women's swimming and diving coach Chad Cradock '97, psychology, the old fashioned way: grit, determination, and some timely word of mouth from other Estonians – including Herol Marjak '13, history, and Johan Rohtla '14, biochemistry – who have swum competitively at UMBC.
Flash forward three years. Kaei is one of the top performers on UMBC's successful swimming and diving teams, chalking up individual achievements and helping the university's 200- and 400-yard medley relay teams finish at the top of the America East Conference.
And like many UMBC student-athletes, Kaei has been just as successful in the classroom, double majoring in political science and philosophy with minors in international affairs and legal policy.
UMBC was a very different experience from higher education in Estonia. "It seemed really big!" Kaei observes. "Universities back home are just buildings that are spread out around the city, but there's no actual campus."
Kaei hopes to attend law school in the United States after graduation and plans to enjoy his last year of competitive swimming for UMBC.
Cradock observes that "it has been great to watch [Kaei] grow as a person. He's someone that supports his teammates, cares a lot for the sport, and is invested in the betterment of himself. I know when he gets into the real world, whatever he does, he's going to be extremely successful."
— Katharine Scrivener
LEGO LEGEND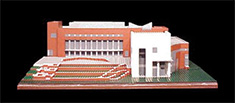 For children, a tub of Legos isn't just a collection of brightly colored building blocks. It's a means of self-expression and a tool for learning.
But while many of us drift away from Legos, Jason Burik '00, psychology, hasn't stopped exploring their potential.
Burik's parents and grandparents gave him Lego sets as a child, and his ambitions grew with each set. In seventh grade, he built a scale model of his parents' house using the blueprints. And by the time he was at UMBC and the Baltimore Ravens were building a new stadium, Burik made a model of that as well.
"I still remember my roommates laughing when I told them I was going to build a Lego stadium on our apartment kitchen table," he recalls.
Burik sent a photo of that stadium model to the Pittsburgh Pirates, who were in the process of building PNC Park. The photo landed him the first of many commissions. To date, Burik has constructed more than 100 Lego projects for clients around the world – including Yankee Stadium, Stanford University, and the U.S. Capitol. Among his favorites? A model of The Commons at UMBC.
His love for both education and Legos is contagious. When he's not building with colorful blocks, Burik works as assistant to the superintendent in the Montour School District, west of Pittsburgh. Burik has managed to combine his passion for teaching and Lego modeling as well, conducting Lego building camps for children who may someday go on to build great things of their own.
— Meredith Purvis
PRIDE PROVEN
UMBC's Prove It! Campaign has added greatly to the quality of campus life during its six years of existence, including the creation of a green space outside the Fine Arts Building and a system for tracking campus shuttle buses via GPS technology.
Last year's winners have finally made their mark at UMBC – three new and vibrantly decorated Chesapeake Bay Retriever statues placed in prominent areas around campus.
The Retriever Project was the brainchild of UMBC students: Kelsey Krach' 14, cultural anthropology and Spanish, Travis Bell '14, psychology and political science, and Cami Sotela '13, psychology.
With funding provided by UMBC's Student Government Association, Prove It! gives undergraduates with a vision for ways to improve the campus a chance to compete to have their plan realized. Winners of the competition can receive up to $10,000 to implement a winning plan and cash prizes of up to $2,000.
The idea for the Retriever Project was based on a number of colorful "animals on parade" public art projects around the world – most notably two large projects in nearby Washington, D.C., which featured pandas and then donkeys and elephants.
Krach, Bell, and Sotela spent more than two years planning their Retriever Project entry. The first three statues were placed in front of the Albin O. Kuhn Library, The Commons, and the Performing Arts and Humanities Building. Each statue is painted to reflect a core UMBC value: diversity, academic and social exploration and the breadth and depth of UMBC's academic program.
— Jessie Orsburn '14
Learn more at umbcretrieverproject.blogspot.com.
FABULOUS FROSH
In 2008, the UMBC men's basketball team finally made the leap to the biggest event in college hoops: the NCAA Championship.
Retriever Nation has renewed hope of a return to the Big Dance thanks to rising sophomore Rodney Elliott, who was named as the America East Conference Men's Rookie of the Year for the 2013-14 season. Elliott was also named to the conference's Third Team – the only freshman to earn a spot amongst the conference's elite players.
Elliott is the first UMBC's men's basketball player to earn Rookie-of-the-Year honors. The 6'0" point guard – the son of former College Park standout Rodney Elliott, Sr. – became UMBC's second NCAA Division I player to record 400 points (451), 100 rebounds (118) and 100 assists (108) in a season. Elliott's 451 points scored is the most by a freshman in UMBC's 27 years of NCAA Division I competition.
Elliott was also selected as the America East Fans' Choice Player of the Year.
"I am really honored to receive this award. It's a humbling experience," Elliott said. "I want to thank my family, my parents and my coaching staff – who knows where I would be without their support."
Fellow rising sophomores Will Darley, David Kadiri and Charles Taylor, Jr., all played substantial minutes in 2013-14 and will form the nucleus of a men's team with terrific potential.
"Rodney was thrust into a major role as a first-year college player and did a tremendous job," said head coach Aki Thomas. "He has definitely served as a catalyst in the maturation process of our program."
— Steve Levy '85
Tags: Summer 2014