Writing duo Alex Reeves '16, acting, and Nell Quinn-Gibney '17, acting, originally teamed up to create a parody of the Nickelodeon cartoon Kim Possible, performed in a lecture hall in the Information Technology and Engineering building. "That was our first toe-dip into writing together," says Reeves.
Now, two of their shows opened the same weekend: Proxy, a science fiction play about a world in the near-future where people's consciousnesses can be immortalized by AI technology, premiered at Baltimore's Rapid Lemon Productions on October 11. The very next day, The Possible Place, a play about mental health and coping mechanisms, opened as a part of Charm City Fringe Festival. Both shows will run through October 20.
"It's one of those things where, when you're telling people about it, unless they're in theatre, they don't understand how exciting it is to have your play produced," Reeves says. "It's extremely exciting because we wrote [Proxy] and we thought the only people who would care about it would be us and our friends."
In actuality, their work has garnered far more attention than they anticipated, especially Proxy. Like The Possible Place, Proxy started as a one-act written for Charm City Fringe Festival. The process of writing took a month, only for Quinn-Gibney and Reeves to find themselves a week away from auditions with no idea how the show would end. Eventually, they scrapped the whole thing and started a new draft, finishing it within a week. That is the version that was performed at Fringe Fest, with many UMBC alums rounding out the cast.
"We call our little Fringe group Out of Ink Productions," Quinn-Gibney explains. "Because we tend to do a lot of very last minute, very intensive, very fast writing."
But the pair knew there was more to be done with the story. They submitted a portion of the script to a local podcast called Inkubator News Works, which subsequently helped produce a staged reading of the show. Quinn-Gibney and Reeves used this opportunity to add a second act. It was the director of that reading that later brought the script to Rapid Lemon Productions.
But Proxy's reach has extended even beyond Maryland—its first act is being performed at Gadfly Theatre's Final Frontier Festival in Minneapolis this November. Quinn-Gibney described Final Frontier as "a queer, science fiction theatre festival. What a niche that we happen to fill!"
Though the productions at Rapid Lemon and in Minneapolis have been fairly hands-off for Reeves and Quinn-Gibney, they've been spending much of their time working towards the opening of The Possible Place. They spent the months of August and September writing the show, and began rehearsals in September, while edits were still being made to the script. 
Now that the show has opened, those months of hard work have finally come to fruition. Quinn-Gibney calls opening night "a blast. Extremely high energy, lots of nerves, and an amazing, fun show."
In the cases of both Proxy and The Possible Place, most of Reeves and Quinn-Gibney's cast and technical teams are composed of friends they made doing theatre at UMBC—both in the theatre department and in various student organizations. In club theatre, Quinn-Gibney says she "definitely built a really tight core of people who wanted to make the same kind of art as I did."
Ali Mark '17, mechanical engineering, originally met Quinn-Gibney and Reeves doing shows with them in student organizations like the Musical Theatre Club. Now, she works with the pair regularly; she designed props for both Proxy and The Possible Place, and is also starring in the latter show. 
For Mark, her long-standing friendships with Reeves and Quinn-Gibney are a big part of what makes it so easy to create theatre with them. "We have all seen each other at our best and worst, which makes the production feel like a safe space where we can throw out any idea and see where it takes us," she says.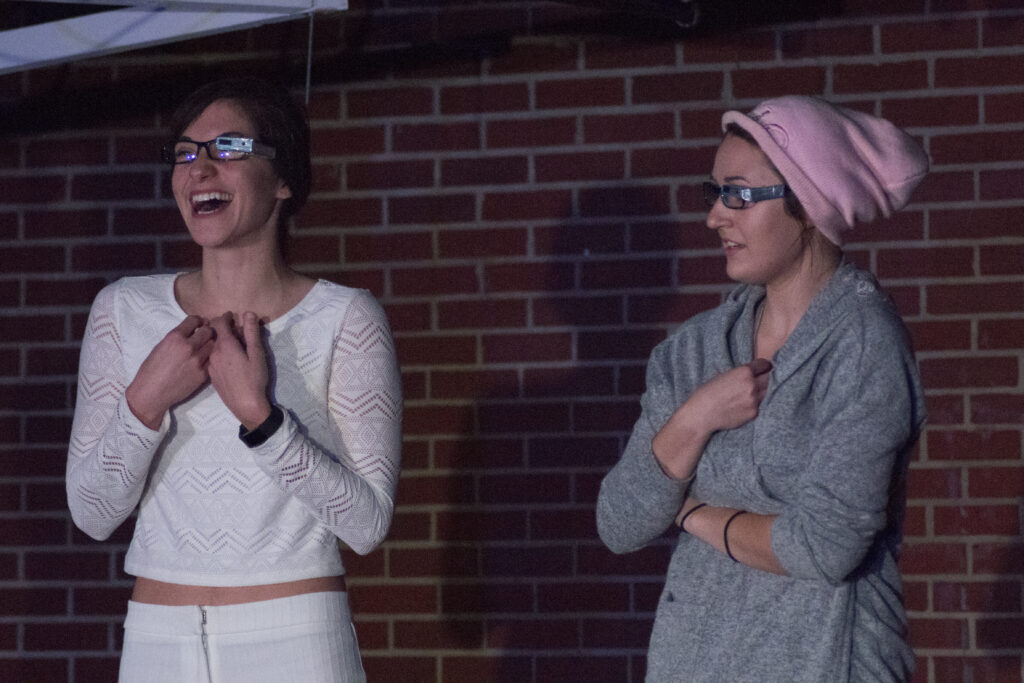 Creative collaboration was a prominent theme of Reeves's and Quinn-Gibney's years at undergraduates at UMBC. Reeves was strongly influenced by her time in the Linehan Scholars Program. "The first seminar you take within that program is wonderful because you're working with so many artists from so many different mediums, and you learn to be a really good collaborator," she says. 
And those expert collaborating skills reach their peak when she is working with Quinn-Gibney. Both of them describe their writing styles as opposite, but complementary. Reeves is a planner, skilled at mapping out a workable story arc, while Quinn-Gibney can write a scene with impressive speed. 
"We balance each other out really well," Quinn-Gibney shares with a smile.
Both productions run through October 20. Find tickets and information about Proxy at Rapid Lemon Productions. Tickets and more information about The Possible Place can be found at Charm City Fringe Festival.
*****
Header image: A scene from Proxy at the 2018 Charm City Fringe Fest, starring Hannah Kelly '17, Mason Catharini '16, and MaryBeth Kerley '17. Photo by Jason Fowler '18.
Tags: CAHSS, fringe fest, Theatre