Safiyah Cheatam, M.F.A. '21, intermedia and digital arts, always has her hands in something.
In just the past few years, the multidisciplinary conceptual artist has exhibited work at The Peale and VisArts. She co-produced OBSIDIAN, a Rubys Grant-funded Afrofuturist podcast, with alum Adetola Abdulkadir '17, and served as curatorial research assistant at the Smithsonian's National Museum of African American History and Culture for the special exhibition Afrofuturism: A History of Black Futures. This summer, Cheatam is also serving as a juror for the Hamiltonian Artists Fellowship.
Cheatam devotes her days to providing programming for teen artists as the assistant manager of teen programs at the Walters Art Museum. Over the last decade, she's led arts programming for young artists at a variety of institutions, including the Baltimore Museum of Art, Wide Angle Youth Media, the University of Maryland, College Park, and UMBC.
"My grandmother, almost everybody in my family, is an educator, so I'm in a long line of educators," says Cheatam. "One of the things that I decided after undergrad was I wanted to do museum programming; I wanted to lead in a good alternative learning space like the museum."
Cheatam notes that an attractive aspect of working as a museum educator is the level of engagement.
"I've been lucky to get kids who actually want to be there," she says. "Nobody goes to a museum unless they want to, and so the students come and want to learn what I have planned for them. It's a good feeling."
What Happens When We Nurture
Last year, Cheatam co-founded Islam & Print with her husband, Dan Flounders. A community print fellowship that champions diverse Muslim experiences housed at Maryland Art Place, Islam & Print celebrated its inaugural year with an exhibition at Black Artist Research Space.
This exhibition, What Happens When We Nurture, features the work of 2022 artist fellows Suldano Abdiruhman, Tayyab Maqsood, Anysa Saleh, and Leili Arai Tavallaei, and will be on view through July 30. Cheatam and Flounders designed the exhibit to center on the work each artist developed as part of the Islam & Print cohort as they learned the techniques and processes of printmaking.
"We want people who come to the show to know that Islamic art is not monolithic. You're not going to see much geometric patterning or Arabic calligraphy; it's not that kind of show," says Cheatam. "We don't even really like to say Islamic art—it's just Muslims making work. The goal is that they have a community where they can critique with artists who come from a similar understanding."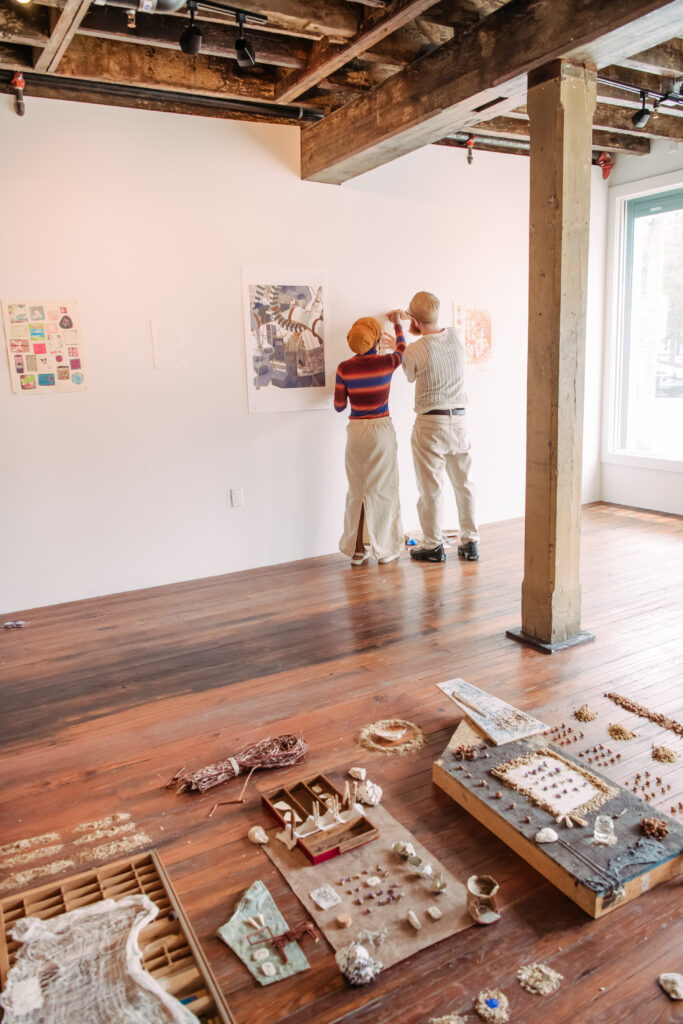 When Islam & Print initially launched, Cheatam and Flounders received applications from across the country, but ultimately decided to focus on artists in the DMV region for the first year. The size of the show and existing exhibition calendars initially presented a hurdle for finding a venue for What Happens When We Nurture, Cheatam says. But when they began talking with Black Artist Research Space founder Rhea Beckett—faculty with MICA's Curatorial MFA program—things clicked into place.
"I'm very grateful and excited that we've gotten to this place," says Cheatam. "At first I wasn't going to pitch it to them because only one person in our cohort is Black and I didn't want to disrupt the integrity of the space, but Rhea was open to it. She clarified that her space is open to making cultural connections between different races and ethnicities, and she was very interested to talk about the long and important history of Muslims in Baltimore."
Left: Visitors enjoy the opening reception of What Happens When We Nurture. Photo by Timothy Nohe. Right: Cheatam and her husband and co-curator Dan Flounders outside their exhibit. (Marlayna Demond '11/UMBC)
The Rhetoric of Apocalypse
After the exhibition closes, Cheatam and Flounders will begin planning the next cohort for Islam & Print. And while they plan, Cheatam will spend August and September as a fellow at Baltimore's Waller Gallery, where she will produce a new, large body of work—larger than her current studio space can hold—based in the history of American apocalyptic religious messaging.
"We've been going to my husband's family's house in Allentown, Pennsylvania, and driving a lot of country roads. You see these Christian propaganda billboards, like 'Jesus now before you die.' And you know, I found that the Nation of Islam has a similar kind of rhetoric," Cheatam says.
It's a body of work that is still in development, so Cheatam is coy about what the end product will look like.
"No spoilers, but for this series I'm going to explore the imagery and texts from the Nation of Islam," Cheatam says. "I'm interested in the history of literacy within Black Muslims in America, how design and literature is to Muslims. Because almost a third of the enslaved Africans brought here were Muslim, so there's a rich history of literacy with Black Muslims in America that I want to investigate."
Cheatam began research for this new body of work delving into the archives of Muhammad Speaks, which was published between 1960 and 1975 as the official newspaper of the Nation of Islam.
"They're very alarming in their speech sometimes, and I know they have a bad rap with a lot of people, but I really wanted to lean in and learn more about their messaging," Cheatam says. "And one of the things I noticed about their newspapers is that their headlines are saying things that people, even non-Muslims, feel today."
During her Waller Gallery fellowship, Cheatam will be making work investigating the underpinning of this messaging, filtering through the Mundane Afrofuturist lens that unites her work.
"I am a big sci-fi enthusiast, and I love disaster movies. I'm obsessed with apocalypses," says Cheatam. "I like to see how people portray human nature in disaster times and look at how they answer questions like, do we help each other? Do we hurt each other? What does sustainability look like after the apocalypse? How are we taking care of each other?"
* * * * * * *
Learn more about Cheatam's ongoing work.

Apply to UMBC's Imaging and Digital Arts M.F.A. program.
Tags: CAHSS, GraduateSchool, IMDA