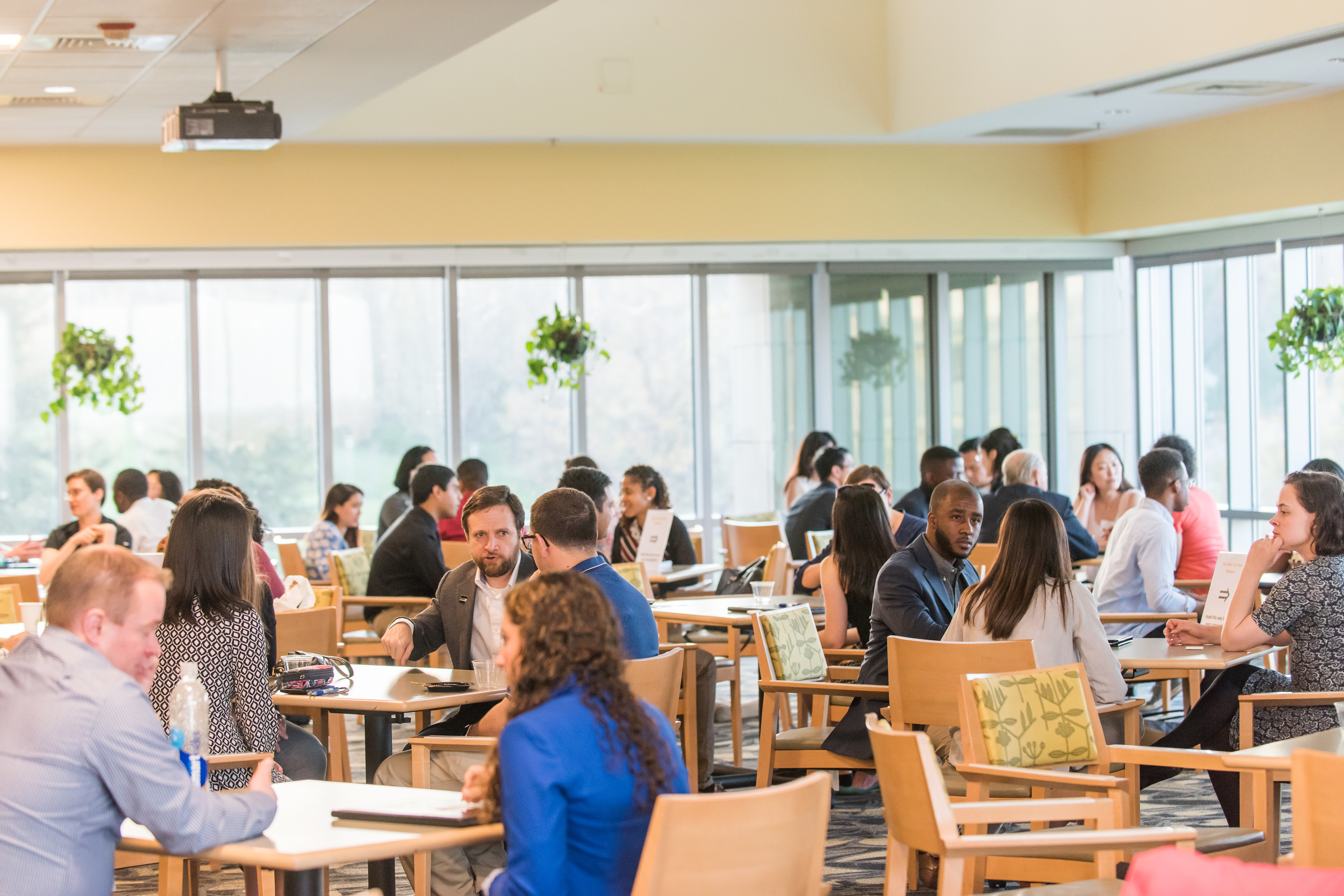 Every April, the Office of Alumni Relations is proud to participate in UMBC's Career Month programming. From our signature Sweeten Up Your Network event to alumni-led panels on subjects ranging from work-life balance to the graduate and professional school experience, we provide opportunities for alumni to reconnect to campus and share their experience and expertise with students looking to get a leg up in their post-graduate lives. This year, over 50 alumni volunteered, and we reached out to some of them to get their take on the experience.
Emily Brown '14, computer science, returned to campus for Sweeten Up Your Network and our panels on Balancing Expectations and Affinity Groups. She says that UMBC's 50th anniversary celebration last fall inspired her to get involved on campus in ways that she hadn't been as a student.
"As a CWIT [Center for Women in Technology] scholars, I didn't participate much in the Career Center's programs [as an undergrad], and wanted to enhance the experience for non-scholar students by giving the same level of alumni volunteer attention to their activities," says Brown.
Brown, who works as a cyber systems engineer for the Johns Hopkins Applied Physics Laboratory, also says she gained valuable insights from the stories and experiences of her fellow panelists. "In both cases, learning the similarities and differences between where I work and where the other alums were working was [enlightening] to me, and hopefully to the students as well."
Shelley Bailey '09, mathematics, and M.A. '10, economic policy analysis, agrees. Bailey, who works for the Social Security Administration, participated in a panel on "What I Wish I Knew in College." She says that the panel's diversity regarding age, background, and experience made for a thought-provoking discussion between the alumni and students.
"Common threads running through panelist recommendations [emphasized] students opening their minds to potential opportunities, taking initiative to gain new experiences, and building relationships," says Bailey. It was an especially good opportunity for her, she says, because "I am passionate about helping those who are trying to find their way in the world through furthering their education and pursuing work experiences."
Students also had the chance to hear from alumni who have gone into business for themselves, as an April 19 panel sponsored by the Alex. Brown Center for Entrepreneurship brought Alex Chizhik '97, economics, COO and general counsel of VIMRO and Rob Deford '93, geography, owner and president of Boordy Vineyards, back to campus.
The two alumni, along with fellow panelist Kara Redman, CEO of Backroom, offered candid insights into starting and growing one's own enterprise. "Unless your business plan is to win the lottery, nothing comes easy," cautioned Chizhik, but all the panelists agreed that the work of building a business was a reward in and of itself.
Deford, who operates Maryland's oldest winery, emphasized careful planning, and urged students to take stock of their personal circumstances when deciding whether or not to start a business. He also said that a focus on product quality, sustainability, and community responsibility can take a business far: young entrepreneurs, he said, can "do well by doing good."
— Julia Celtnieks '13
Want to learn more about our alumni volunteer opportunities? We'd love to welcome you back! Click here for details on how to get involved.