By Charis Lawson '20 and Randianne Leyshon '09
Although still a young university, UMBC has unique long-standing traditions, made especially dear to students and alumni because so many of them were conceived and implemented by students themselves. The engaged student body and alumni eager to reconnect with their alma mater have worked to co-create a community culture that celebrates all Retrievers. Yes, there's a lot of black and gold involved…but that's only the tip of the iceberg on how to be a Retriever!
Free Hour
On Mondays, Wednesdays, and Fridays from 12-1 pm not a single class is in session. However, it would completely miss the mark to assume that nothing happens during this "Free Hour." These three hour-long blocks are time for community, relaxation, and opportunity. Commuting students, who might not have a chance to engage in campus activities throughout the day, visit clubs. Busy students with hectic schedules might take some time to grab food or rest their eyes. Student organizations use this time to promote their upcoming events and put on attention-grabbing displays in the breezeway.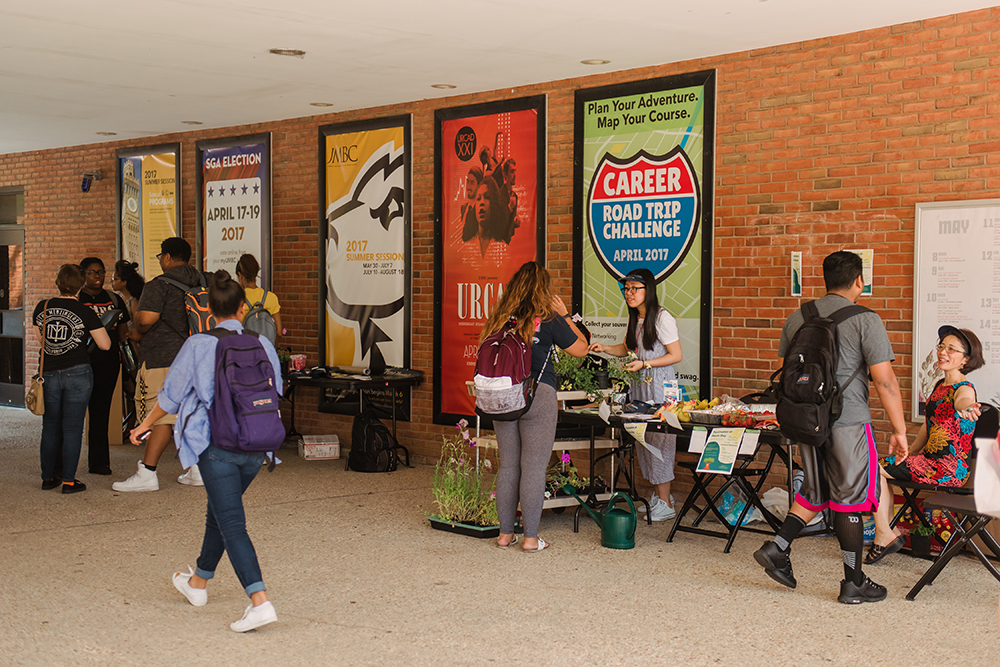 "Free Hour" has been a constant fixture in the UMBC academic calendars since 1970. It came into being after the Student Union made the case for the fixed schedule to the Faculty Senate. Despite having to move classes around and the increased lack of classroom space, this has remained an important tradition that gives time for advising opportunities, learning outside the classroom, and self-care.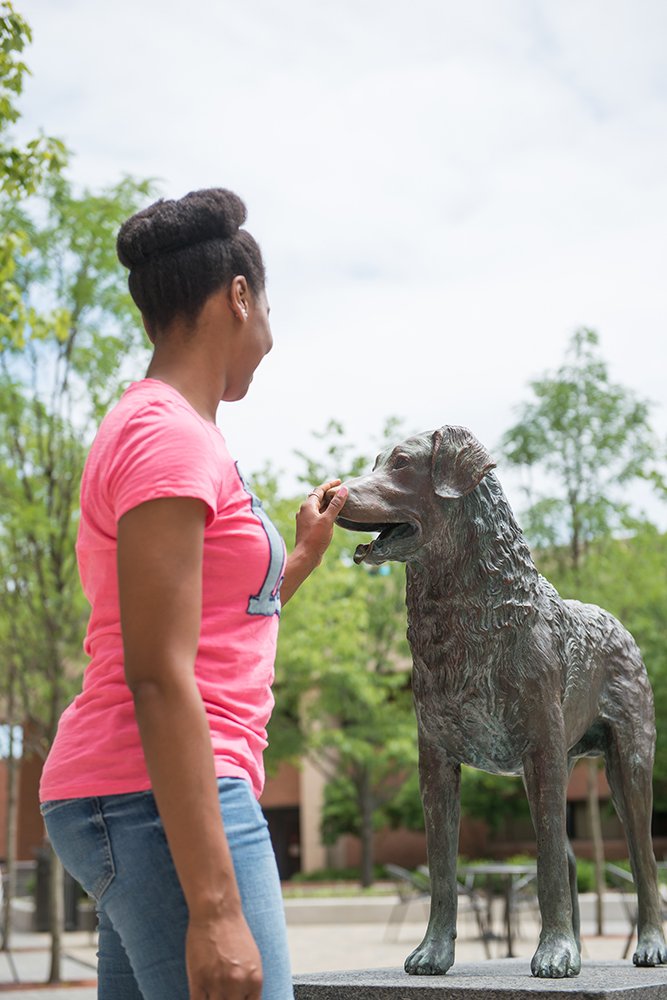 Rubbing True Grit's Nose
While True Grit's face might be splashed across campus, perhaps the most prominent representation of the university's mascot is a 500-pound bronze cast sculpture which graces the plaza between the Administration Building and the Retriever Athletic Center. True Grit has a storied history that current students and alumni connect with by rubbing the pup's now golden nose—often they'll visit the Chesapeake Bay Retriever statue after Convocation when their academic journeys begin or after Commencement as they enter a new chapter in their lives. His nose also gets a lot of attention during finals, when students make sure to touch him for good luck.
UMBC commissioned artist and alumna Paulette Raye '87, philosophy, to create the sculpture. Raye modeled her creation after Nitty Gritty, a local champion Chesapeake Bay Retriever. But as for how True Grit got his name? It was the model's father, True Grit, who offered up a strong and bold moniker that UMBC students felt described their own pluck.
Homecoming
There are few UMBC traditions that encapsulate the Retriever spirit as holistically as Homecoming. Since 1976, Homecoming has been an annual multi-day event with an array of different community-building activities. Throughout the week, the student events board (seb) invites a comedian, a carnival takes place on Erickson field, everyone stops to watch the puppy parade, and fans gather to cheer on our athletic teams. As students, alumni, staff, and their families gather for the "Big Game" there are fun activities like face painting, Retriever-themed freebies, and tailgating on Lot 17 (now known as the Stadium Lot.)
As the student body evolves, so does Homecoming. In 2005, Thomas Locastro '12, biological sciences, suggested and organized a community bonfire—which is now a centerpiece event of Homecoming.
Quadmania
What better way to celebrate the nearing end of the academic year than with a spring fling weekend of fun activities. Hosted entirely by seb, Quadmania features live music (including a major headliner), an outdoor festival, free food, games, and fantastic fun times all weekend long.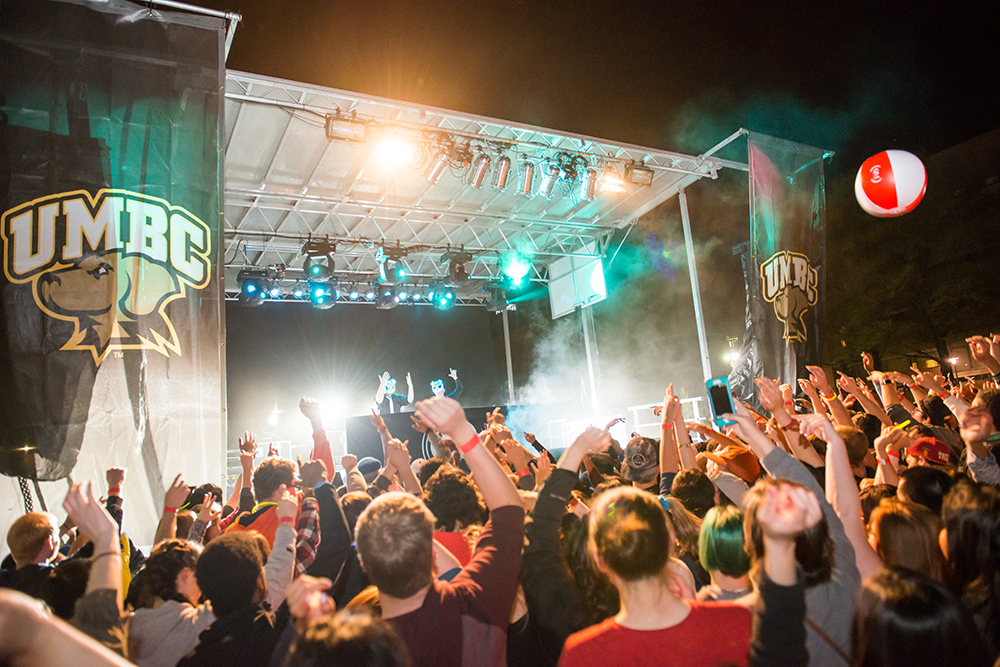 Quadmania began in 1981 as a musical concert with food and games on the Quad outside of what is now The Commons—it quickly became a cornerstone UMBC social event for students, alumni, and the surrounding community.
Pangea is another homegrown musical tradition at UMBC. Established in 2015, the Welcome Week event allows cultural student organizations to showcase what they do during the year and recruit new members.
Mysteries about the tunnels
Winding below campus lays an intricate maze of tunnels. As a freshman, the existence of these tunnels is most likely unknown. However, as time passes and familiarity with the campus grows, so do conversations about the tunnels. Students who have had the opportunity to go down there proudly trade stories cementing the tunnels into Retriever lore. Just as there are hidden entrances into the tunnels in nearly every building, the ways in which you get to go down there are equally diverse and mysterious.
While the primary use for the tunnels is practical things like fresh airflow to the buildings, there are many other uses that give students an opportunity to explore the expansive halls. Carrying props for a performance happening in PAHB, transporting cumbersome materials needed for an engineering project, or moving all of the necessary materials for a program like Alternative Spring Break may be options to get access to the tunnels. After finally checking the underground tunnels of the to-do list, the only logical next step is to find a way to get invited to the Admin Roof.
Alma Mater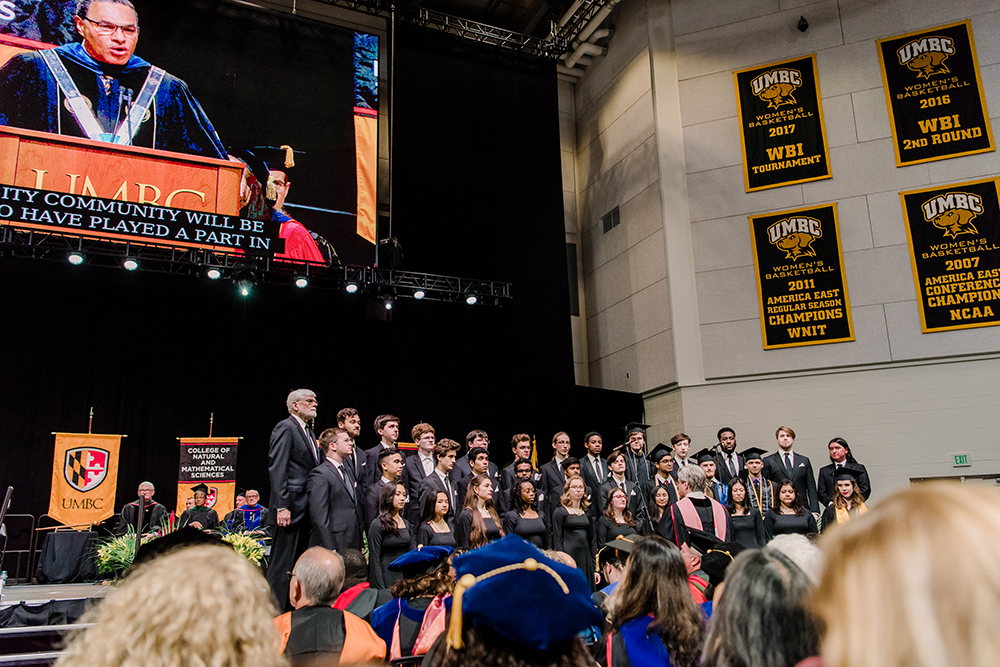 UMBC's alma mater debuted in 2006 in conjunction with the 40th anniversary festivities. The tune is American Hymn by Matthias Keller, and the lyrics and arrangement are by Jari Villanueva, former director of UMBC's pep band. Sung with gusto at Convocation and Commencement, this newer tradition helps create solidarity among current students and alumni.
Alma Mater
Hail alma mater! OUR UMBC,
Boldly bearing your colors, the whole world to see,
Striving together in true unity,
Black, gold forever we're reminded of thee,
Proudly we hail to thee, OUR UMBC!
Throughout the ages, OUR UMBC,
Songs and memories still echo with true clarity,
Knowledge and wisdom and truth we found here,
Friendships we treasure that will last through the years,
Proudly we hail to thee, OUR UMBC!
Midnight breakfast
Right before finals, students step away from their work, push aside their mounting stress, and file towards D-hall (the True Grits dining hall). While D-hall is usually full, nothing compares to the crowds present during Midnight Breakfast. For once, no one seems to mind the winding lines, as students use the time to connect with friends and appreciate the free, all-you-can-eat breakfast. Friends group up to take pictures in the photo booth, tables are cleared to make room for the DJ and a dance floor, individuals draw on the posters covering the tables as they eat.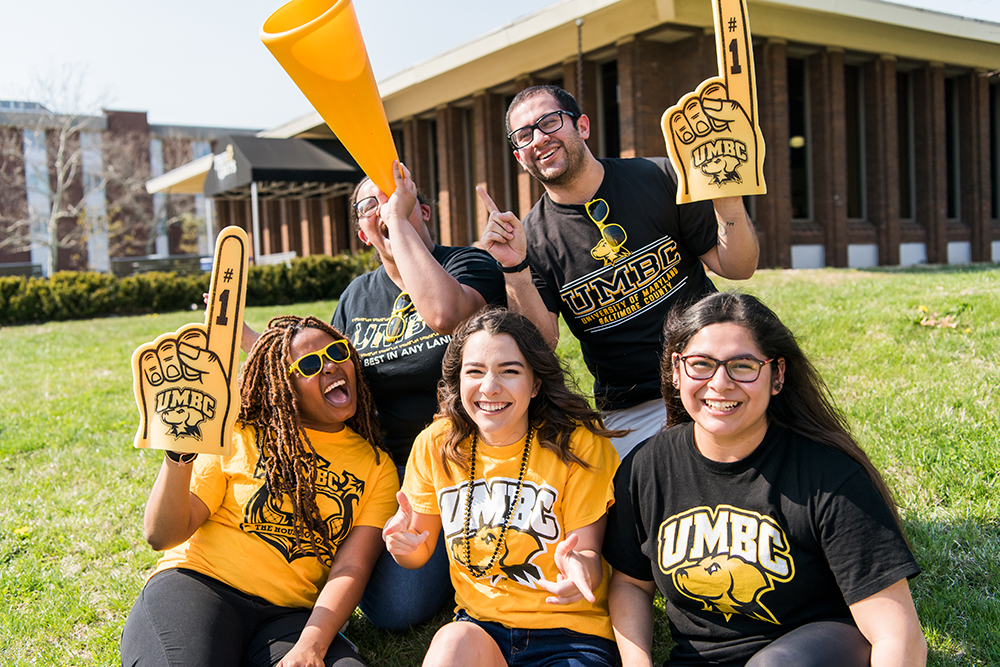 Midnight Breakfast, put on by the Residential Student Association usually takes place from 10 pm -2 am. It's been a tradition valued by students as a time to relieve stress as the semester concludes. Many lucky students even get their hands on a free T-shirt, a staple of many UMBC events.
Election Extravaganza
As a school that is known for embracing its "nerdy" culture, it comes as no surprise that UMBC has a tradition surrounding elections. As presidential elections roll around, The Commons is filled with events taking place on all three floors. During Election Night Extravaganza, there are games, stress-relieving activities, a watch party, food, prizes. UMBC pulls out all of the stops to celebrate democracy and civic engagement.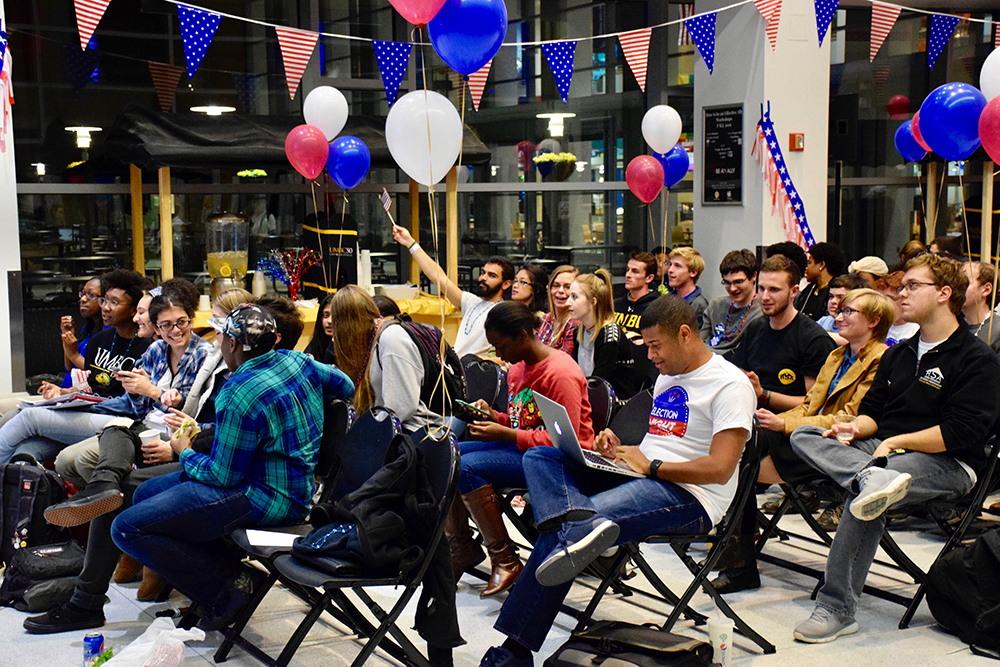 The Center for Democracy and Civic Life, Student Government Association, and Graduate Student Association all come together to host a night of community during something that can feel isolating or divisive. Since 2004, through the Election Night Extravaganza, UMBC has been making space for students to get more politically informed, engage in discussions, or simply relax with their friends.
Officer Chip
Nothing stops the flow of foot traffic on Academic Row like Officer Chip. With a love for belly rubs, Chip is unlike most campus officials. This pup (in reality a brown lab, and not a Chesapeake Bay Retriever—we don't hold it against her) was welcomed to campus in 2019 as the 4th university comfort dog in the nation. Officially, her duties include accompanying Sgt. Jamie Cheatem to crisis situations to provide comfort and support. She attends wellness events like lunchtime walks in the RAC and provides stress relief at various finals events. She's also part of the campus police ride along program.
Although she's still somewhat new to campus, she's stolen all our hearts. She's popular on social media and in person, and has done more than her part to help UMBC maintain community, creating a cozy sense of place on her walks about campus and providing a much needed relief from the stress of living in a pandemic.
*****
All photos by Marlayna Demond '11, unless otherwise noted.
Tags: campus life