​​Many of President Freeman Hrabowski's working hours are spent at his desk on the phone speaking to organizations that can help better the education of his students, but as often as possible, he'll take a lap around the campus that has shaped him as much as he's shaped it.
​​To be a Retriever in any of the last 30-plus years is to have a "Freeman story." For many people, it's pretty similar. President Hrabowski saw you on Academic Row and asked your major and where you went to high school. President Hrabowski got on your elevator and asked your major and where you went to high school. President Hrabowski stopped by your lunch table in The Commons and—you guessed it—asked your major and where you went to high school.
You'd think he might get tired of hearing the answers, but instead, they seem to animate him. He has rejoinders for any response and is indefatigable as he strides around the campus he's watched grow up for more than three decades.
These are the liturgies of life at UMBC under the leadership of President Freeman Hrabowski. He's always going to say, "Enjoy the food, I was cooking all night." He's going to offer you his elbow to bump instead of his hand (he was doing this cold-avoiding precaution well before COVID-19). He's going to ask if you've thought about getting a Ph.D. He's going to say "focus, focus, focus" and "keep hope alive." No matter how many times he repeats these things, they never sound trite—and that's where the magic comes in. He means them each and every time.
Out of Office
On an exceptionally sunny afternoon this February, Hrabowski walks down the packed corridor of Academic Row. Seemingly every student is outside on this summer-gift of a winter's day. Chatting with folks like he usually does, an eager student yells out from the University Center terrace "I love you, Freeman!" drawing out all the vowels. His reception among students is closer to that of a celebrity—selfies abound. Staff step up shyly to tell him that he's the reason they've stayed at UMBC for 20 years. He asks a table of students the usual questions and along the way discovers it's someone's special day. Without skipping a beat, Hrabowski croons "Happy Birthday" to her, entirely at home.
President's Day
One of the unsung roles of a president is listening to the complaints and suggestions of students and staff. Hrabowski does this task not only ungrudgingly but often and methodically. By a matter of coincidence, a recent student focus group took place on President's Day. Hrabowski made it clear to the dozen students (all recent transfers) assembled that he had one hour before he needed to head to Annapolis to speak at the Maryland State House about how we learn and talk about our nation's founding president. For that hour, he made himself fully present and available, taking notes about registration frustrations, organic chemistry woes, study abroad hopes, and a plethora of other topics.
For each student, he had a resource to give them and encouraged them to follow up with him about their progress. "The thing a president does," he told the students with a laugh, "is point you to other people who can help you."
Let's Go on a Walk
Most of Hrabowski's days do not include hours-long walks, but as often as possible, he'll show his guests around a campus that has made its mark on him as much as he has on it. You could nearly measure Hrabowski's tenure by counting the rings on the trees that wrap around the loop, lending their growing shade to the walking path each year—those trunks and branches were part of an early initiative of his to shape the landscape of campus to be more welcoming.
He'll make sure to bring guests to the meditative spot in front of a statue of his good friend and mentor, the late philanthropist Walter Sondheim. He'll want to show visitors the new Performing Arts and Humanities Building (PAHB). One story he shares is that when legislators would come to campus early in his presidency, he'd take them to the Fine Arts Building Recital Hall so that they could experience the sound of the flushing toilets next to the auditorium, audible even during productions. The PAHB offers multiple (soundproof) performing venues and is LEED Gold certified, heightening the visibility of the arts and humanities as major components of campus and community life.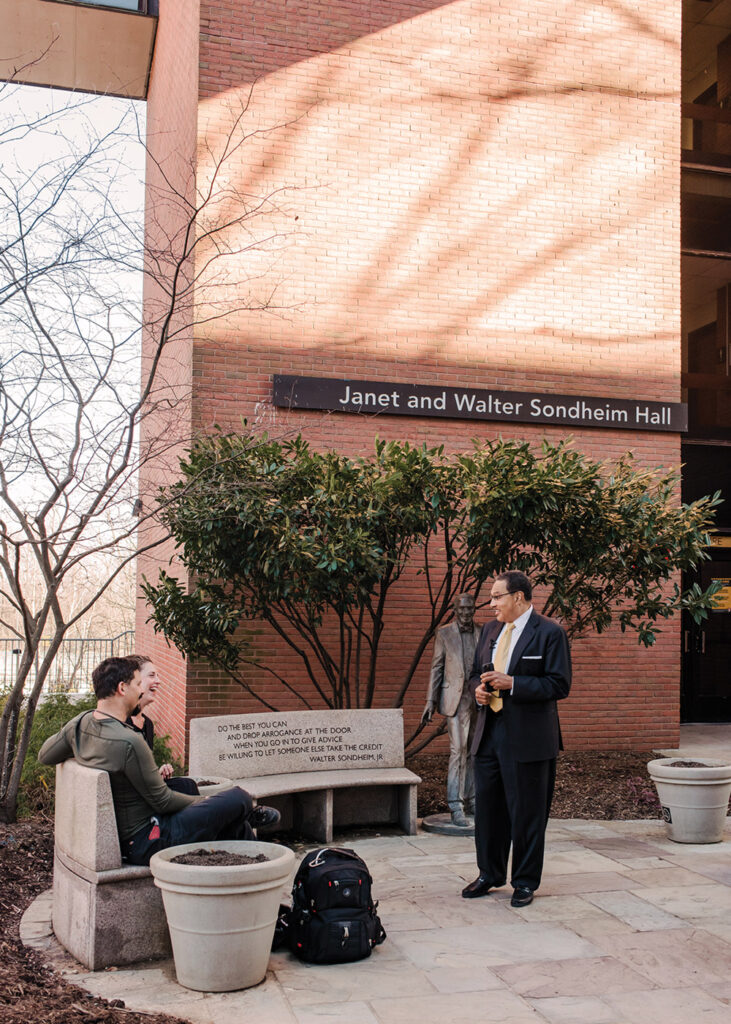 A Break on the Knoll
"Go placidly amid the noise and the haste and remember what peace there may be in silence." In a virtual Meyerhoff Scholars Program Family Meeting, Hrabowski quotes Max Ehrmann's "Desiderata," a poem he memorized 60 years ago. For someone whose role does not offer many moments of silence, Hrabowski does take free seconds throughout the day. When he finds them, he says the shortest prayer, "God help me. God help us." If he finds a whole minute free, he closes his eyes and meditates. "The hardest thing for any human is not to have a thought," he says.
In an ideal world, like this perfect day in February, Hrabowski can make the trek down to the Knoll and Joseph Beuys Sculpture Park, across the loop from the UMBC Stadium Complex. The Knoll is a preserved woodland that's remained undeveloped due to community members continually advocating for campus green space. He pauses here, at peace and temporarily still under the dappled shade.
Interrupting Class
The next stop is the Interdisciplinary Life Sciences Building (ILSB)—a state-of-the-art space for collaborative research and teaching. Hrabowski taps on the door of a class in a large lecture hall to listen in on discussion of math counter examples. His eagerness to be in the classroom is palpable. Hrabowski frequently says, "I have so much more to learn." Despite the administrative duties he's called to perform, perhaps the staying power of more than 30 years at a university is an authentic life-long desire for learning. It's what makes his repeated interactions with students impactful instead of trite—he's truly curious about the world around him.
Stopping for Research
Walking into Professor Chris Swan's Geography and Environmental Systems lab on the second floor of the ILSB, Hrabowski quips about the tray of leaves on the counter, "Are you heating that up for food or science?" "For science," the students reassure him as they explain the leaf litter they're working with. After collecting the specimens from streams on campus, "we measure the functional diversity and the rate of decomposition."
"And why is this important?" Hrabowski asks genuinely, the constant wheels of learning turning in his head. Swan's research group responds that they're establishing the importance of biodiversity to better understand invasive diseases that have decimated some ash and oak species—questions that ultimately might help keep more of UMBC's many trees alive and healthy.
Making Campus Inviting
It's nearly 70 degrees outside, and we're closing in on our step goal. Hrabowski shows no sign of slowing down. He doesn't need a drink of water, he doesn't need a break. He stops only to congratulate a group of women's lacrosse players throwing a ball around the Quad for their explosive win earlier that week (17-9 against American University).
As he makes his way back to the Admin building and his desk and messages waiting for him, Hrabowski recounts an early walk in his tenure as UMBC president. He was showing then Maryland Governor William Donald Schaefer around campus. He wanted the governor to know how well UMBC functioned with the state support it received but also how it could function so much better with more investment. "And for years," says Hrabowski, "Schaefer told people, 'That young president walked the hell outta me all over campus,'" laughing that he just had to say "yes" to all of Hrabowski's requests because he was too out of breath from the vigorous walk to say anything else.
But the results of that and other fruitful conversations over the past three decades are evident everywhere. Students may take The Commons for granted, or the Knoll or even lounge spaces in the library, but all of those spaces are intentional, says Hrabowski.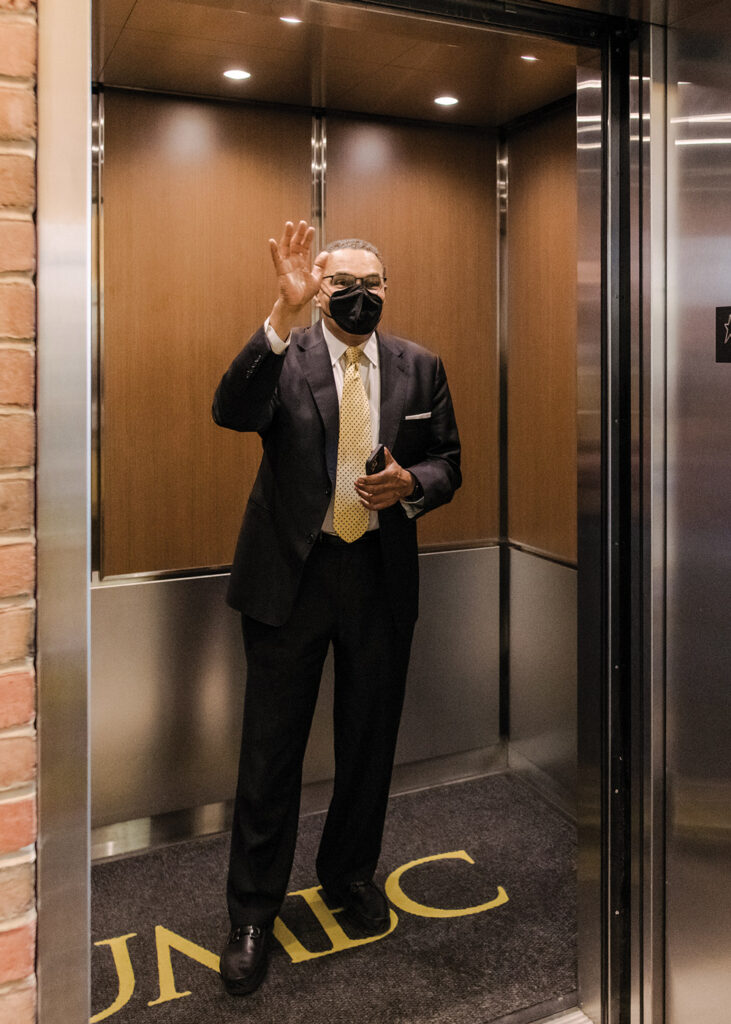 The campus changes he's most proud of are those that encourage community. "There are more spaces where you can sit and commune, talk to people, reflect," says Hrabowski. "In the early years, people would come to campus and then leave. Not all, but those who were not residential. Now there are so many places where people can just study, laugh, get to know other people, and build community over time." In his eyes, these places of invitation are the crowning achievement of the physical campus.
Up to the 10th Floor
As he enters the elevator to take him to his office, he waves joyfully. The next part of his day will be very different from his crowd-pleasing walk but no less important. He'll make the case for increased funding to the National Science Foundation. He'll moderate a Chronicle of Higher Education virtual panel on the importance of resources for our growing population of first-generation students. He'll make phone calls to put UMBC on the radar of state legislators and other folks in a position to give his students a better education. 
He'll forget to drink more than several cups of tea provided by his executive assistant as he endlessly and eagerly promotes a university that has shaped him as much as he has shaped it. He will do and say the same things over and over again without them sounding trite, because he believes in the power of words. And most of all, he believes we will keep hope alive.
*****
All photos by Marlayna Demond '11.
Tags: campus life, Freeman Hrabowski, Spring 2022