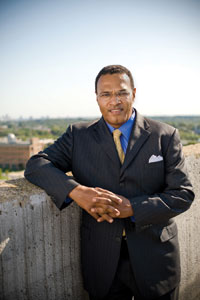 UMBC President Freeman A. Hrabowski, III, takes your questions.
The role of UMBC's staff members in the story of the university's rise to prominence is often overlooked. What are your reflections on how UMBC's staff members have contributed to the institution?
— Richard Byrne '86, English
People don't think about how important staff members are until something doesn't go well. If things are going well, everyone's happy, and no one even thinks about the fact that the place is operating as it should.
What people don't know if they have not been involved in the operation of the institution is that things just don't happen well. If something goes well, whether it is an event, or something in the everyday operation of the university, it goes well because a lot of people are working very hard to help other people succeed. That's what staff members do. We call them the infrastructure of the place. They are the foundation. They are the people who keep the place going.
In my personal experience, you are talking about someone like Karen Wensch, former senior executive administrative assistant to the president – who for years, in a sense, ran the president's office at UMBC (and before that ran other offices on this campus). Or you are talking about Doug Pear, a former assistant to the president who worked for years helping the provost's office, and then helped me for so many years. These are people who gave their careers to make a difference at UMBC and support our colleagues and our students.
In fact, one of the reasons I wanted to establish the Karen L. Wensch Endowment Award for Outstanding Non-Exempt Staff was that Karen was always saying to me: "What about the staff?" She wanted to make sure, from the time when I was a young president, that I never forgot the staff. Even when I was vice provost, she would say, "Some people will say, 'faculty and students,' but they don't understand nothing gets done if you don't have staff members around." She was absolutely right.
In writing our feature story on staff members at UMBC for this issue, many of them observed that the university is a community of caring, and, in particular, a place that looks out for students. As UMBC's president, does that ring true to you?
It's so true. When we had the big budget cuts back in 1992 and 1993, we said that our number one principle was to take care of people, and to make sure we supported students being able to continue their education. We were very, very determined to make cuts in such a way that people did not lose their jobs. We did everything we could to protect people. We were building our community and making it stronger than ever. We came together. We didn't have people fighting each other. We did not have people trying to compete against each other to keep their jobs, instead we found ways to produce more revenues so everyone could keep their jobs.
That moment – and, again, when we faced similar issues in 2008 – made us stronger because people realized we told the truth. We held to honesty and transparency. We are having problems, yes, but we have got to get through this together. The idea that we may have to take furloughs, but people aren't going to lose their jobs was very important.
The other part is that the longer people are here at UMBC, the more we go through life's challenges together – whether it's illness, or death, or challenges with children or with parents. When you go through life's challenges with people, you get closer. You know them as colleagues and friends. That makes us a community of caring. When people know that you care about them as people, they care about the entire place. It has made us stronger as a community. It really has.
I can also say that shared governance is strong here at UMBC, and many staff members have been involved in that shared governance. It gives them opportunities to be a part of the leadership, to hear about the issues that the university is facing, and to help us solve problems.
We know that people feel good about this place because, when there are job openings, there are so many people trying to get to UMBC. That is the best thing you can hear.
To send a question to President Hrabowski, visit Ask the President.