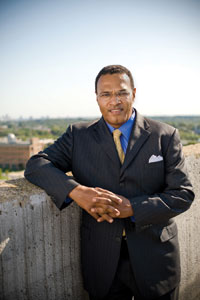 UMBC President Freeman A. Hrabowski, III, takes your questions.
Q. When you speak about UMBC's achievements, you always stress the contribution made by your predecessor as president: the late Michael Hooker. What is his legacy at UMBC? What role did he play in your life as a mentor and friend? — Richard Byrne '86, English
A. Michael Hooker was capable of seeing what others did not think possible. He clearly saw the great potential of UMBC to become an increasingly important institution of higher education in our country.
He had no trouble saying that UMBC was going to be the best university of its size and its kind in the country. And it sounded like hyperbole. Except he really believed it.
Michael also saw that the entire Baltimore region could go to the next level by focusing on higher education. He got a number of people to visit the university. He also began to see taking people to the roof of [the Administration Building] as a way to allow them to see the campus – and the campus connection with downtown Baltimore. I take people to the roof because Michael taught me to take people to the roof.
Wherever Michael Hooker went, whether it was to Massachusetts, or to North Carolina, or when he was here at UMBC, people called him a whirlwind. He had a way of moving with great energy and excitement. People were either fascinated with him, or they were bothered by what he said. And Michael preferred people being bothered by what he said to being boring.
I was always taken by his intellectual curiosity. He was always excited by what was new at UMBC, and he was seeking it out and asking questions – be it in the labs or in the theatre productions.
When I first visited here, and I was not necessarily thinking of moving to this university, Michael said to me: "You'd be good for UMBC. And UMBC would be good for you. It's time for you to move to another position." And at first it somewhat upset me. I thought: "This man doesn't know me. How dare he say what's best for me?" But he had a way of saying it with confidence. And as intellectual as he was, he used his gut in making decisions. He saw that he could trust me.
He told me on the first day I came to work here as vice provost: "You're going to be president of this place one day." And I said: "Yeah, right, Michael." I was always saying that to him: "Yeah, right, Michael."
We were constantly memorizing things and reciting them together. Poetry, or things we had read. He was always pushing me. Another quality Michael possessed, however, was that he listened. My argument to him was that we needed to make sure that all of UMBC's students – graduate and undergraduate – were having a good experience. He listened, and then he said: "Well, do it. Make it happen." He liked bringing people with good ideas around and having them take those ideas to reality.
Michael had tremendous pride in UMBC as an institution, even after he left. When you look at the True Grit statue outside the Retriever Activities Center, that was Michael, too. If you asked him what he did at UMBC that really mattered, he'd say that he wanted that dog out front. As a symbol. At the time, it seemed like a kooky idea. But whenever Michael came back to campus, he would point to it.
To the very end, when Michael was dying and I went to see him at National Institutes of Health, his eyes reflected his spirit. He was still elevating and supporting me. He wanted to hear about UMBC. He always sang UMBC's praises.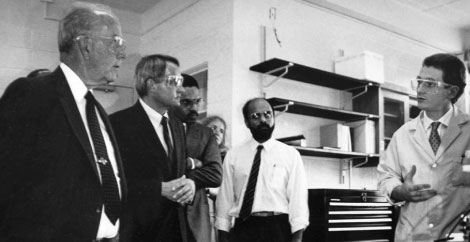 To send a question to President Hrabowski, click here.
Tags: Fall 2012