UMBC's art galleries are already in full bloom for the spring. With exhibits showcasing historic and innovative 20th century photography, interactive hip-hop data visualization, and the legacies of political resistance as seen through Black hair, the university's exhibition spaces are bountiful with thought-provoking work.
Hip-Hop and Data at CADVC
Tahir Hemphill: Rap Research Lab runs at the Center for Art, Design, and Visual Culture (CADVC) through March 18. In this exhibition, Tahir Hemphill, the inaugural Fellow for Faculty Diversity in the Visual Arts at UMBC, presents a collection of interactive works that explore what he calls "the hybrid area between art, technology, social engagement, and interdisciplinary research."
Visitors are invited to participate in Hemphill's design and research process through evolving artworks, including "Visualisation of Authority," a kinetic sculpture drawing on Library of Congress research data, and "Mapper's Delight," an interactive augmented reality-based middle-school curriculum Hemphill designed in collaboration with Verizon Innovative Learning.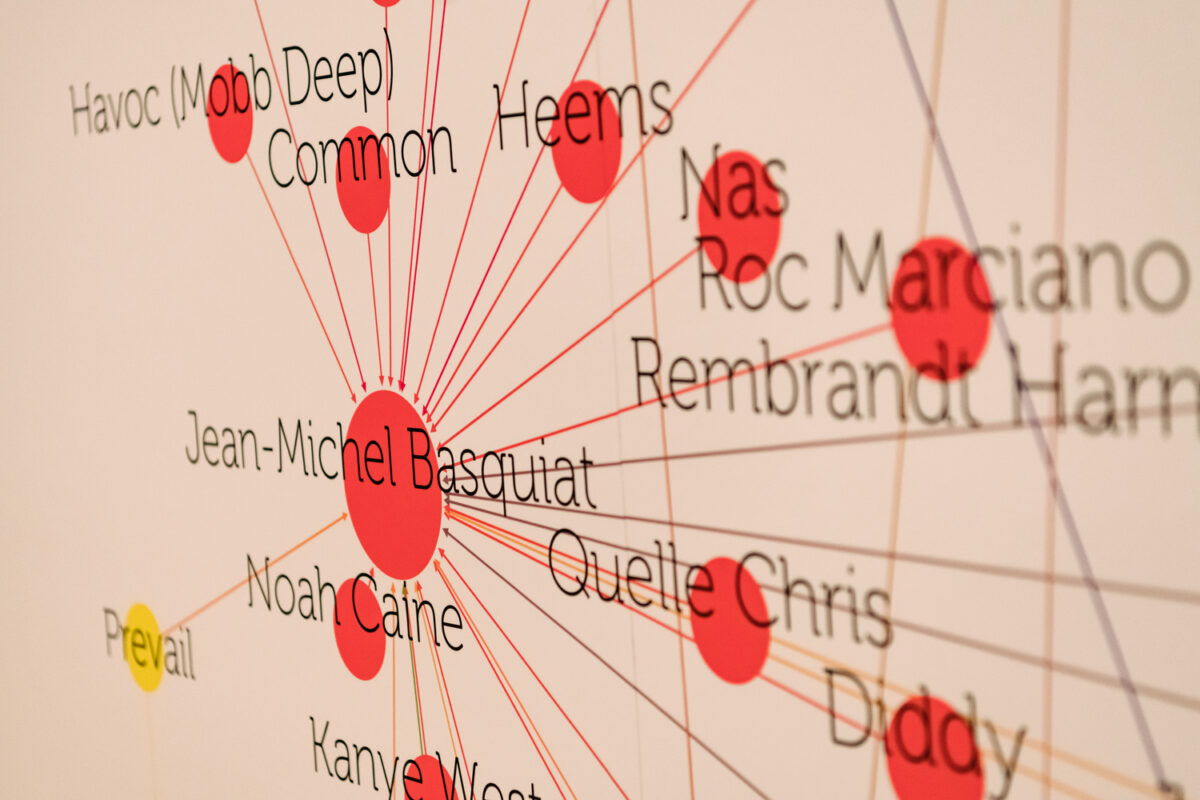 Hemphill is using the exhibition space for teaching as well. In a course offered in collaboration between Visual Arts and the UMBC Image Research Center (IRC) students have the opportunity to mine the "Rap Almanac," Hemphill's expansive dataset of rap lyrics, to produce work in an internship-based research practicum.
"CADVC operates as an art gallery and research center dedicated to scholarship and experimentation in art and culture," says CADVC Director Rebecca Uchill. "This exhibition demonstrates a terrific range of scholarly inquiries, by Hemphill and his collaborators, into many facets of cultural history and the power of creative data visualization strategies. It is very exciting to watch this research develop in a public-facing presentation!"
Additional programming for the exhibition will include a series of public events such as a choreographed activation of a programmable robot arm, a partnership project with assistant professor Foad Hamidi from the Human-Centered Computing program in Information Systems, and a series of pop-up events.
Historic Hair and Formative Photography at AOK
The Albin O. Kuhn Library Gallery currently features two shows—Aaron Siskind: Formations and Sonya Clark: Hair/Craft—both on view through March 12.
Multidisciplinary artist Sonya Clark presents five works made with human hair and fiber art techniques to explore Black visibility and identity, and to examine the ways Black hair has been employed as an instrument of political resistance across the African diaspora. Clark, whose work explores issues of identity, race, cultural heritage, and collective memory, engages everyday objects and craft traditions to examine narrative threads connecting modern issues with historical origins, including the Black national anthem "Lift Every Voice and Sing" and the biography of Madam C. J. Walker, who became the first female self-made millionaire by selling hair care products to Black women.
Influential photographer Aaron Siskind is celebrated through 55 works spanning his prolific career, all part of UMBC's Photography Collections. Beginning with early documentary works Siskind made as part of the New York Film and Photo League in the 1930s and his groundbreaking abstract works of the 1940s and 1950s, the exhibition continues through phases of architectural studies, travel photography, and Siskind's famous series focused on divers suspended in mid-air, "Terrors and Pleasures of Levitation."
Mind's Eye in Toronto
With Mind's Eye: The Psychic Photographs of Ted Serios, UMBC's Special Collections has gone international. The Image Centre of Toronto Metropolitan University invited UMBC's Curator of Exhibitions Emily Cullen to curate a show featuring one of AOK's more fascinating collections, the Jule Eisenbud Collection on Ted Serios and Thoughtographic Photography.
Serios claimed to have the ability to psychically transfer his thoughts onto Polaroid film, a process called "thoughtography." Chicago psychiatrist Jule Eisenbud investigated these claims, experimenting with Serios for several years in the mid-1960s, and the archive of those results is now part of UMBC's permanent collection.
The exhibit showcases Serios' psychic photographs alongside ephemera and experimental data, prompting questions about the limits of the human psyche, the objectivity of photography and the notions of scientific neutrality. Mind's Eye is on display in Toronto at The Image Centre through April 1. A publication on the exhibit is due later this spring from Atelier Editions, featuring contributions from UMBC's professor of visual arts Mark Alice Durant, Emily Cullen, and Beth Saunders, curator and head of Special Collections and Gallery, and others.
Coming Soon: Ola Belle Reed
I've Endured: The Music of Ola Belle Reed opens at the AOK Library Gallery March 27 and runs through June 30. A legendary "mountain music" singer/songwriter known for her influential bluegrass banjo picking style, Reed's life and work will be showcased in a multimedia exhibition co-curated by AOK's Emily Cullen with media and communications studies Professor Bill Shewbridge and Tim Newby, author of Bluegrass in Baltimore: The Hard Drivin' Sound and Its Legacy.
This multimedia exhibition will include contemporary and archival recordings of Reed's performances as well as photographs and ephemera tracing her early life in North Carolina through her later years in Maryland as she rose to prominence as one of the most influential female bluegrass and folk musicians of all time.
Supplemental programming will include a free public concert and a screening of Shewbridge's documentary film I've Endured: The Music and Legacy of Ola Belle Reed and a free public concert. Dates to be announced on the gallery website.
Coming Soon: Student Showcases
Each year, the CADVC celebrates the work of outgoing students with showcases of graduate and undergraduate work.
Intermedia + Digital Arts MFA students Liza Aleinikova, Anna Kroll, and Fahmida Hossain will exhibit their thesis works in Mind Over Matter, which opens April 11 and runs through May 3. Mind Over Matter will be followed by the annual UMBC Senior Art Exhibition, featuring a wide variety of work from the undergraduate class of 2023. The Senior Art Exhibition will open May 24 and run through June 17.
To visit any of these exhibits or explore upcoming shows, check out the CADVC line up as well as the AOK Library Gallery's schedule of events.
Tags: AOK Library, CADVC, IS, Media and Communication Studies, Special Collections, visual arts