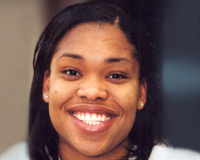 "UMBC's First Division I Champion"
UMBC Retrievers know how to win both on and off the field.
Senior Cleopatra Borel won the women's shot put in the NCAA Division I Track and Field Championships, held at the University of Arkansas' Randal Tyson Track Center on March 9. Borel's next-to-last throw, a personal best of 17.50 meters (57'5″), outdistanced Kansas State's Austra Skujyte (55'9″) and Iowa State's Lisa Griebel (54'10.25″) to capture UMBC's first Division I national title.
"Last year was my first time competing in the national championships, and I was nervous. But the competition is a lot of fun, something I always look forward to," said Borel, who is an academic star as well, maintaining a 3.4 GPA.
A native of Trinidad and Tobago, Borel earned a pair of All America citations last season, with top eight finishes in the shot put at both the indoor and outdoor championships. She credits preparation as the key to her success.
Borel is an interdisciplinary studies major focusing on "Studies in Health Psychology." She plans on attending graduate school after leaving UMBC, but may have to delay while she trains for the 2004 Olympics in Athens, Greece.
ESPN2 aired Borel's winning throw on Sunday, March 10. Hear an interview with Borel at http://www.sportscastproductionsinc.com/Media/WSP.htm.