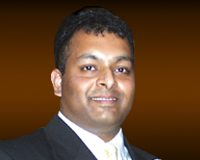 Ram Mohan is UMBC's 2002 Distinguished Alumnus. UMBC'S 2002 Distinguished Alumnus
 
Ram Mohan, who received his Ph.D. in chemistry from UMBC in 1992, has been named UMBC's Distinguished Alumnus for 2002.
Mohan, an assistant professor at Illinois Wesleyan University, is a recipient of the prestigious Camille and Henry Dreyfus Teacher-Scholar Award given to talented young faculty in the chemical sciences. His work on bismuth compounds in organic synthesis and their positive impact on the environment is highly regarded and well funded by the American Chemical Society-Petroleum Research Fund and the National Science Foundation.
In addition being an accomplished researcher, Mohan is also a teacher and mentor who "finds great satisfaction in each role." As a researcher, "to know that the research is meaningful and practical." As a teacher, "to be able to intrigue students about the subject matter so they seek more knowledge." And, as a mentor, "to see a spark of joy in a student's eye when he or she makes a discovery in the lab."
Since Illinois Wesleyan University does not have a graduate program, Mohan conducts his research with undergraduates "only." As such his roles of researcher, teacher and mentor are intricately intertwined. "I find this the most rewarding of all, though at times it is frustrating," he says.
It was another researcher, teacher and mentor at UMBC who inspired Mohan. "I learned all the tricks of the trade from my faculty advisor Dale Whalen," recalls Mohan. "He was never too busy to come to lab. His research is first-rate, and he is respected in his field."
Although well established and accomplished in his own right, Mohan looks back on his days at UMBC fondly. "Those were the most enjoyable days," he says. "Often I wish I could be a grad student again!"
But better to be the researcher, the teacher and the mentor.
At the annual Alumni Awards Reception and Ceremony on April 25, UMBC also honored:
Outstanding Alumnus
Paul Behrens, M.S. '80 and Ph.D. '83, Biological Sciences
Co-founder and Director of Physiology, Martek Corporation
Community Leadership Award
Elsa Collins, M.A., Instructional Systems Development '95
Academic Director, UMBC English Language Center
Alumni Volunteers of the Year
Michael Rowe, B.A. Psychology '78
Sales Manager, Reliable-Churchill, LLLP
C. Emmerson Small, II, B.A. Economics '74
Senior Vice President, Morgan Stanley
Special Recognition
Angela Houtz, B.A. English '96
Victim of the September 11, 2001 Attack on the Pentagon
The UMBC Alumni Association is seeking nominations for the 2003 Alumna/us of the Year Awards, which are presented in the categories of Distinguished, Outstanding and Community Leadership. Please consider recognizing alumni whom you feel are particularly qualified for special recognition due to their accomplishments.
The Alumni Association also presents Service Awards to alumni volunteers "in recognition of their service to UMBC and its alumni through cumulative service, or outstanding effort for an activity or event." Please nominate alumni who have provided exceptional volunteer service.
Click here for more information and to fill out a nomination form.