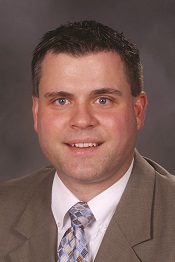 TO: The UMBC Community
FROM: Dr. Nancy Young, Vice President for Student Affairs
RE: Announcing the Appointment of Tim Hall as Athletic Director
We are delighted to announce the appointment of Tim Hall as Director of Athletics, Physical Education and Recreation, effective July 8, 2013.
Hall joins the UMBC community from the University of Missouri-Kansas City (UMKC), where for the past six years he has served as Director of Athletics. Prior to leading UMKC athletics, he served as Associate Athletics Director for Development at Kent State University in Kent, Ohio. Hall's appointment builds on substantial UMBC momentum, including championships in seven different sports over 10 seasons in the America East Conference. He succeeds Dr. Charles Brown, who will retire June 30, completing a 24-year tenure that has elevated both the Retrievers' athletic and academic performance.
On behalf of the entire campus community I would like to express my gratitude and thanks to all members of the Search Committee, chaired by Jack Suess. Their commitment and hard work constitutes an outstanding contribution to the future of the UMBC athletics program.
During his time at UKMC, Hall propelled the university to new heights at the NCAA Division I level in athletic competitiveness, academic success, fundraising and community service efforts. He led UMKC to conference championship wins in men's soccer, men's golf, men's tennis and softball and, most recently, drove the UKMC athletics program into a new era, announcing that it would join the Western Athletic Conference (WAC) on July 1, 2013. Hall is also in a three-year term on the NACDA Division I-AAA Executive Committee and serves on the NCAA volleyball rules committee, as well as the NCAA committee on Women's Athletics.
Hall will have direct responsibility for the UMBC's NCAA Division I Intercollegiate Athletics program, all campus recreational programs (intramurals, club sports, recreational activities) and the Physical Education program. His primary responsibility will be to encourage and support the total development of all students and student-athletes at UMBC through competitive, recreational and educational sports programs and activities sponsored by the university.
We couldn't be more enthused to welcome an athletic director with a competitive spirit, integrity and a proven track record of success. I know Tim Hall will be a valuable addition to our campus community. Please join me in welcoming and supporting him.