Each summer, hundreds of UMBC students complete summer internships to get hands-on experience related to their majors and career goals. The COVID-19 pandemic has moved many networking opportunities and jobs online, including some internships. Still, undergraduate and graduate students from across the University have spent the summer developing their skills and connections virtually.
UMBC's Career Center continues to offer students a range of services for each stage of their journey. This includes virtual career coaching appointments to discuss topics such as possible career paths and how to gain work experience or prep for an interview. Students are invited to participate in ongoing events and programs including UMBC's Virtual Fall Career & Internship Fair, Industry Inside Scoop Panels, online networking opportunities with companies, and skill-building webinars about branding, virtual interviews, and the job search process.
"Although life is different in this economy, our UMBC students are continuing to engage in various applied learning experiences and remaining proactive in their job and internship searches," says Christine Routzahn, director of the UMBC Career Center. "We, as a UMBC community, are all committed to students' career success. Our team is looking forward to the fall semester start and working with amazing employer partners and alumni to connect UMBC student talent to opportunities to support their career journeys ahead."
Kacie Lawrence, associate director of internships and employment in UMBC's Career Center, says that it's always important for students to have experiences related to their specific career goals, but that it's becoming even more so during the pandemic. "Now more than ever, it's crucial that recent graduates enter the job market with career-relevant experience," she says. "Employers are getting creative as they adapt their internship, co-op, and research programs to online platforms. The Career Center is here to help students make the most of these virtual opportunities."
UMBC News sat down with students completing internships in the arts, business, tech, law, and elsewhere to learn more about how embracing new formats is allowing them to learn and connect with mentors and peers in creative ways.
---
Sharing expertise with local businesses
Thomas Southerland '22, financial economics, was eager to pursue an internship at JPMorgan Chase & Co. after he came across several opportunities there while exploring his options last year. This summer, Southerland is working virtually as an apprentice in JPMorgan's Advancing Black Pathways Apprenticeship Program, which he learned about through the company's website. After graduation, he plans to work in consulting or in the financial service industry.
UMBC News: Can you talk about what your internship experience has been like?
Southerland: My internship program was designed to keep us engaged and informed regardless of if it was virtual or not. Although it is incredibly difficult to sit in front of a screen for eight hours a day, the program managers have done an excellent job keeping us busy and engaged. The on-boarding process was also simple; we needed to get acclimated to the new JPMorgan system and the desktop we would be working on. Due to the pandemic, I wasn't able to work in their Plano, Texas location and I wasn't able to meet the rest of the apprentices in person.
UMBC News: What has been the most rewarding part of your internship so far?
Southerland: During these last four weeks, we have worked on a business case project where we served as consultants for The Harbor Bank of Maryland to give them recommendations on how they could increase adoption for their electronic banking products. After our research, we presented in front of a panel of judges from JPMorgan and Harbor Bank. My group and I spent a lot of time working on the project and making sure we were ready to present in front of the judges. It took hours after work and time on the weekends to prepare, and we did very well. Seeing everything come together after all of our hard work was incredibly rewarding. I was also given the opportunity to speak about my experience with the project manager during our virtual celebration at the end of the program.
---
Using learned skills in industry settings
Themi Cologer '20, computer science, completed an internship at T. Rowe Price last summer, and was eager to complete another internship to advance his skills in data science. This summer, he finds himself interning virtually for T. Rowe Price, which he found out about and applied to through Handshake. As an intern, Cologer is relying on his knowledge of C#, SQL, and React Javascript to build a website that creates an interface and environment that is easy for T. Rowe Price employees to access.
UMBC News: How does this internship connect to your major and career goals?

Cologer: I am a computer science major with a focus in data science. Being able to do front-end development in a professional setting really is sharpening my coding skills and teaching me how to present code in a corporate environment.
UMBC News: What's it been like to intern virtually?

Cologer: My experience so far has been excellent! It can be a little harder to communicate effectively in a virtual environment. Networking is definitely different as it's harder to coordinate a time to meet over email then being able to ask someone to grab lunch or coffee in person. Luckily, I am in a field where I am able to work effectively in a telework environment.
UMBC News: What has been the most rewarding part of your internship so far?
Cologer: I'm enjoying being able to work for a great company, and learn more about the world of software development.
---
Fostering connections in Baltimore's art community
Amelia Torres '22, media and communications studies, is interning at Maryland Art Place (MAP) in Baltimore, where she is helping with everything from communications and web upkeep, to assisting with the behind-the-scenes organization of virtual exhibits. Torres is responsible for helping draft social media posts, which are important for keeping local artists aware of opportunities that MAP and other galleries in Baltimore offer.
Her internship is entirely virtual, but she says that her supervisor has made community-building a priority among the interns. Torres learned about the internship at MAP from Kacie Lawrence. After graduation, Torres plans to combine her passion for organization and communication in a career in public health policy. She is considering pursuing a master's degree in social work.
UMBC News: What kinds of projects did you work on during your internship?
Torres: The task of creating and organizing Google documents and folders was very important because it helped MAP keep track of all the artists that have participated in exhibitions during 2020. I also was able to help my fellow interns, and Caitlin Gill, program manager and registry coordinator at MAP, with cross-checking artist information for [MAP's] "Out of Order" online auction. It was important to make sure that artists' names were spelled correctly and that there were dimensions for their artwork so people bidding online knew exactly where they could put their newly purchased artwork! Lastly, I was also able to research artist opportunities to keep the Resource Bulletin on the MAP website updated for August.

UMBC News: How has completing your internship virtually impacted the connections that you've been able to establish?
Torres: This internship was conducted entirely online, which left out the opportunity to meet my fellow interns, but Gill utilized Google Chat, which allowed us to help each other and to communicate whenever we needed. The on-boarding process included watching training videos that helped me learn how to edit and update our website, and how to link external sources when posting on the Resource Bulletin. I find that the pandemic changed this internship slightly because if I was physically at MAP, I would have been able to help greet guests and even help Gill when she was taking photos of the exhibits.
UMBC News: What was the most rewarding part of your internship?
Torres: I find the most rewarding part of this internship was being a part of an organization that is diverse and inclusive. MAP is creative in the kinds of exhibitions it presents such as "Merkin Dream" or the "SEEN: 20 Years of Baltimore Music Photography" exhibition. MAP shares history in a modern way and I was totally psyched to be a part of that. It's also an organization that supports Baltimore artists and other art galleries in Baltimore. I also feel it is important to mention that Gill really helped modify the internship to my interests…[like] looking into opportunities that local artists can participate in.
---
Exploring the machine learning industry
As a graduate student, Hao Chen, Ph.D. '20, electrical engineering, is spending the summer interning at Intel Corporation. He was supposed to be in California, but due to COVID-19 he is working remotely from Baltimore. At UMBC, Chen's research focuses on machine learning and signal processing. The internship at Intel appealed to Chen because he wanted to see what machine learning looks like in the industry.
UMBC News: What tasks and projects are you working on during your internship?

Chen: During the internship, I have two tasks: one is building the data generation model related to radar, wireless sensing, and signal processing systems; the other one is doing some research on developing state-of-the-art deep learning algorithms and implementing them. In other words, math and coding are important to this position.

UMBC News: Can you talk about what your internship has been like? How has completing the internship virtually impacted the connections that you've been able to establish with folks where you're interning?
Chen: The most valuable experience is, when I fell behind in the schedule, I learned how to get better teamwork to make up the lost time. Because of this remote-working situation, I did not communicate well with my mentor at the beginning.
Not only my mentor, but the whole team, is very supportive and gives me suggestions. That is very surprising and encouraging to me. In this virtual internship, I learned the importance of contacting the mentor more frequently. There would be very little interaction, and they cannot see you, if you are quiet.
UMBC News: What has been the most rewarding part of your internship so far?
Chen: This internship helped me understand industrial teamwork better and cowork with others better. The managers/team leaders in the industry play an important role in the team. They need to be strict with the results and give a clear direction on how to get the product. The team members cooperate with each other and make the most of the time.
---
Exploring both sides of the courtroom
For the past two semesters, Rehman Liaqat '23, political science and global studies, interned at the Baltimore City State's Attorney's Office. This experience, Liaqat says, allowed him to understand the judicial system from one perspective, but he also wanted to get a more well-rounded experience in the courtroom.
"As I am a member of [UMBC's] 'community of inquiring minds,' I wanted to know more and to do more," he explains, which led him to his current internship with the Maryland Office of the Public Defender (OPD) in Salisbury, MD. The Office of the Public Defender has jurisdiction in four counties and manages cases from felonies to misdemeanors, and also provides counsel for people who are unable to afford private services.
Liaqat plans to pursue a law career, and hopes to make a difference by working against social injustice.
UMBC News: What have you been working on during your internship? How has working virtually changed the experience?
Liaqat: Part of the daily routine at the office includes following assistant public defenders through dockets, which are multiple scheduled court hearings at a certain time in the district court, and observing trials for more serious offenses in the circuit court. Along with experiencing how real cases are conducted and proceeded, I am also working on confidential projects, and am an acting research assistant for case briefings and [I am] assisting with ongoing trials.
My first few days were beyond overwhelming. Somehow, it felt like the "good" kind of overwhelming. Time would fly by, and I would still be motivated to think about future cases and ongoing trials that I could assist with. Along with the experience, I've met individuals who I'd now call my mentors as they are not just helping me understand and interpret the law but actually practice it.
UMBC News: Can you talk about how the pandemic has impacted your experience?
Liaqat: Although some resources for the office have been restored, many ongoing trials and proceedings have been postponed until October or mid-November due to the outbreak and employees are encouraged to impose minimum contact, wear masks, and try to not stay in the office for too long. My first few weeks at the office involved work that was mostly virtual due to COVID-19 restrictions, but things are improving and we're staying optimistic.
UMBC News: What has been the most rewarding part of your internship so far?
Liaqat: The most rewarding aspect of the internship has been the clients I meet every day while working with public defenders. I'm not just learning about their stories and what's going on in their lives, but also helping them through some of their darkest days. It's an honor and a privilege to be involved and to make a difference every day.
---
Expanding skills to prepare for a career in medicine
Sarron Seyoum '21, biological sciences, is eager to learn as much as she can about research. Over the summer, she interned at the Institute of Marine and Environmental Technology (IMET), a University System of Maryland research institute that includes faculty from UMBC, the University of Maryland, Baltimore, and the University of Maryland Center for Environmental Science.
Seyoum learned about this internship opportunity during a meeting with Susan Hindle, assistant director of internships and employment at the UMBC Career Center. After graduation, Seyoum plans to pursue a career in medicine.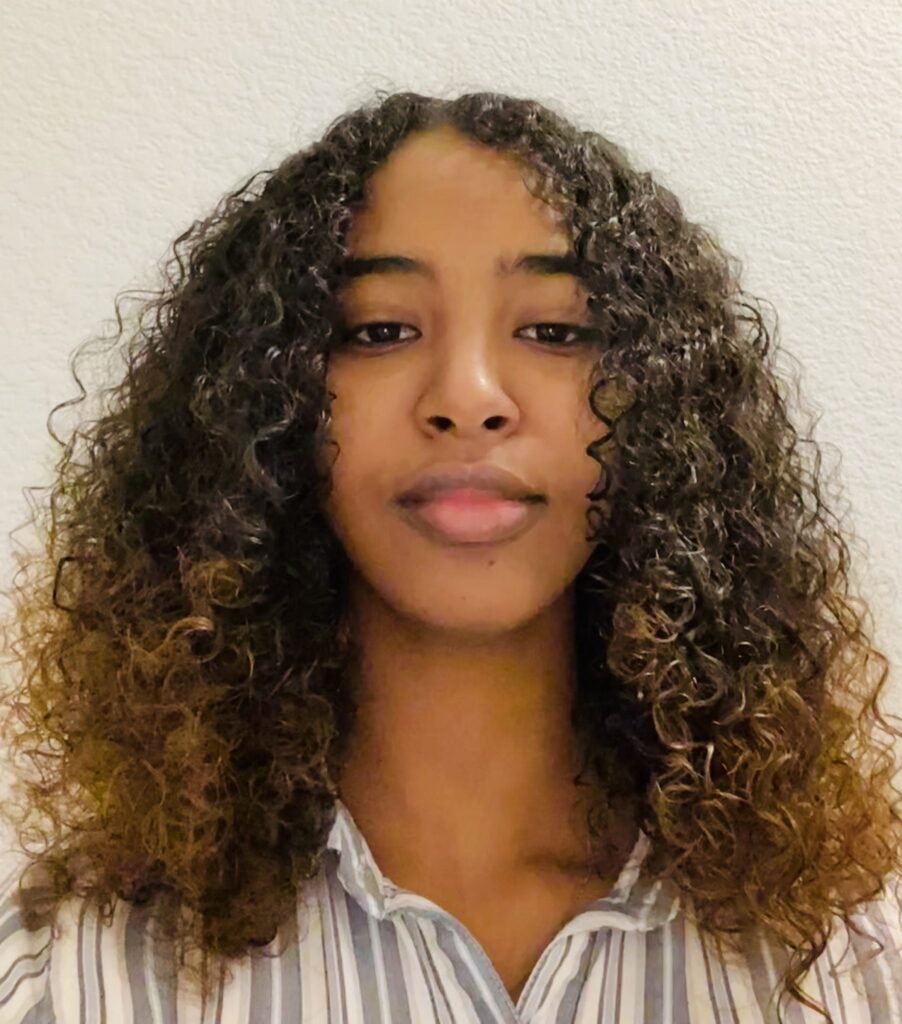 UMBC News: What tasks and projects are you working on during your internship?
Seyoum: Right now we are working on determining the biodiversity of both prokaryotic and eukaryotic species in Baltimore's Inner Harbor by using both sequence and video data. I was using COXI DNA barcodes to determine the biodiversity of the metazoic population within the Baltimore Harbor in hopes of learning their role in the harbor. The general practical use of determining biodiversity would be to better understand the harbor and its ecological problems so, in the long run, we could come up with solutions to clean up the harbor using natural means.
UMBC News: How did your internship change due to the pandemic?
Seyoum: Due to the pandemic our internship has been moved online which means we do not get to experience sequencing or data collection in the wet labs, so instead we get to do bioinformatics. We perform most of our work through daily Zoom meetings along with various websites that help us determine the taxonomy of our sequences.
UMBC News: What has been the most rewarding part of your internship so far?
Seyoum: Our mentors have especially been extremely patient and considerate of the different levels of education everyone has. I'm hoping to continue working alongside them during the fall and maybe spring semester as this has been a great experience and I believe I can learn more.
Banner image: A person typing on a computer. Photo by Marlayna Demond '11 for UMBC.
Tags: Biology, CAHSS, CareerCenter, CNMS, COEIT, CSEE, Economics, GlobalStudies, MCS, PoliticalScience