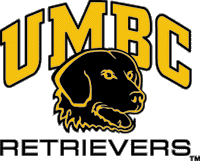 UMBC's athletic teams are known to be tough.
Winners of three consecutive Northeast Conference Commissioner's Cups, awarded annually to the school that performs the best in the league's 21 sports, the UMBC Retrievers have a new logo to reflect their toughness.
The new "True Grit" was unveiled on the afternoon of August 28, after the annual campus Convocation ceremony. Thousands of UMBC students, faculty and staff came out to see the banner drop from the roof of the Retriever Activities Center.
The Retrievers claimed four NEC championships this spring, including winning men's and women's tennis titles¾becoming the first school in NEC history to earn back-to-back sweeps in both men's and women's tennis. Men's golf captured yet another championship, and the Retrievers also won their first-ever NEC championship in baseball. 

Three coaches received Coach of the Year honors¾Pat Kotten (golf) for the second time in three years, Felix Hou (volleyball), and Keith Puryear (tennis). The Retrievers also captured the locally televised "Battle of Baltimore" basketball tournament, and UMBC shot putter Cleopatra Borel competed in both the 2001 NCAA Indoor and Outdoor Track & Field Championships, where she finished in the top eight in the nation on both occasions and earned All America honors.

UMBC athletes were no slackers in the classroom, either. Nearly two hundred student-athletes had a cumulative GPA of 3.0 or higher last spring, and 16 had perfect 4.0 cumulative GPAs.