UMBC Mock Trial has finished the most successful season in its eight-year history, placing eighth at the American Mock Trial Association National Championship Tournament in Philadelphia. This impressive ranking concludes a season where over 750 teams competed across the nation. Sophomore Sydney Gaskins received the All-American Attorney Award, the highest individual honor in college mock trial.
The team swept Penn State in the first round and tied with University of California, Berkeley and Columbia University in the second and third rounds, respectively. In the fourth round, UMBC fought Yale University, the eventual champion, to a draw, narrowly missing advancing to the final round.
Each round highlighted the team's preparation and allowed for individuals to demonstrate expertise gained over a rigorous season. "I am so honored to make my community proud and represent not only our program but UMBC as a whole in such a positive way," says Gaskins.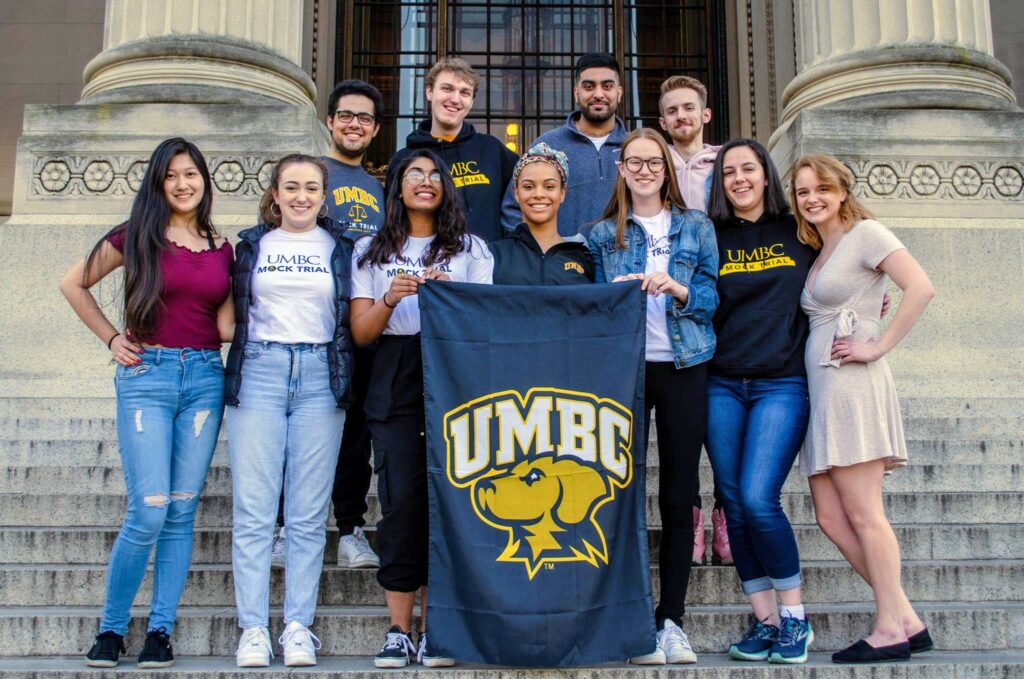 UMBC's leading Mock Trial A-Team includes Gaskins, '21, political science; Linnea Collins '21, global studies; Thomas Kiley '21, chemistry; Ethan Hudson '21, English; Natalie Murray '21, biological sciences; Nihir Nanavaty '19, political science; Thomas Azari '21, individualized study, and Amrita Sarma '22, psychology. The team also included four non-competing alternates: Lauren Wotring '22, political science; Amanda Hampton '22, biological science; Wendy Zhang '22, economics and psychology; and Kaitlyn Kauffman '20, political science.
"In addition to earning an All-American Award at Nationals, Sydney earned two attorney awards at the national Opening Round Championship in 2019," explains head coach Ben Garmoe, who also coached the first UMBC team to compete at nationals two years ago. "I lost count of how many coaches came up to me after the round and marveled at how Sydney is one of the greatest competitors they've ever seen. I am extremely proud of her and the team."
Building success together
The UMBC Mock Trial program began in 2011. Ben Garmoe '13, political science, a litigation attorney in Baltimore, co-founded the intellectual sports team with Travis Bell '14, psychology and political science, a public defender in Alabama. Throughout the years the program's success has drawn highly diverse, skilled, and committed student scholars, some of whom, like Garmoe, return as coaches during or after law school.
Current coaches include Summer Akhtar '18, financial economics and political science; Dylan Elliott '17, history; and Kayla Smith '17, interdisciplinary studies, all members of the first UMBC Mock Trial team to go to nationals in 2017. Additional alumni coaches are Bell; Zachary Garmoe '17, environmental studies; Jaedon Huie '18, financial economics; and Cheyenne Smith '16, biological sciences and psychology. Whitney Whilder, an attorney at Bodey law firm in Baltimore City, also supports the team as a coach.
"As a competitor, qualifying for Nationals for the first time was incredible. UMBC Mock Trial was the underdog," recalls Akhtar, now a student at the University of Maryland Francis King Carey School of Law. "That is no longer the case. As a coach, I am proud to see how students built a name for themselves as a formidable team competing and winning against the very best."
Learning to manage challenges
For some A-Team members, the road to Philly began before UMBC. Hudson, Kiley, and Gaskins joined Mock Trial at Franklin High School. Hudson helped his team finish second out of over 120 teams in the 2016 state championship. He joined UMBC's B-Team his freshman year and watched the A- team compete in Nationals in 2017. The following year Hudson earned a spot on the A-Team, and he was elected president two years later.
Mock Trial, for Hudson, is about following his dreams while managing severe anxiety. He says that his family, his teammates, and Garmoe have helped him to learn to manage his anxiety. "I take my victories where I can get them, day by day," shares Hudson. "A win for me means being able to give a statement without twitches or body movements, or approaching someone whom I have anxiety to speak with."
His hard work has paid off tremendously. In addition to developing coping strategies and gaining confidence, he's also been honored for his work on the team with an All-Region Attorney award at the 2019 regional competition.
Hudson also now shares his strategies with his teammates and his students as a coach for three high school Mock Trial teams. He plans to follow in Garmoe and Akhtar's footsteps and give back to UMBC as a coach after law school.
Mock Trial also helped Gaskins persevere through difficult times in high school and college, and instilled in her a desire to be a lawyer. "I found my voice in high school mock trial when I felt I had nowhere to turn," says Gaskins. "College mock trial is much harder. It helped me strengthen my voice as a self-assured woman and speak up against society's biases about how women should act."
As Gaskins has gained confidence through the years, she has learned to enjoy and observe the impact of her performance, and to make calculated adjustments throughout the process.
"For me, this is like Division I sports," Gaskins explains. "It's extremely rigorous and competitive. Mock Trial demands a great deal of hard work, dedication, and commitment, to compete against some of the best teams and win. I always aim to win."
Banner image: UMBC Mock Trial A-Team at AMTA 2019. All images courtesy of UMBC Mock Trial unless otherwise indicated.
Tags: Biology, CAHSS, CNMS, Economics, English, GlobalStudies, History, INDS, interdisciplinary, PoliticalScience, Psychology