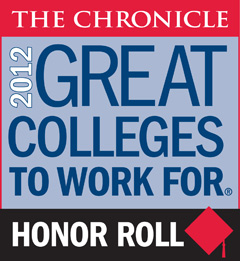 UMBC has again been named one of America's "Great Colleges to Work For" by The Chronicle of Higher Education.
"We are a 'Great College' because of the people here," says President Freeman Hrabowski. "This honor yet again affirms what we all know: UMBC is a place that supports people, values collaboration, and fosters trust, respect, and enthusiasm for educating our students."
An annual survey by The Chronicle asks faculty and staff at institutions across the country to rank their workplaces on a host of factors. More than 500 UMBC alumni currently work for their alma mater in staff, faculty, graduate assistant, part-time and other positions.
UMBC has made the list of "Great Colleges" for three years running. This year, it landed on the survey's "Honor Roll" because it was ranked highly in seven categories:
Collaborative governance
Professional and career development
Work/life balance
Confidence in senior leadership
Supervisor/department chair relationship
Respect and appreciation
Tenure clarity and process
You can read more on The Chronicle's website. Congratulations to all our faculty, staff, alumni, and students – you truly make UMBC a great place to work!