Heading into International Education Week, November 18 – 22, UMBC is celebrating the expansion of international learning opportunities and partnerships. UMBC is reaching beyond traditional study abroad frameworks to prepare students for global careers, including through virtual exchange programs. At the same time, UMBC continues to welcome talented scholars from around the world to join the campus community, honoring their contributions to UMBC and the relationships they grow during their time on campus.
Virtual international learning at home: Engineering with Portugal
Many college students pursuing STEM majors assume that international learning isn't an option for them. This might be because they need to complete specific, sequential course requirements, or because they want to focus on internship and research opportunities. In recent years, however, many UMBC STEM students have taken advantage of international learning opportunities where they can fulfill course requirements, complete internships, or do research while abroad, or build international connections while on campus at UMBC. 
Aliyah Smith's experience shows one way to approach this. Smith '19, mechanical engineering, completed a nine-week research internship at the University of Oxford, followed by a semester studying in the United Arab Emirates. Some of her engineering classmates have taken a different approach: virtual international learning.
That virtual experience is the innovation of Marc Zupan, associate professor of mechanical engineering. Zupan's Global Engineering course helps UMBC students prepare to solve complex, large-scale challenges by collaborating remotely with engineering students in Portugal. Students apply advanced technical knowledge as well as communication, teamwork, and cultural awareness skills to their projects. Teammates in the U.S. and Portugal connect through communication tools like Skype and Slack.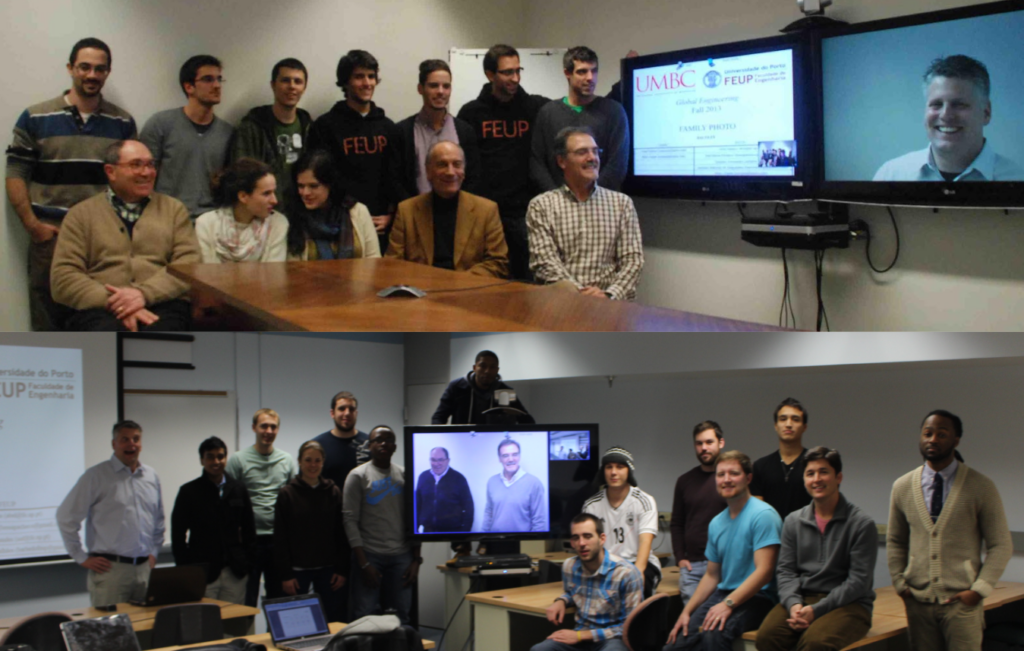 The Global Engineering class has been held with the University of Porto in Portugal for five years. Three years ago Zupan added to the course a collaboration with La Universidad de Los Andes in Colombia, and he's working to expand it further. 
The class is guided by one principle, Zupan says: "The answer to the planet's environmental and social problems can be met and overcome through collaborative cross-cultural engineering." 
"This isn't treated as a class project, but a simulated professional experience to prepare students for an international workplace," Zupan explains. "The cross-cultural aspect of the course is crucial. By learning how to manage a project with classmates that have a completely different cultural and social framework, students must work through differences and learn how to solve a problem together.  Cross-cultural engineering delivers a more unique creative solution to engineering challenges."
Building empathy online through Spanish history
Ana Oscoz, professor of modern languages, linguistics, and intercultural communication, has created the virtual course Spanish Cultures and History, designed to provide a robust international experience for students who aren't able to travel abroad. 
Oscoz worked with colleagues at the Universitat de València and La Universidad Complutense de Madrid to create a Spanish-language course focused on how Spain's past affects its current social and political climate. Students work in small groups and use a variety of digital communication tools to manage their collaborative class projects through different time zones. 
"For me, the class is not only about history but about learning how to empathize with others who have different histories," says Oskoz. "The greatest takeaway is having students in both countries say, 'I didn't know this could be looked at another way.'"
Learning from non-native English speakers in an online TESOL exchange
When Shannon Sauro, assistant professor of education, came to UMBC, she brought with her a virtual exchange program for Teachers of English to Speakers of Other Languages (TESOL) that she began in Sweden five years ago. The future educators she has worked with hail from countries around the globe, and many are not native English speakers. "For many students," she says, "English was their third or fourth language," and their perspectives have proved invaluable for classmates who are native English speakers.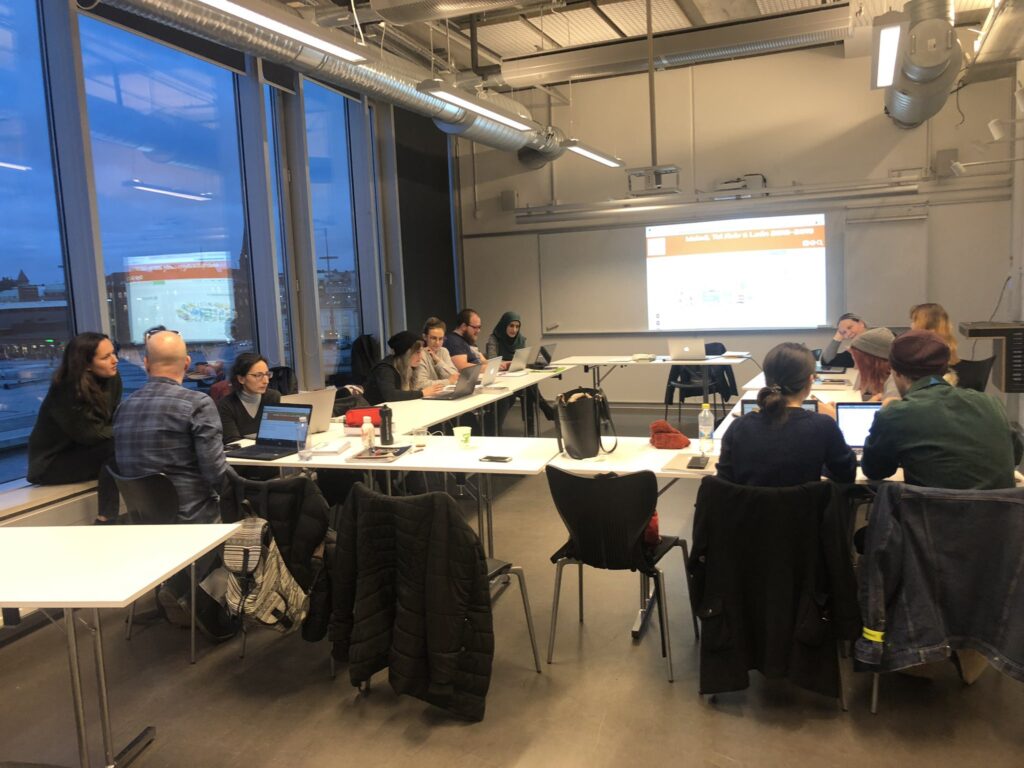 At UMBC, Sauro offers upper-level courses that integrate virtual exchange to challenge and build students' critical thinking, teamwork, and cross-cultural skills. She also offers training in virtual collaboration to interested faculty across all fields.
"Teaching TESOL means working often with vulnerable populations and deepening the knowledge of the role of the teacher," shares Sauro. "Virtual exchanges build empathy and emphasize the humanity in all of us."
Refining language skills: Bilingual exchange with Japan
Virtual exchanges are also useful for students working to learn a second language, as they can enhance students' pronunciation skills and their understanding of a language's cultural context. Tomoko Hoogenboom, senior lecturer in modern languages, linguistics, and intercultural communication, worked with colleagues at Nanzan University in Japan to implement a bilingual virtual exchange for Nanzan students studying English and UMBC students studying Japanese. 
The Collaborative Online International Learning (COIL) program is part of a partnership between the American Council of Education and Japan's Ministry of Education, Culture, Sports, Science and Technology. The institutions have provided a combined $9.8 million to fund such collaborations between U.S. and Japanese institutions from 2018 through 2023.
Hoogenboom explains that UMBC students in this upper-level course work on group projects with Japanese students through tools like Slack. At the end of the course, participating UMBC students have an opportunity to study in Japan on a full scholarship. 
"COIL is about a deep language and cultural learning experience. Through class projects students expand their understanding of Japanese/U.S. linguistic and cultural differences and similarities," says Hoogenboom. "Students then leverage this knowledge to foster long-term bicultural and bilingual collaboration through their study abroad opportunity."
Growing through shared interests: Health and athletics
Throughout the summer and fall 2019, UMBC's partnerships with Japanese universities have continued to grow. In addition to developing a five-year agreement with Kogakuin University of Technology and Engineering, focused on research collaboration, UMBC established a new kind of partnership with Nippon Sport Science University that explores broader elements of the student experience.
UMBC has an existing collaboration with Nippon Sport Science University in the area of emergency health services education. For eight days, two faculty members and five students from Nippon Sport Science University visited UMBC to develop their knowledge of English-language medical terminology and to shadow emergency responders. During the visit, Kazumi Hasegawa, director of international marketing at UMBC's English Language Institute, connected these guests with UMBC Athletics, to explore collaboration opportunities related to athletics, recreation, and the student experience.
"We are looking forward to the opportunity to collaborate with and learn from Nippon Sport Science University," says Jessica Hammond-Graf, UMBC's interim director of athletics. "Sport is a wonderful way to celebrate our shared values and it can and should serve as a great unifier between our cultures."
Hosting professional development for visiting faculty through the Fulbright program
UMBC also regularly hosts faculty and students from other countries on campus for longer periods of time through international exchanges and through professional development opportunities. Recently, education instructors Doaa Rashed, M.A. '08, ESOL and bilingual instructional systems development, and Ph.D. '17, language, literacy and culture, and Mary Tabaa, M.A.'00, ESOL and instructional development systems, hosted a Fulbright Junior Faculty Development Program professional development with TESOL and linguistics faculty from Egypt. This specific Fulbright program is a collaboration between the U.S. Department of State and AMIDEAST, a U.S. nonprofit that works to strengthen cooperation between Americans and the peoples of the Middle East and North Africa.
Visiting faculty represented Pharos University, the University of Modern Sciences and Arts, Minoufiya University, Zewail City of Science and Technology, Al-Azhar University, and the American University in Cairo. Each was paired with a UMBC faculty mentor for their ten-week stay, working together to conduct TESOL and linguistics research and examine best practices in those fields, as well as providing student support with diverse learning styles and internship and employment support. Their goal was to gather new insights to implement at their home campus.
"It is one thing for international partners to hear how UMBC is diverse and inclusive, it is another to actually see how it works in person," reflects Rashed. "The success of this program, one we hope to continue, depends on the continued committed of the entire campus to the preparation of teachers from all over the world. This is where the real-life implementation of diversity and inclusion is invaluable."
Since the participants have returned to their home institutions, their joint research has continued through virtual collaboration. In December, the Egyptian faculty will present their work to Fulbright Egypt. 
Combining science and cultural immersion in Spain
While UMBC continues to expand the range of available international learning experiences, some students are still looking for a more traditional study abroad, but don't quite know how to access it in a way that works for them.
Like Marc Zupan, Ivan Erill, associate professor of biological sciences, wanted to help STEM students see international learning as a real possibility. Erill developed a STEM study abroad program at La Universitat Pompeu Fabra in his hometown of Barcelona, Spain. Students earn UMBC credit for biology and Spanish courses, while also being immersed in Spanish culture.
The six-week program ran for the first time in summer 2019. "I have learned that our students are very receptive to other cultures and ways of seeing life, and that being exposed to other cultures makes them both challenge and appreciate their own culture," Erill says.
Erill's goal for the program is to help students expand their sense of what is possible in their future careers as scientists. This includes the options of completing a graduate study abroad or collaborating with scientists in other countries. "I have witnessed a gradual change in students' perception of the quality and breadth of scientific research outside the U.S.," he shares. 
Pauline Rozario '20, biological sciences, says the program has expanded her vision of her future career. "I would love to travel abroad for my future career path in medicine after I graduate from UMBC," she shares. 
Jessica Kweon '22, biological sciences, had a similar reaction after visiting the Institute for Research in Biomedicine in Barcelona, which she noted had "incredible image-processing capabilities." In addition to thinking more deeply about a possible research career in biology, she's increasingly reflecting on the cultural factors that shape her perspective, as a scientist and as a person. 
Throughout International Education Week, UMBC is hosting a range of opportunities for all community members to connect with Retrievers with different cultural and linguistic backgrounds, and to learn about international learning and teaching programs.
This news story was reported in collaboration with Sarah Hansen, M.S.'15, biology, and Megan Hanks.
Banner image: UMBC Commons international flags. All images by Marlayna Demond '11, unless otherwise noted.
Tags: Athletics, Biology, CAHSS, COEIT, Education, EHS, MechE, MLLI