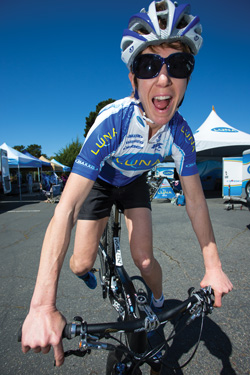 If there were such a thing as extreme sports fairy tales, Marla Streb '91, M.S., marine estuarine science, would be fairy godmother of that daredevil realm.
Once upon a time, at the relatively advanced age of 28, Streb walked away from a career as an AIDS research biologist and fashioned herself into a world champion mountain bike racer and gravity goddess.
As a career move, it was akin to selling your master's degree in marine-estuarine environmental science for a handful of magic beans, but Streb made it work – and marvelously.
Before her transformation, Streb rode bicycles as a hobby. She says her commute by bike as a student from her apartment in downtown Baltimore to UMBC was a fun way to exercise and "to maybe help the planet a little bit" along the way.
"I used to ride this demented single speed bike with no brakes back and forth to
campus," says Streb. "That was really crazy, but also really empowering."
After completing her degree in 1990, she moved to San Diego to accept a job in the renowned Scripps Research neuropharmacology lab. It was in California in 1992 that Streb discovered a brand-new and rapidly expanding sport: downhill mountain biking.
"The mid-nineties were heady times for professional mountain biking," recalls Streb. "You'd race a couple times and then all of a sudden people were throwing sponsorship money at you. I quit my job after just a couple of races, and committed myself completely to training and racing. Suddenly, I was making six figures, traveling, riding in World Cup races."
Streb quickly established herself as a champion, by winning the X Games in 1998 and the Single Speed World Championship in 1999 (and again in 2006), and a World Cup downhill racing title in 2005. She has also shone bright in the media spotlight, posing nude for the cover of Outside magazine in 2000 and riding her bike down the world's fastest bobsled track in Salt Lake City for the 2003 IMAX movie Top Speed.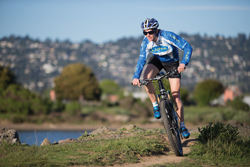 Yet it is Streb's sustained excellence as a top professional that won her induction into the Mountain Bike Hall of Fame in 2013. Given that she was a decade older than many others in the sport, Streb says the disciplined attention to detail she'd learned in the laboratory helped her "work smarter" than her competitors. Her scientific training also gave her a framework to track her progress and setbacks as a racer, using data to identify weak areas in her performance, and attack those areas with relentless ferocity.
"I value that my advisers and my instructor professors guided me really well, yet did not simply lead me through my education," says Streb. "They just showed me what was possible and how everything works, and told me I could do it. And lo and behold, I could!"
Streb's professional riding career slowed a bit after becoming a mother to Nikolya (now eight years old), and Kiyano (age five). These days, she works as the media liaison for the LUNA Chix women's professional mountain biking team, and as the safety program coordinator for Bike Maryland – a cycling advocacy group in Baltimore. Streb and her husband, Mike Fitzgerald, are also working to open the city's first bicycle cafe this year in Harbor East.
Streb still finds power in pedaling, however. Last year, after five years of semi-retirement, she quietly began training again and won three out of the four "national caliber" races she entered in 2014. Streb now spends up to 12 hours per week training – "the bare minimum to be competitive in the sport of mountain bike racing" – and she intends to compete in more races in 2015.
"I never officially announced my retirement," she says. "I know in my blood I'll never be completely done with racing."
– Michelle Gienow
Tags: spring 2015