The world has changed a lot over the past 17 years; smartphones have found their way into everyone's pockets, social media has taken over traditional media, video rental stores like Blockbuster have made way for streaming services like Netflix.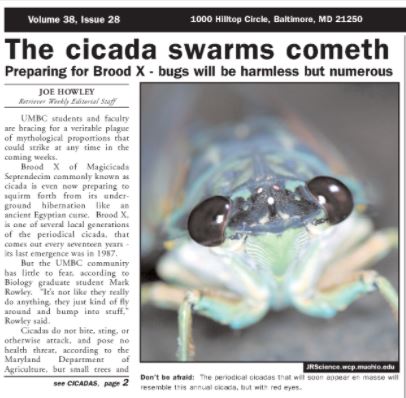 Things at UMBC have changed, too. The Chesapeake Employers Insurance Arena is now home to UMBC Athletics and world renowned musical acts. The Performing Arts and Humanities Building has a gorgeous presence on campus. And our men's basketball team shocked the nation, becoming a household name. The list goes on.
Now imagine, while all of those things have happened, the cicadas have only changed guard twice.
The 2004 appearance of the screeching locusts only warranted one story in the-then Retriever Weekly. But this year's cicadas got a celebrity welcome—it's possible that the doldrums of the pandemic particularly set the stage for this year's cicada pandemonium.
When they first arrived, it was as if aliens made their first landing on earth. Their mammoth physique and prehistoric appearance took some getting used to. Soon, they were everywhere, both wreaking havoc and making friends. 
Rachel Wesley '22, visual arts, describes her first interaction with a cicada this summer as nothing less than alarming. "I looked over my shoulder and it was there staring at me with those outward pointing eyes. I didn't freak out but it was a deep breath and I was like 'okaaay'. They're so big," she says.
But before long, the intimidation factor dwindled. "By the end of summer, I was actually picking them up with my hand," says Wesley, the painter behind UMBC's new Retriever-themed cicada sculpture, a part of the Formstone Castle Collective's Cicada Parade-a, a Baltimore-based public art installation of plaster insects. "If they were on the sidewalk, I put them into a bush to get them away from the sidewalk," says Wesley. 
When the next swarm visits UMBC in 2038, this brood will have faded in our memories, and their comeback will surely feel like aliens have first landed on earth yet again.
Special thanks to Creative Services senior designer Jill Blum who purchased "Harold" the cicada to be painted and donated to UMBC for posterity.
*****
Photos of Rachel Wesley and the cicada courtesy of Marlayna Demond '11.
Tags: cicadas, commonvision, Fall 2021, Then & Now, visual arts