Tracing the Impact of UMBC – and its Alumni – After Five Decades
In his Founders Day address, UMBC President Freeman A. Hrabowski, III, made the case for UMBC's vitality and influence as a public research institution. But how do you quantify the university's success and impact over its existence?
The university asked Sage Policy Group, a prominent economic analysis firm, to assess UMBC's impact as a university and as an engine of fiscal growth in Maryland.
The group's report – UMBC at 50: Momentum and Impact – makes a clear and compelling case for the university's dynamic intellectual, social, and economic influence in its first five decades.
UMBC and Its Alumni Fuel Maryland's Economy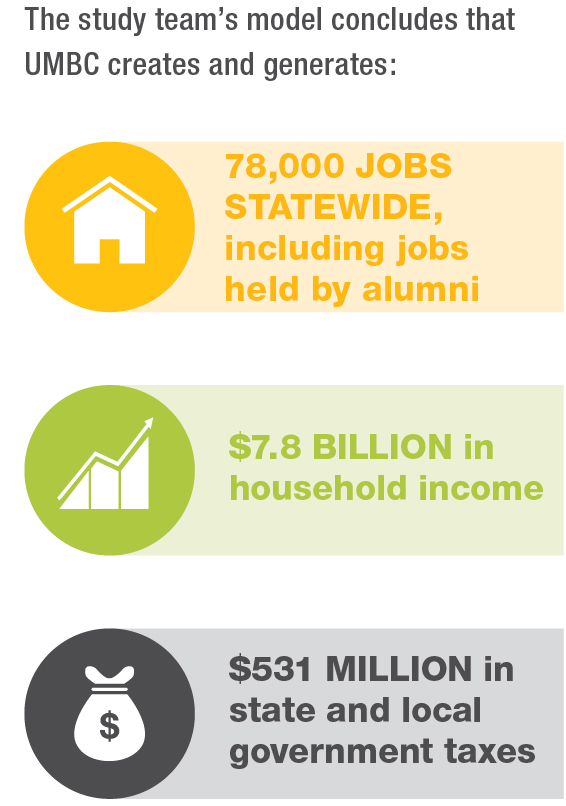 The earning power and contributions of UMBC's graduates and employees to the state economy are a key element of the report.
The report pegs the total economic impact created in Maryland each year by UMBC in the billions – a figure derived from the employment produced by the university, its bwtech@UMBC research park, current students and alumni combined with the budgetary spending from those same sources.
Dig deeper – as the analysts did – and you will see that the more than 70,000 alumni who have graduated from UMBC since its doors opened in 1966 are the motor of that powerful impact. The positive economic benefits of obtaining an undergraduate degree are well documented. Sage analysts generated a range of annual household income for UMBC alumni with an undergraduate degree between $84,628 and $131,835. Those who held a graduate degree from UMBC saw even more benefits, with annual household income between $123,654 and $192,630.
And since many UMBC alumni stay in the region, these dollars are at work in the local and state economy. The Sage analysts found that, using mid-point annual income as a foundation, "UMBC alumni spend an estimated $1.2 billion in the regional economy and $1.9 billion in the state's economy."
How Did It Happen?
The Sage Policy Group analysts tracked a number of key factors in UMBC's rise as a public research university that produces graduates with such immense impact.
ENROLLING AND RETAINING STUDENTS
UMBC's student population had grown strongly over the past 50 years. The analysts observe that "the pace of UMBC's enrollment growth was particularly rapid between the 10th anniversary [in 1976] and the 25th anniversary [in 1991]," and the university currently boasts almost 14,000 students.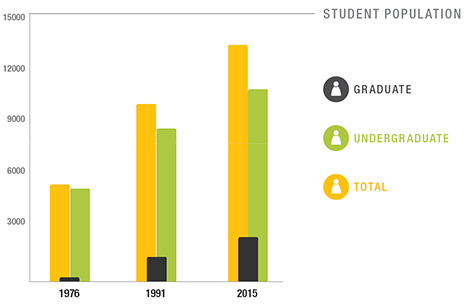 Over the past 40 years, UMBC has made substantive progress in retaining students. The university's progress has been more remarkable still in its support for student completion of undergraduate degrees. Since the university's 10th anniversary, first-year retention rates for all students have climbed from 76 percent to 87 percent. By comparison, the recent national retention rate for four-year public universities and colleges was 78 percent, and Maryland's rate was 81 percent. And 67 percent of first-time, full-time UMBC freshmen graduate from the university within six years, while 76 percent complete a postsecondary degree (associate or bachelor's) at UMBC or some other institution. Including those enrolled now, 90 percent of the men and women who start their college careers at UMBC have either earned a postsecondary degree or are pursuing a degree six years after matriculation.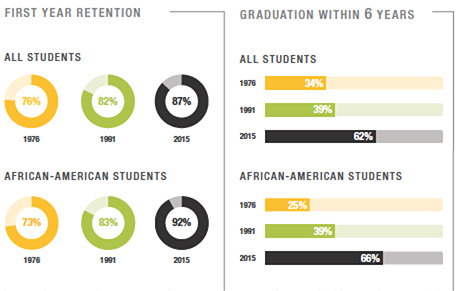 "In building [its] multifaceted student population," the report concludes, "the university has also lifted its academic caliber while generating a rapidly expanding pool of financial support. This financial support has helped UMBC welcome an increasing number of students from low-income families for whom the education and experience the university offers is likely to fundamentally alter economic prospects."
[view larger]
AN ENGINE OF ECONOMIC INCLUSION
UMBC is an engine of economic opportunity for its students. This fact underpins the university's growing excellence and diversity. The SAGE analysts observe that "[t]his is one of those areas in which UMBC really shines – generating remarkable academic prowess among students with humble financial backgrounds."
UMBC has made startling leaps in the value and scope of its financial aid over the past 25 years. And while the growth in the amount of need-based aid and merit awards at UMBC are eye-catching, the university has also vastly increased the number of Pell grant recipients who attend the school. This is an important metric because most students who receive Pell grants have household incomes of less than $20,000 a year.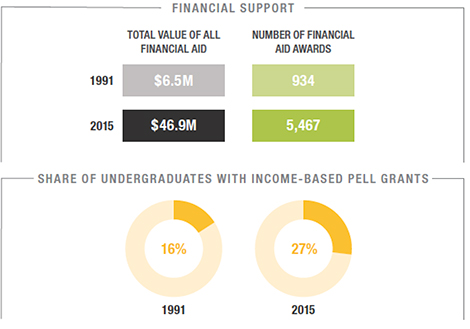 RESEARCH AND CAPITAL INVESTMENTS
Sage Policy Group noted that "UMBC has had remarkable success in capturing funds for research over the decades." In 1976, the earliest year for which data are available, funds for research at the university totaled less than $1 million. This total grew to $6.8 million by 1991 and then to more than $68 million in 2015, the most recent year for which data are available.


The university has also made significant strides in attracting funding for capital growth that is necessary to consolidate its successes and grow along with its expanding mission. The analysts observe that support from the State of Maryland and steady increase in enrollment "have provided nearly $700 million towards the development and construction of state-of-the-art research, instruction, and student life facilities." There has been an investment of more than $553 million in capital projects on the UMBC campus since 2000, with an additional sum of $110 million to develop the bwtech@UMBC Research and Technology Park. UMBC has budgeted an additional $144 million for facilities over the next four years – budgetary expenditures which will support nearly 4,400 jobs in the Baltimore region.
DOLLARS AND SENSE
The Sage Policy Group report also delves deeply into the economic impact of UMBC in terms of employment, income, taxation base, and overall effects on the state's economy.
"Reflecting its growth in enrollment, faculty, and staff, UMBC has become an increasingly important economic presence in the Baltimore region and in Maryland," the analysts write. "From a relatively modest $19 million operating budget in the 1976-1977 academic year, the university's operating budget grew to $107 million by its 25th anniversary and then to $420 million at its 50th anniversary." At its current budget levels, UMBC is "one of central Maryland's economic anchors."
INNOVATION CREATION
Sage's analysts specifically mentioned bwtech@UMBC as a key to this impact. UMBC's research park – established in 1989 – was the first university-based research park in Maryland, and the study's authors conclude that it is "the most visible manifestation of UMBC's commitment to translating intellectual capital into more broadly shared regional prosperity." They add that bwtech@UMBC's "total economic contribution to Maryland's economy totals $340 million per annum," and that it is "home to 1,450 jobs."
Tags: 50th Anniversary, economic impact, Fall 2016, Sage Policy Group