TEACHING THE FUTURE
October 6 was a special night at the Baltimore Marriott Waterfront, when 900 guests filled the main ballroom for "A Celebration of Leadership + Innovation" that honored UMBC President Freeman A. Hrabowski, III, on his 20 years as the university's leader and inaugurated the Hrabowski Fund for Innovation to sustain and extend advances in teaching.
The celebratory buzz hadn't yet died down when Provost Philip Rous and a committee selected to administer the fund were already at work identifying the next wave of academic innovators at UMBC. In January, the committee announced the Hrabowski Fund's first awards.
Two large awards were made to teams led by Marie desJardins, a professor of computer science and electrical engineering (who proposed a new center to assist a redesign of UMBC's computing curriculum) and Nagaraj K. Neerchal, chair of the mathematics and statistics department (who proposed a new "mathematics gym" to improve students' foundational math skills.)
Four other proposals received smaller awards. Two teams, one led by Susanne Sutton, a lecturer in the modern languages and linguistics department, and another led by Anne Spence, an assistant professor in the department of mechanical engineering, received funds to develop a new experiential and service learning course requirements. A team led by Craig Saper, director of UMBC's language, literacy and culture (LLC) program, will create an institute to expand the role for emeritus professors at UMBC. And a proposal by Bruce J. Walz, chair of the emergency health services department, will allow for new video cameras to assist in debriefing of EHS students after team exercises.
Watch video tributes from Dr. Hrabowski's 20th anniversary celebration and the launch of the Hrabowski Fund for Innovation. Read more…
— Richard Byrne '86
INCREASING OPPORTUNITY
Cybersecurity is one of the fastest growing fields in American defense and industry, but U.S. universities aren't keeping up with the voracious demand for trained and certified personnel.
Helping satisfy that demand is the aim of a new collaboration between UMBC's new Center for Cybersecurity and the Northrop Grumman Foundation: the UMBC Cyber Scholars program. The foundation has provided a $1 million grant to launch the program, which will be run in partnership with the UMBC Center for Women in Technology.
The Cyber Scholars program will recruit 15 to 20 new scholars annually, with special emphasis on increasing the number of women and underrepresented minorities who are being prepared for cybersecurity careers.
Anupam Joshi, director of the Center for Cybersecurity and the Cyber Scholars program, observes that "cybersecurity is of critical national importance, since computer systems are part of the nation's critical infrastructure. But students often don't understand the field and women are particularly likely to see it as a bad fit for them. The scholars program gives us a chance to change that perception and show how rewarding and socially important this work can be."
The Cyber Scholars program continues already fruitful partnerships between UMBC, Northrop Grumman, and the company's foundation, including the Cync program – a start-up business incubator dedicated to cultivating companies that develop innovative solutions to counter global cyberthreats.
"Northrop Grumman is proud to support education programs that will develop tomorrow's cyber leaders," says Wes Bush, chairman, chief executive officer and president of Northrop Grumman.
— Nicole Ruediger
INTERNATIONAL ACCLAIM
Local and national media took notice of UMBC again in September, when the university was lauded once again – for the fourth year running – as the top "Up-and-Coming" school in the U.S. News and World Report's annual Best Colleges guide. (In 2012, UMBC shared top honors with George Mason University.)
The Best Colleges guide also ranked UMBC eighth on a list of the top national universities "where the faculty has an unusual commitment to undergraduate teaching" – a ranking that the university shared with Duke University, the University of California at Berkeley, the University of Chicago, and the University of Notre Dame. But you might have missed some significant recognition that the university gained from another prestigious journal in higher education: Times Higher Education.
In May, the London-based newspaper created its first ranking of universities worldwide that were 50 years old or less. UMBC was ranked at number 63 on that list, joining other U.S. universities including the Universities of California at Irvine (4) and Santa Cruz (7), the University of Illinois at Chicago (11), the University of Medicine and Dentistry of New Jersey (21), the Universities of Texas at Dallas (29) and San Antonio (53) and George Mason (57).
In an introduction to the table, Times Higher Education writer John Morgan observed that the goal of the "100 Under 50 University Rankings" was "to show which nations are challenging the U.S. and U.K. as higher education powerhouses – and offers insights into which institutions may be future world leaders."
— Richard Byrne '86
BUILDING BRIDGES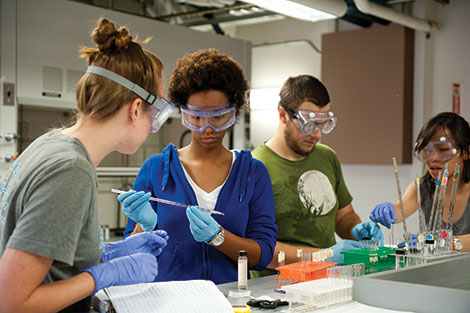 UMBC has been in the forefront of increasing student access and success in science, technology, engineering and math (STEM). And now, with a new $2.6 million grant from the Bill & Melinda Gates Foundation, the university will make pathways to these STEM fields even wider.
The three-year grant will be used to build a national model to ensure more transfer students earn degrees in these key disciplines. Anne Arundel Community College, the Community College of Baltimore County, Howard Community College and Montgomery College will work with UMBC on this "STEM Transfer Student Success Initiative."
Almost half of American undergraduates now start their postsecondary education at a community college, and in Maryland alone, about 12,000 students transfer to four-year colleges each year. At UMBC, transfer students now account for 38 percent of new students in STEM fields each year.
"We recognize that universities and community colleges must work more closely together if we are to help more students from all backgrounds succeed in the STEM fields," says Philip Rous, the grant's principal investigator and UMBC's Provost and Senior Vice President for Academic Affairs.
"Today, and increasingly in the future, the brightest career prospects will be for those with STEM degrees," says Daniel Greenstein, director of Postsecondary Success at the Bill & Melinda Gates Foundation. "We are pleased to support this project because it will create a pathway for transfer students – many of whom are nontraditional students – to enter these professions."
— Elyse Ashburn