Arbutus ♥ UMBC
UMBC is a community that is surrounded by two other communities – Arbutus and Catonsville. But many who work and study at the university don't know much about their neighbors.
In August, Arbutus did its part to change that dynamic by welcoming UMBC back to campus with snazzy black-and-gold "Retriever Believer" banners, emblazoned with the names of local businesses and hung along the town's main drag. Arbutus' Hollywood Theater even put the welcome up on its marquee.
The initiative was spearheaded by Terrence Nolan '82, political science, president of the Arbutus Business and Professional Association. "UMBC represents multimillions in state payroll as well as millions in student purchases," he observes. "That's a huge economic growth pull for Arbutus that in 35 years has never actually come to fruition."
Arbutus has also taken up other outreach initiatives in concert with the Greater Catonsville Chamber of Commerce, and its president, George Brookhart, including a survey of the UMBC community on its views about its neighboring towns.
"First, we had to identify what the students, faculty and staff's needs are," Nolan says. "And then focus on what Arbutus can do to make that happen."
Nolan also cites a bus tour of both communities for incoming freshman during fall 2009 orientation as a big success. He adds that Arbutus is well past the planning stages to provide an even quicker link between UMBC and its businesses via a bike and walking path. Approval and funding await other two other communities' completion of similar plans.
Prized Profession
UMBC Magazine may be a relatively young publication, but in two recent competitions, our peers have already taken notice of the new kid on the block.
The first issue of the magazine – Winter 2009 – received an Award of Excellence in the 39th Annual University & College Designers Association Design Competition. The contest recognizes the best of the exceptional design work done to promote educational institutions at the college and university level.
UMBC Magazine's first two issues – Winter 2009 and Spring 2009 – also garnered two awards in the 2010 Council for Advancement and Support of Education District II Accolades competition, which honors a range of materials published by colleges and universities in support of their mission.
UMBC Magazine took a bronze medal in the category which judged four-color magazines in their entirety. The magazine also took home an Honorable Mention in the category of staff writing, including features on UMBC "artist-in-residence" Kevin "Kal" Kallaugher's collaborations with the Imaging Research Center, a profile of American Studies professor Ed Orser, and other feature articles.
CASE's District II is the largest geographic unit of the worldwide organization, comprising more than 700 colleges and universities in Delaware, the District of Columbia, Maryland, New Jersey, New York, Pennsylvania, Puerto Rico, the U.S. Virgin Islands, West Virginia and the Canadian province of Ontario.
Time Keeper
UMBC alumni know that the university's president, Freeman A. Hrabowski, III, is one of the most highly-regarded figures in higher education leadership. But that notion recently received some concrete acknowledgment from one of America's leading newsweeklies.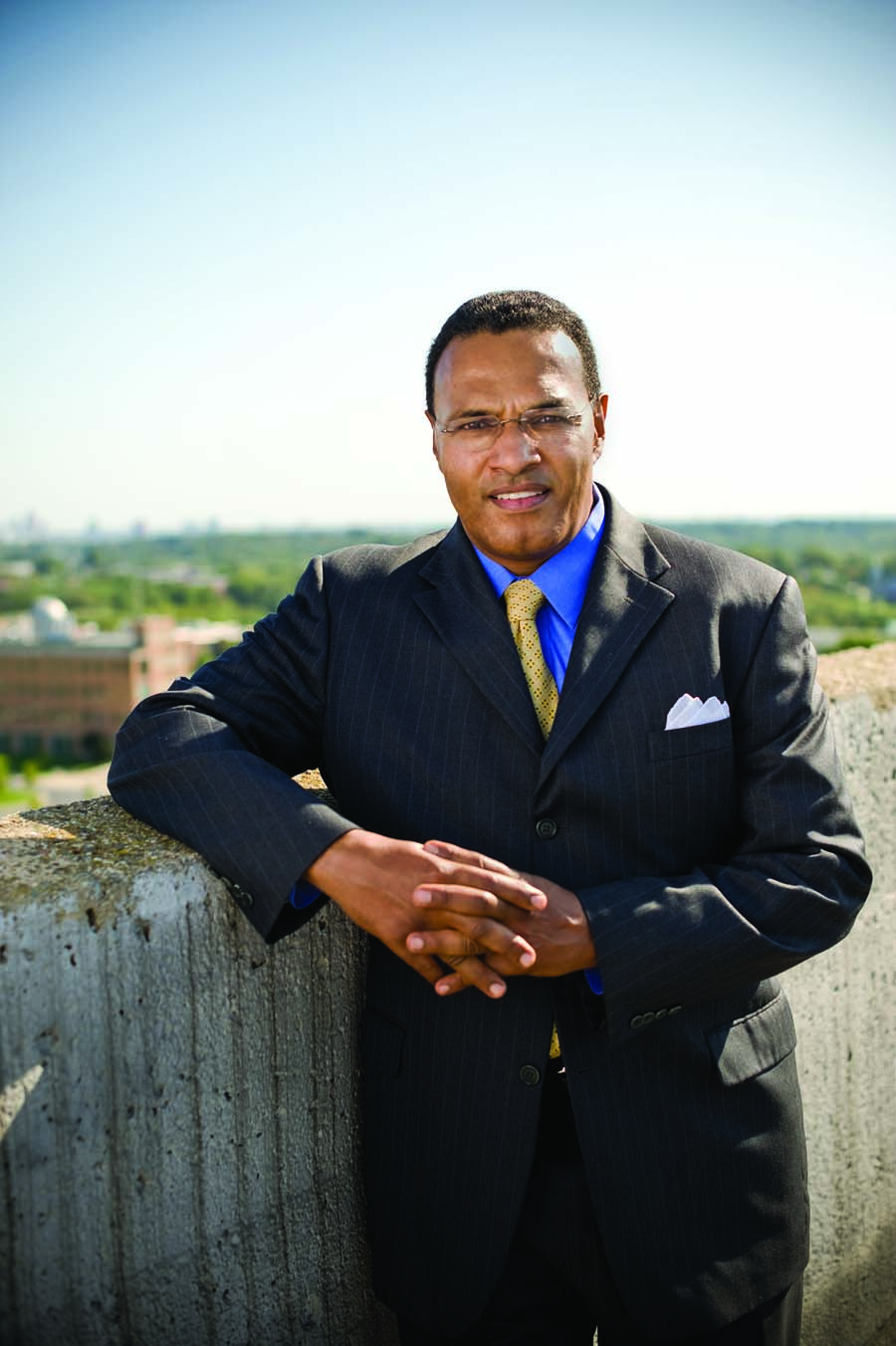 In the November 23, 2009 issue of Time magazine, Hrabowski was ranked among "The 10 Best College Presidents" in a special education package published by the magazine.
"This recognition reflects the campus' success and the high quality of the academic experience here," says Hrabowski. "It's an honor for each of us to be a member of the UMBC community."
Among the impressive company that UMBC and its president are keeping? The head of the University of California system (Mark Yudof), the presidents of three major public research universities (E. Gordon Gee of The Ohio State University, Mary Sue Coleman of the University of Michigan, Michael Crow of Arizona State University), three leaders of elite private schools ( John Sexton of New York University, Scott Cowen of Tulane University and Ronald Liebowitz of Middlebury College) and two innovators tackling challenges at the state and community college level (Juliet García of University of Texas at Brownsville and Eduardo Padrón of Miami Dade College.)
Hrabowski used the national platform to talk about UMBC's national reputation for diversity and excellence in science and engineering, but also pointed out its role as a liberal arts institution. "I often say to people that yes, over half of our students are in science fields, but the other half are in [liberal] arts," he told Time. "We're working to build a university that has first-rate research across all disciplines."
Socks, Squirrels and Songs
You're UMBC's Office of Alumni Relations and Annual Giving. You want to motivate the university's alumni to participate in a new "GOLD Challenge" program to get 1,000 new graduates of the last decade to give at any amount before June 30, 2010.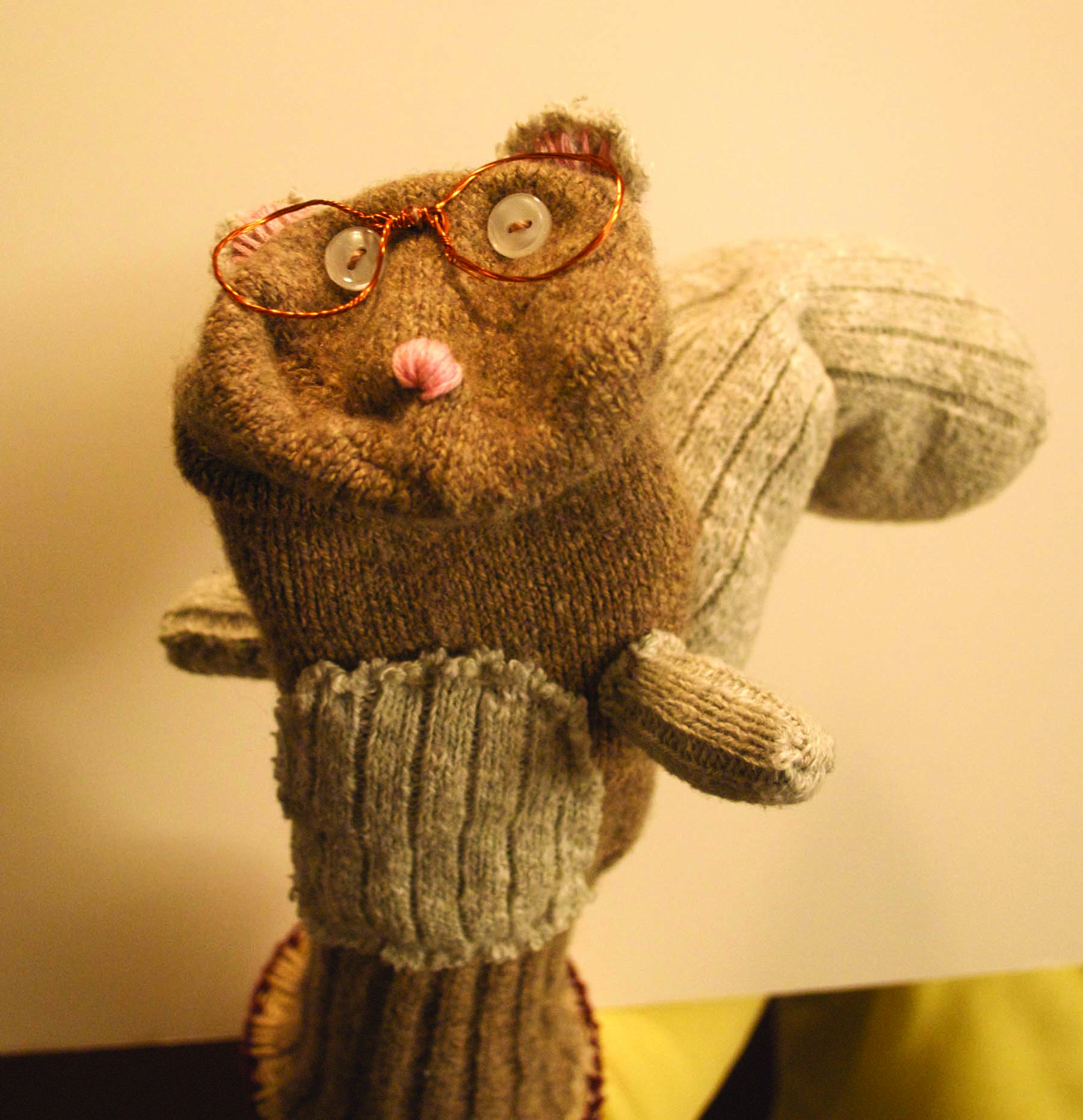 Start with a sock puppet. Throw in a song. Then get busy social networking.
The GOLD Challenge campaign launched in December with a video starring Professor T. a. Skwirl, one of a pair of sock puppet squirrels fashioned by Jenny O'Grady, director of alumni and development communications, and Erin Ouslander '03, visual arts, designer for the university's creative services team, over a November lunch hour.
"We were looking for something all alumni have in common," O'Grady says. "No matter when you attended UMBC, everyone remembers the squirrels."
The first ad focused on Timmy, a student who's coping with the high costs of college and needs a helping hand from young alumni. Using a modified Subway jingle to tell Timmy's story, UMBC's a capella singing group Mama's Boys provided the human talent. Thus was a campaign aimed at raising money for student scholarships launched on Facebook, YouTube and Twitter.
O'Grady is proud of the results – achieved with maximum ingenuity and minimum outlay. "We did it with zero budget," she says.
Look for more videos featuring squirrels and other UMBC a capella groups – as well as the stories of current scholarship recipients – in coming months. And check out the first one at the GOLD Challenge's Facebook fan page at www.facebook.com/umbcgoldchallenge.