A GRAND ENTRANCE
The UMBC community – as well as visitors to campus – will have to pardon some dust and altered traffic patterns over the next two years.
But it's all for a good cause: a reimagining of the entrance to UMBC that will enhance not only the aesthetic beauty and ease of access to the university's campus – but also enhance the safety of the pedestrians, cyclists and motorists who travel along its roads and paths.
Construction work on the New Campus Entrance Project began in June 2014 on areas familiar to alumni and others in the UMBC community, including Hilltop Circle, Administration Drive, and the plaza between the Retriever Activities Center and the Administration Building.
One aim of the project is to improve the flow of traffic along UMBC Boulevard, which is the main route onto campus for most drivers. A grander roadway circle and plaza will enhance vehicular and pedestrian safety and facilitate better access for service vehicles, easier pickups and drop-offs. Pedestrians and cyclists will also have a more direct route into the center of campus.
Improving UMBC's aesthetic appeal is also a priority. The present Administration Drive will become a pedestrian walkway that will boast more trees and greenery. The new plaza will be paved with bricks that say "Hello!" in the many languages of our campus. (Plus, of course, a "Woof!" to represent university mascot True Grit, whose statue will be situated in the heart of the plaza.)
The project will enhance UMBC's appearance in other ways as well. The long rows of parked cars – especially during the fall and spring semesters – on University Boulevard and Hilltop Circle will be gone, without any loss of actual parking spaces on campus. Those who drive to UMBC will have improved and safer pedestrian walkways to use to get from their parking space to campus, and the university's outward appearance will more closely track the increased growth in its residential character over recent decades.
The new gateway will be completed in fall 2015.
UMBC also recently announced another addition to the core campus – a new Events Center – that will draw its community closer together as a staging point for commencements and a home for Retriever athletics.
Formally announced at a meeting with members of the communities surrounding UMBC in May, the 5,000 seat Events Center will be constructed directly south of Hilltop Circle. It will be 1,000 seats larger than the current Retriever Activities Center, and be large enough so that the university's spring undergraduate commencement ceremonies can be moved back to campus from their present home at the First Mariner Arena in downtown Baltimore.
The $85 million Events Center will likely open sometime in 2017 or 2018.
— Richard Byrne '86
THE POWER OF PARTNERS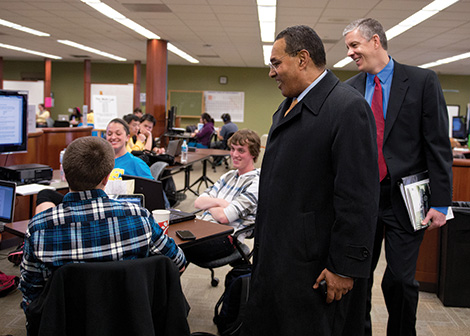 Education can blaze a path to a brighter future for kids in underserved communities. Just ask the kids at Lakeland Elementary/Middle School in Southwest Baltimore.
U.S. Secretary of Education Arne Duncan did just that on a visit to UMBC this spring. Sixth-grader NaShaya Maxwell trumpeted her pride in Lakeland's robotics team. Student Johanna Funes glowed with energy when she described "the many ways to get an answer" in math, her favorite subject.
America's top education official came to the meeting to see how a powerful new partnership between UMBC and Lakeland is promoting students' academic success inside and outside the classroom.
UMBC brings two essential pieces to the partnership, which began last fall. The first is a pipeline to teachers from the university's acclaimed Sherman STEM Teacher Scholars Program. The second is a network of active personal and community interventions spearheaded by two key Shriver Center programs – the Choice Program and Shriver Fellows Peaceworker Program.
Lakeland principal Najib Jammal says that UMBC's support for the school is already paying dividends. "We believe it will help our students and teachers re-envision what is possible and result in opportunities that allow students to demonstrate their learning," says Jammal.
The UMBC/Lakeland partnership was created by UMBC President Freeman A. Hrabowski, III, and George and Betsy Sherman, founders of the Sherman Family Foundation, to enable the university to have a more direct and immediate impact in Baltimore schools.
The Sherman STEM Teacher Scholars Program is a selective scholarship program that identifies and nurtures students who want to become science and math teachers serving high-need communities.
"UMBC is providing a gateway to get these field experiences," F. Atom Zerfas '13, mathematics, told Duncan, "and the field experiences made me prepared to teach." Zerfas is a Sherman program alumnus and a teacher at the Baltimore Leadership School for Young Women.
AmeriCorps fellows from UMBC's Choice Program, a national model for sustained personal and academic support for young people who are in contact with the juvenile justice system, are the other key resource for the partnership. These fellows provide direct assistance to 40 Lakeland students identified by teachers and administrators as those who would most benefit from the program's intensive support – including 24/7 outreach and intervention from mentors who set high expectations for program participants and give them the stability and assistance they need to meet those expectations.
John Martello, vice provost of UMBC's Division of Professional Studies, was the executive director of the Shriver Center when Mark Shriver, son of Center founders Sargent and Eunice Kennedy Shriver, created the Choice Program in 1987.
"There wasn't a university in the country that did direct service in the way that [the Choice Program] did when it was founded," Martello told Duncan.
The UMBC/Lakeland partnership is still new, but already there has been a boost in parent participation in the school and focus on health and urban gardening initiatives. The Shriver Center has enlisted scholars in its Peaceworker Fellows Program for returning Peace Corps volunteers to build support for the partnership in the local community, extending its reach even further.
— Richard Byrne '86 and Dinah Winnick