TAKE A SEAT
The first phase of UMBC's Performing Arts and Humanities Building is on schedule for its Fall 2012 opening. Soon, the departments of English and theatre will move into the building – along with the James T. and Virginia M. Dresher Center for the Humanities, the Linehan Artist Scholars Program and the Humanities Scholars Program.
It's a big event in UMBC's history, but did you know that you can already put your personal stamp on the university's newest building?
UMBC is offering chances to name a seat in the building's state-of-the-art proscenium theatre. The new theatre is the anchor of the project's first phase – and as the new home for the university's award-winning theatre department, there are more than 200 seats available for naming. Those who participate in the campaign will have a plaque engraved with their name (or other text of their choice) affixed to a seat in the theatre.
The $500 gift required to place your name on a seat will directly benefit arts and humanities programming at UMBC through an endowment that will ensure that arts productions and other programs are available for future generations.
The new Performing Arts and Humanities Building is the capstone of UMBC's recent efforts to highlight the arts and humanities at the university, which also includes a new campaign –"think.create. engage" – which has spurred greater attendance at campus events and communicated UMBC's arts and humanities efforts to the wider community.
For more information on how to put your name on a seat, check out the new building's website: www.umbc.edu/pahb/
— Richard Byrne '86
UPWARD TRAJECTORY

In March, UMBC President Freeman A. Hrabowski, III announced that Philip Rous had been selected to fill the university's most senior academic administrative position: Provost and Senior Vice President for Academic Affairs.
"UMBC is very fortunate to have someone of Dr. Philip Rous's impressive experience and talent to serve as Provost," Hrabowski observed, "and I know he will do a superb job."
Rous, a professor of physics, gained much of that experience at UMBC, where he has risen through leadership positions in the faculty and then in university administration over more than two decades in Catonsville. He arrived at UMBC as an assistant professor of physics in 1990, and served in a number of faculty leadership positions – including chair of the physics department and president of the university's faculty senate.
In 2008, Rous was named interim dean of the university's College of Natural and Mathematical Sciences. He was named dean of the college in 2010. Last year, after the departure of former UMBC provost Elliot Hirshman, Rous was named interim provost of the university.
In his time as a faculty leader and an administrator, Rous has been a key figure in advancing the university's drive to become a first-rate public teaching and research university. He helped create the College of Natural and Mathematical Sciences' Active Science Teaching & Learning Environment (CASTLE) which has garnered national attention for its innovative student engagement practices.
Rous received his B.Sc. degree in Physics (First Class Honours) from the University of Bristol, and his Ph.D. from the University of London's Imperial College of Science and Technology. His tenure as Provost begins officially on July 1.
— Richard Byrne '86
See "Over Coffee" for an interview with UMBC's new Provost.
NUMBERS AND KNOWLEDGE
As national leaders in promoting diversity on campus, UMBC's academic leadership and its faculty know that increasing diversity in the STEM (Science, Technology, Engineering, and Mathematics) fields at the highest levels doesn't just require determination to make change. It also requires hard data and informed discussion.
That's why it's significant that UMBC is one of 21 graduate schools across the nation to participate in a new study organized by the Council of Graduate Schools to study completion and attrition among underrepresented minorities in STEM doctoral programs.
The study is funded by a grant from the National Science Foundation (NSF). It will compare data on completion and attrition among all underrepresented minority students in STEM doctoral programs culled over the past 20 years from a diverse set of institutions. The council is also developing a web-based survey for students.
That's the data part. The study will also examine STEM doctoral programs at participating universities in depth, assessing their policies, practices and interventions that may have had an impact on completion and attrition among doctoral candidates. Schools in the study will also host visits from council program staff and take part in national discussions on Ph.D. completion.
Why study completion and attrition in such depth? The council and the NSF hope to identify and understand the factors that contribute to Ph.D. completion and help reduce attrition in these key academic programs.
The study – and its answers to those questions – will be released in June 2014.
— Nicole Ruediger and Richard Byrne '86
AWARD OF A CENTURY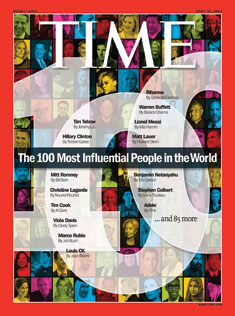 Make way, Warren Buffett. Slide over, Rihanna.
UMBC President Freeman A. Hrabowski, III, joined both of those figures and 97 others on the 2012 TIME 100, Time magazine's annual list of "the 100 most influential people in the world." (See Hrabowski's listing here.)
Hrabowski was the only college president to make this year's list, and in the magazine's piece on UMBC and its president, Time observed that: "When you think of the top science universities in the U.S., schools like MIT and Caltech may jump to mind. But perhaps the most envied science program in the country is at the University of Maryland, Baltimore County."
Making the Time list also meant an invitation to a gala celebration at New York City's Lincoln Center in April. In a toast written for the occasion, Hrabowski celebrated the aspirations of his late mother, Maggie Hrabowski, the way that his family placed "faith and education" at the center of their lives, and his love for his wife of 40 years, Jackie Hrabowski.
Hrabowski also spoke about the philosophy that has helped propel UMBC to national recognition.
"I am fortunate to work on a college campus where people are excited about the life of the mind – in fact, we are passionate about chess and serious theater and biochemistry. We take pride in telling students, 'You don't have to be rich to be brilliant.' At UMBC, we say, 'The party is in the library.' I could never have imagined, as I marched in Birmingham in 1963, that one day I would be president of a research university with students from 150 countries."
— Elyse Ashburn and Richard Byrne '86