Top Dawgs
"We're Number One! We're Number One!"
It isn't often that UMBC President Freeman A. Hrabowski, III's "State of the University" address is interrupted by an impromptu chant. But this year's speech – given on Aug. 20 – was something different. Local media flocked to cover the address, and the crowd packed into the University Center was bursting with school spirit.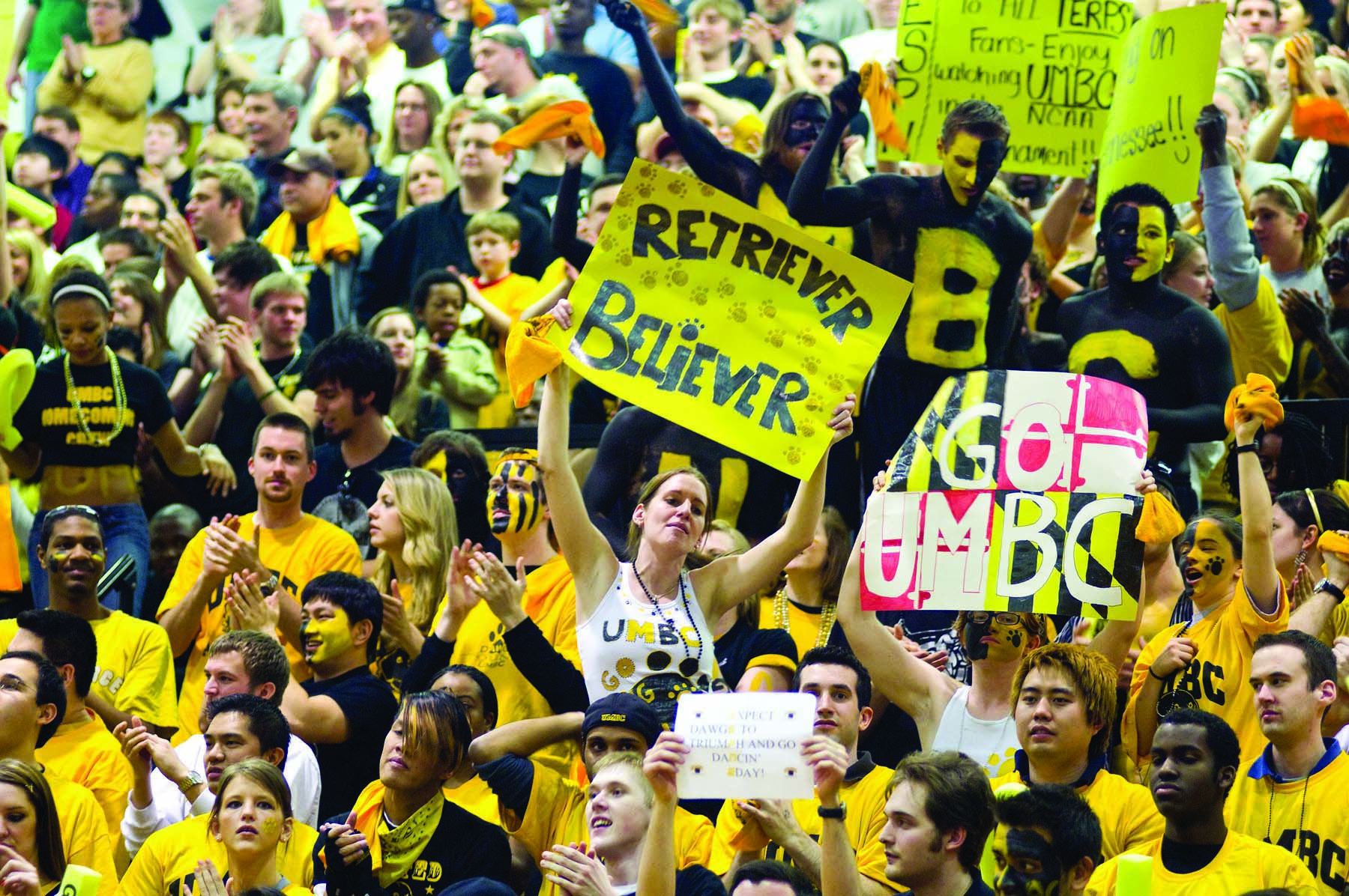 The press attention and pride was in response to news that the editors of U.S.News & World Report's "America's Best Colleges" guide had released only hours before: UMBC was ranked in the top spot for national universities in the guide's "Up-and-Coming Schools."
UMBC was also the top-ranked public university in a separate measure of schools showing "unusual commitment to undergraduate teaching" that placed only Dartmouth, Princeton and Yale Universities above the Retrievers in the tally. (Stanford was tied with UMBC.)
The U.S. News guide is one of the most influential such publications in higher education – a resource for parents and potential applicants. UMBC's recognition "speaks volumes about how the country is looking at our progress," Hrabowski said. UMBC already had placed fifth in the "Up-and-Coming" category in 2009.
UMBC also was named with 20 other universities as a "Program to Look For" in the category of "Undergraduate Research/Creative Projects."
Hrabowski noted that the prestigious U.S. News rankings sent a strong message to alumni, philanthropists and politicians: "When you give us the resources we need, we can do great things."
For more information about the U.S. News rankings, visit www.umbc.edu/bestcolleges.
Exceptional Alumni
UMBC's alumni excel in a wide range of fields – and in service to the community and the university. That achievement is recognized every year in a very tangible way: UMBC's Outstanding Alumni of the Year Awards.
In 2009, a committee comprising members of UMBC's Alumni Board of Directors picked seven award winners whose career success and service make them exceptional examples of what the university can produce.
• James P. Clements '85, computer science, and '91 M.S. and '93 Ph.D., operations analysis, president of West Virginia University, is the Engineering and Information Technology Alumnus of the Year (Clements was profiled in the Summer 2009 UMBC Magazine).
• Jeffrey "Duff" Goldman '97, history, star of Food Network's Ace of Cakes, is the Humanities Alumnus of the Year.
• Crystal Watkins '95, biological sciences, a researcher at The Johns Hopkins Medical Institutes, is the Alumna of the Year in Natural and Mathematical Sciences.
• Delegate Jon Cardin '96, M.P.S., policy sciences, a member of Maryland's House of Delegates, is the Social Science Alumnus of the Year.
• Laura Pasquini '98, visual arts, director of community programs at the Corcoran Gallery of Art, is the Visual Arts Alumna of the Year.
• Gustavo Matheus '90, biological sciences, is the recipient of the Distinguished Service Award. (See profile on page 41.)
• Alicia Wilson '04, political science, the first UMBC student to win the prestigious Truman Scholarship, is the recipient of the award: The Alumni Association's new "Rising Star" Award.
For more information about these Exceptional Alumni, visit http://retrievernet.umbc.edu/alumawards.
Ladies First
For the first time in UMBC history, three female students hold the top leadership positions on campus. But Yasmin Karimian '11 (Student Government Association president), Jen Kent '11 (SGA vice president) and Gaby Arevalo '10 (Retriever Weekly Editor) care much more about the tasks ahead of them than any history that they've made.
"While I think it's wonderful that Yasmin, Jen and I are all women and minorities," says Arevalo, "that isn't what we're known for. We're known for the positions we hold, not for our backgrounds or gender."
Karimian and Kent are the first female duo in the SGA in the group's history. But they had no idea they were in a position to achieve that distinction until after turning in their applications to run. Both officers point to generational changes as a reason for their success.
"We've been fortunate enough to have grown up in a generation where female leadership is encouraged, and the idea of gender equality is second nature," says Kent.
While all three women feel lucky to be at a school where it's not uncommon for women and minorities to hold leadership positions, they also acknowledge that it wasn't always so common for those who came before them. "We take for granted the support we receive by being women and being able to hold these positions without skeptics surrounding us," says Karimian. "That certainly was not the case for some of our predecessors, like the first female SGA President, Lisa Dickerson."
Dickerson '78, political science (who was profiled in the Winter 2009 UMBC Magazine) gave a speech at the SGA Inauguration in Spring 2009 and noted the struggles she faced 32 years ago.
"I have had the most incredible role models in my two years here, and they shared everything they knew and gave me all the opportunities they could so I would one day be able to serve as SGA president. I hope to do the same for someone else," says Karimian.
Co-Creating Campus Citizenry
"Students' power to create the campus life they want hinges on being able to pull together and express a reasonably unified point of view. When you have student leaders elected in a high-turnout election, the people to whom they speak on behalf of students – campus administrators, public officials and others – know they have to listen. If you don't vote, you actively make it harder for next year's SGA to accomplish anything on your behalf."
When David Hoffman posts on his blog, Co-Create UMBC, about issues that concern students and their role at the university, they (and many others on campus) read and respond.
Hoffman is the assistant director of Student Life for Civic Agency at UMBC, which endeavors to enlarge student participation and empowerment at the university.
He says that Co-Create UMBC is part of a larger effort "to saturate the UMBC environment with opportunities and messages that suggest to students that they have power here. And that being a citizen isn't just a matter of casting a vote every couple of years. It's a state of mind that you're in all the time."
Hoffman says that the blog gets roughly 1300 hits every week, a number that increased from 600 after the content started to stream from the university's myUMBC site.
The posts on Co-Create UMBC include candid anecdotes about his own time as a student leader at the University of California, Los Angeles (part of his job at UMBC is to advise the Student Government Association) and a feature drawn from statistics about campus life. (Example: "2 = Number of times UMBC has been closed for an entire day due to snow in the past four years.")
"'UMBC by the Numbers' is an attempt to start a conversation," he says. "Things that just might wash over you if you see yourself as a customer and not a citizen."