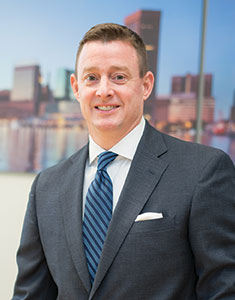 The challenges facing Baltimore City are significant – and have garnered international headlines. But listen to Tom Sadowski '89, political science and public administration and policy, talk about the city and region, and you'll hear a pep rally for a great metropolis.
As president and CEO of the Economic Alliance of Greater Baltimore, Sadowski has more than words to sell the city. He likes to tell the stories of local innovators and entrepreneurs who drive the area's economic development and commercial success and create its public-private partnerships. And there is data undergirding the anecdotes. To date, projects organized by the alliance have exceeded $10 billion in value and created 50,000 jobs.
The important work Sadowski has done has not gone unnoticed. He's earned numerous accolades, including the Baltimore Museum of Industry's "Industrialist of the Year" and the Maryland Daily Record's "Influential Marylander" and "Most Admired CEO" awards.
Sadowski says his experience at UMBC stirred his passion for economic urban development. He worked his way through college selling real estate, and soaking up knowledge he'd need later in UMBC courses like "Metropolitan Baltimore" – a class that focused on how local, regional, and national economies develop. UMBC internships also played a role, including a stint with the Baltimore County Economic Development Office, which hired him after graduation as a business development director.
Sadowski says UMBC faculty members proved to be able mentors. "It was real time coaching and instruction," Sadowski recalls. "Not just, 'Here's what they were trying to say in the text.' It was more like an ongoing conversation that they encouraged."
UMBC President Freeman A. Hrabowski, III, has also been a source of inspiration. "[Hrabowski] is the physical embodiment of what UMBC represents: The potential of the mind, but also enrichment of the soul. He has an authentic interest in bringing that out in the student body."
Sadowski takes great pride in economic initiatives in which the alliance has been instrumental, such as the U.S. military's 2005 Base Realignment and Closure, or BRAC. The initiative reshaped the Defense Department's infrastructure, and involved the relocation of several thousand military and civilian workers from around the country into the Baltimore-Washington region.
"After the base realignment, we were recruited to work on behalf of the region and its military facilities," Sadowski observes. "That process was about recognizing that we are a world-class market in which to live, work, learn, and invest."
Sadowski believes that it is an exciting time to push forward the process of rallying economic support for the region, especially as it evolves from a focus on government activity to attract more commercial activity. "We're helping to lead discussions about how the government, educators, and industry can work together to support the federal mission here but also to help launch and scale commercially relevant opportunities that exist," he says.
Job growth is one area where Sadowski sees great potential. "By 2020, half of our workforce will be millennials," he observes. "They're some of the most educated, digitally native individuals."
It's an area in which he sees his alma mater as playing a key role. UMBC's Alex. Brown Center for Entrepreneurship embeds entrepreneurship into nearly 100 courses across the university, and the university's research and technology park – bwtech@UMBC – provides students with internships and job opportunities.
"I've experienced professionally things that have been very rewarding, and have reinforced my pride in this region," Sadowski says.
Sadowski also reflects on his personal stake in seeing the Baltimore region thrive as a worldclass market. He and his wife are raising five children here. Soon enough, those children will be young adults faced with the decision of where to live and work. "Hopefully, my kids will benefit from the work we're doing now," he says.
For now, Sadowski is taking advantage of the livability of the region he champions. "I live in northern Harford County, and the sun sets every day in our back yard," he says. "[But] in two hours, I can be seated at a meeting in New York. The access in this region is incredible."
— Elizabeth Heubeck '91
Tags: Winter 2016