At Homecoming 2015, more than 300 members of the UMBC community (with alumni in the majority) gathered to kick off a more-than-year-long commemoration of the university's 50th anniversary with an event that focused on alumni pride and volunteerism.
The gathering brought together committed UMBC alumni volunteers and donors to inaugurate an effort to connect almost 70,000 graduates to the celebration of UMBC's 50 distinctive years as a public research university.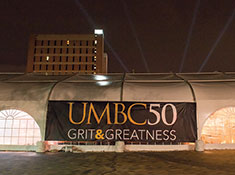 The motto for the 50th celebration – "Grit and Greatness" – was also unveiled at the event, and stories of UMBC alumni who embodied those qualities were a key part of the festivities hosted by Baltimore storyteller Kevin Griffin Moreno '96, history.
As Corey Fleischer '05, '08 M.S. mechanical engineering, and winner of the engineering-themed TV competition Big Brain Theory: Pure Genius, told the audience: "Anything worth doing requires a significant amount of grit. And the amount of grit really helps define that total greatness."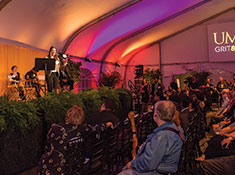 Some alumni touched on how their UMBC experiences helped those qualities emerge in their own lives. Amanda Rothschild '07, English, talked about how her professors' insistence that she give them her best work "taught me to face my fears, look on them, examine them, and work on them." It was a foundation that helped her become a leader in Baltimore business as a founder of Charmington's – a Baltimore restaurant that has so successfully married innovation in social issues and commerce that President Barack Obama made a visit in 2015 to see how Rothschild did it.
"I learned so much from being on the UMBC campus," said Joseph Jones '06, social work, founder of Baltimore's Center for Urban Families (CFUF). Jones was encouraged by UMBC President Freeman A. Hrabowski, III, to earn his degree at the university after working past a troubled youth that included a stint in jail. He told the audience that "I learned how to be a scientist in social services by coming to this honors university."
Sometimes it is competition that brings out grit and greatness. Morgan Taylor '15, financial economics, was a member of the first UMBC women's soccer team to earn a place in the NCAA tournament in 2014. She described how she and her teammates battled through two losing seasons, inspired by their coaches' insistence that they change the culture of their sport at UMBC. "We took to heart everything our coaches had instilled in us," Taylor said, "and the culture of the women's soccer team did change in our time here. We went from worst to first in our conference."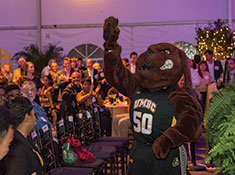 Yet UMBC grit and greatness are not just qualities that advance individual lives. They also compel alumni to take action and give back.
Winona Caesar '09, American studies, gave the audience insight into a post-graduation journey where determination to succeed has led her to become chair of the Megaphone Project (an organization that tells the stories of underserved communities in the Baltimore region) and apply to become an officer in the Baltimore Police Department. "I love Baltimore," Caesar said. "I love to help Baltimore. And this is just taking it to another level."
Diane Tichnell '70, political science, was a member of UMBC's first graduating class. She said the watchword for her generation was "innovate, innovate, innovate" – and that UMBC was a place that allowed its students to do that even in its earliest days. She challenged her fellow alumni: "Stick close to this campus. Make sure that the students now and the students in the future have the same chance."
Bennett Moe '88, visual and performing arts, a past president of UMBC's Alumni Board of Directors, spoke about how his UMBC education spurred him to propose shifting board scholarships to students in need. "At first we thought we might need to soften the criteria a little bit to expand the pool of candidates," Moe recalled. "What we found, though, was that the applicants to our scholarships – who were now applying based on a proven and urgent need – were no less qualified, no less exemplary, than those who previously applied for the merit-based scholarships."
The gathering's emphasis on story was key for Adrienne Jones '76, psychology, who serves as Speaker Pro Tem of the Maryland House of Delegates. She told the audience that the power of the UMBC story is what has allowed her to be a powerful advocate for the university and to ensure it has the resources to grow along with its achievements and ambitions. "Whatever I am able to accomplish for our alma mater is possible," she said, "because UMBC is such a great story – your story."
It's not too late to get involved. Please visit 50.umbc.edu to see how you can volunteer – and to view videos of alumni stories and remarks by UMBC President Hrabowski.
— Richard Byrne '86
Tags: UMBC50, Winter 2016