National Take Your Dog to Work Day might officially only be celebrated on the Friday after Father's Day, but for Sergeant Jamie Cheatem of the UMBC Police Department, it's every day. Coming up on their three-year anniversary this September (and a happy belated third birthday to Chip from June 23), Sgt. Cheatem and Chip, UMBC's comfort dog, have quickly become an inseparable duo both on the job and at home.
As a comfort dog, Chip comes along to offer support when requested by individuals in emergency situations, help alleviate stress during finals and other trying high-pressure situations, and attend various campus events. We sat down with Sgt. Cheatem (and tried to sit down with Chip but the pull of lunch smells were just too strong) to hear what it's really like bringing your dog to work as part of your job description.
Q: How do you and Chip handle your work-life balance?
A: It was a struggle at first because you never really leave work when your work is home with you. And we had to get acclimated to each other. Chip likes to ride in the front at work and when we're at home, she goes in the back. We get home and she still wants to play and go visit because that's part of her job on campus, but she has had to learn that it's time to relax.
Q: What's it been like for your family to have Chip join? I know your 10-year-old son, in particular, is a big part of her life.
A: My son is her biggest fan and so is my wife. We come home and you'd think Chip would still follow me around. No, she leaves me immediately. Especially during COVID, Chip really became Jamison's study buddy and they're inseparable when we're at home.
Q: Okay, so we've established once you're home, you do not exist. Harsh, Chip. Moving along…what's a typical work day like for you both?
A: We get up early, I make our lunches and pack our work bags, and head to the office. As soon as we're here, we do our first walk of the day around campus and do some training, including off-leash training. And yes, she does get to chase squirrels. After that, I do my work while she runs up and down the hallway and reminds everyone she's here. She loves to wait for the copy machine to go off so she can grab and shred anything that gets printed. I hear a lot of "Stop, Chip! No, Chip! Come back!" And then a few more walks throughout the day.
Q: How many steps would you say you both get in each day?
A: By noon, we're between 9-10,000 steps. By the end of the day, I usually average about 17-18,000 steps.
(Author's note- I was proud of the 0.91 mile walk I did to and from the police station to conduct this interview…)
Q: Like all of us, I have to assume Chip hits that 2 p.m. wall. What treat gets her through the rest of the day?
A: Peanut butter-infused wafer chips. It doesn't last long because it's Chip, but she chews/inhales it immediately.
Q: What's the best part about working with Chip?
A: I think it's the joy she brings. As a police officer, no one is running to you to say, "Hey! How are you doing?" But anywhere I go on this campus with Chip, everybody from the staff to the President's Office to students are flagging me down to yell, "It's Chip!" Even our own officers are on the floor every day playing with Chip. It's been really great to see that people now correlate this [police] uniform with her. She really has acted as a bridge between us and our campus community.
Q: It's easy for people to forget that Chip is more than just a cute face. (She glared at me here; I think she knows I meant to say "the cutest face.") We brought her to campus to do a job and be a comfort dog. Have you seen her fulfilling that purpose?
A: She has absolutely done her job in diffusing high-pressure situations and providing comfort when we're called in to help. There have been instances where just resting her head in someone's lap has calmed an individual down. You really get to see the wonder of dogs. I see it every day, but it never gets old.
Q: Do you ever find it distracting to work with Chip?
A: Never. I've been in this business for 25 years and it's the most fun I've ever had. I can walk across the campus and hear, "There's Chip! Sergeant Cheatem, come back!" I've had students yell out a fourth-story window for us to wait (and we did). It has really made me think that anyone I need to work with or interact with that I wouldn't normally, would be more inclined to help because Chip is that bridge.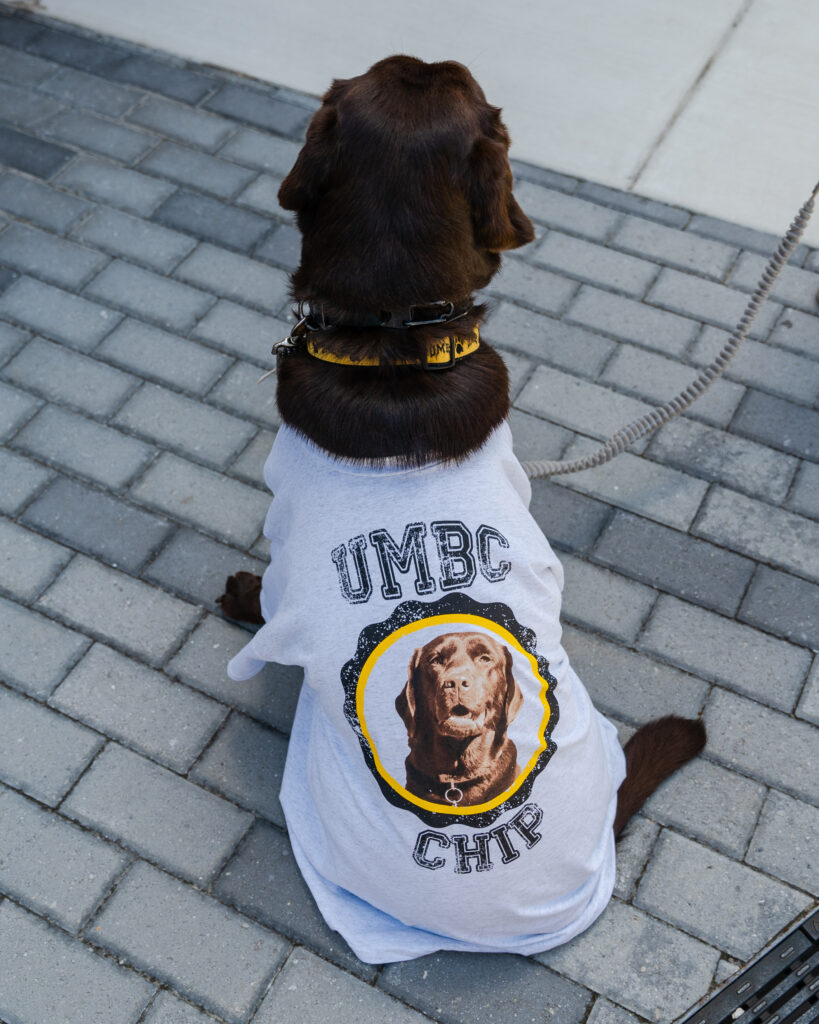 Q: What's the hardest part about working with Chip?
A: We can't get to every event people want us to and that is the hardest thing. We jump around all over the place so we can try to make as much as possible work.
Q: In your professional opinion, would every workplace benefit from having a dog on site? And can I get it in writing to take back to my own supervisors?
A: Absolutely.
And now you have it in writing. You're welcome, Retrievers!