UMBC's Idea Competition offers students from all fields an opportunity to present business ideas to a panel of expert judges and receive immediate feedback on moving from vision to reality.
The university's Alex. Brown Center for Entrepreneurship hosts this competition each fall. This year's event featured ten project finalists. Student teams had just three minutes each to sell the judges and the crowd on their innovative product and business ideas.
Vivian Armor, director of the Alex. Brown Center for Entrepreneurship, notes that the popular event now receives submissions from nearly every major across campus. Armor, herself an alumna of UMBC ('73, American studies), shares, "I love seeing how creative our students are."
While the Idea Competition can be intense, the organizers also focus on providing support for the emerging student entrepreneurs who participate. Local entrepreneurs on the judging panel don't just evaluate the finalists' ideas; they also provide advice on next steps.
The ideas presented this year ranged from technology to make schools safer from physical threats to wearable technologies that can help people in their daily activities. One team presented materials that can help clean up contaminant spills in the environment, while another shared homes built from 3D-printed materials.
Top prize: ReActive
Jood Ali '20, mechanical engineering, submitted an idea called ReActive, along with her project partner Nila Lahijan '19, biological sciences. ReActive combines electronic muscle stimulator technology with compression clothing. Ali shared how her personal experience with physical therapy inspired her to look closer at these two technologies, which aided her recovery from an injury. She wondered if they could be made more portable and wearable.
Ali described how electronic muscle stimulators deliver electrical current to the body through electrodes that are placed on the skin. Both these devices and compression clothing are commercially available, but, Ali noted, the technology has not been combined in this innovative way to help people receive the benefits of their physical therapy while on the go.
ReActive won both the first place prize ($750) and a special award for best presentation ($250). "I was confident of my presentation, but by no means was I expecting to win first place," said Ali. "Sometimes, you have to have a little faith in yourself, and when that doesn't work you just have to be okay with letting yourself be scared for a little while…because that's the only way you'll grow."
Supporting healthy online communities
Michael Ogunsanya '21, mechanical engineering, and Eric Solender '21, information systems, presented MindStand Technologies, which works to foster healthy online communities by identifying and preventing harassment. Ogunsanya, Solender, and their team are using artificial intelligence informed by clinical psychology to determine the intent and content of messages, and flag concerning material. Their project earned the second place prize ($500) in the competition.
The students shared that a key distinction between MindStand and its competitors is the ability to process full-length conversations, rather than relying on keyword searches to flag cyberbullying and harassment. They explained that the technology they are developing can also get professionals and administrators involved, through interactive dashboards and email notifications, to address bullying behaviors. Solender and Ogunsanya are working with UMBC's Division of Information Technology to explore implementing the MindStand Technology on the myUMBC platform.
"Participating in the Idea Competition gave me the confidence and drive to apply the lessons I've learned in entrepreneurship classes," said Ogunsanya. "It's amazing seeing so many innovators gather together to support one another and help turn our dreams into careers. Seeing faces in the crowd light up as I explain the months of work I've put into my venture created a drive in me to finish what I've started and truly disrupt the tech industry."
Affordable housing through new technology 
Jen Spiker '21, information systems, presented her business idea, 3D Printed Home, which won the third place prize ($250) in the competition. Inspired by how the military is using 3D printing technologies to construct barracks, she developed a proposal for printing homes in as little as 24 hours and for the price of a car. Spiker hopes her work can help reduce homelessness and expand affordable housing options in the United States.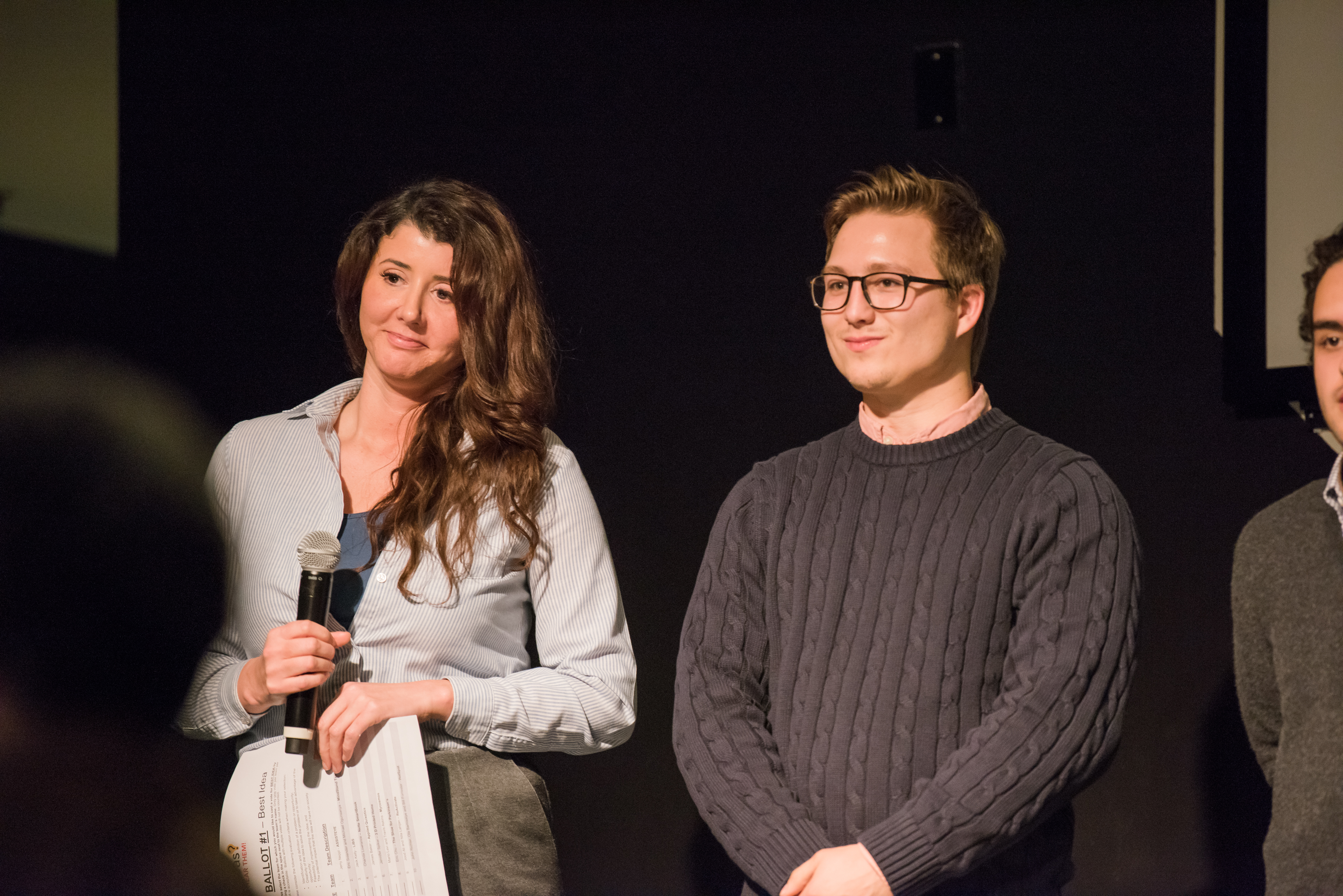 The business pitches were judged by Sean Booker '04, computer engineering, president and CEO of Booker DiMaio; Eli Senter '01, political science, president and CEO of 4S-Solutions, LLC; and Paula Kipperman, president of United World Technologies, LLC, located in bwtech.
To other student entrepreneurs considering this type of competition, "I would say go for it," Solender shares. "You'll get great feedback on presenting, find out if your idea is viable, and get to see all of the other cool things students at UMBC are doing."
Banner image: Jood Ali (left), Jennifer Spiker, Eric Solender, and Michael Ogunsanya  after the Idea Competition. All photos by Marlayna Demond '11 for UMBC. 
Tags: AlexBrownCenter, Biology, bwtech, CAHSS, CNMS, COEIT, IS, MechE, PoliticalScience