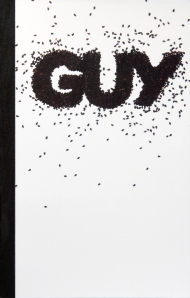 While a student at UMBC, Hasina Jamal Stearns '09, computer engineering, founded the publishing company Fred & Barrel, Inc.  Now, the company's first book, Guy, a philosophical play by Cinna, is available in the UMBC bookstore. Stearns is the editor-in-chief and illustrator.
Guy—a hybrid novel, play, and movie script—tells the story of Guy, a tall handsome tennis player who thinks deeply about mankind and life. At least, he does in the first act. He would continue to ruminate about such things if he weren't so swamped with homework and projects. He spends most of his time in an old children's insane asylum, which is now being used as a studio and research center by architecture students. One day, he decides not to return to campus and instead opts let his whim take him to wherever he is destined.
Other UMBC alumni contributed to the book: Truc Nguyen '07 helped connect Stearns to its designer; Andrew Shoenfeld '07 took the cover and illustration photos; Tim Brosius '08 created the website and Hariklia Karagiannis '09 edited the website.
Stearns is currently a graduate student at American University studying producing for film and video. One of her inspirations for this course of study is this book, which she hopes to turn into a movie.
Another book that Stearns hopes to eventually publish was written Jamie C. Heard, a UMBC student who passed away in 2008. She is working with Issa Legall '09 to make this a reality.